Oronto Creek is hardly more than a trickle now as it bends along Saxon Harbor toward Lake Superior. But almost five years ago, the gentle stream resembled a raging river that scoured its marina and campground.
Grace and Bill Hines watched from the windows of the Harbor Lights bar as flood waters sent trees, boats and debris surging into the lake. Grace struggled to face the destruction the next morning.
"I came out of the bar, and I got onto the deck and saw that stuff piled up all over and how the ditches were even full of brush. And, I thought, 'I can't do this, I can't do it. I'm going to be ill,'" she recalled.
Severe storms dropped up to 10 inches of rain in just 24 hours across northern Wisconsin on July 11, 2016. The rains sparked a flood linked to several deaths and that caused more than $41 million in damage to homes, businesses and roads. Saxon Harbor in Iron County was among areas hardest hit by flood waters that destroyed its marina and campground.
Local, state and federal leaders recently marked efforts to restore the harbor during a grand opening celebration. They hope changes made at Saxon Harbor will prevent damage from more frequent, intense storms due to climate change.
During the grand opening, Grace detailed the night to a crowd at the harbor, recounting rains she hasn't witnessed since. The disaster would've been bearable if she hadn't lost her friend Mitch Koski in the flood, she said.
"I swear, you could hear hearts break and tears fall," she said.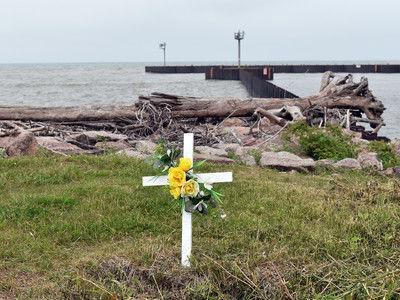 Koski, 58, of Montreal was also a lifelong friend to Iron County Board Chairman Joe Pinardi. The two served together on the county board and as volunteer firefighters in the area.
"He was crossing the bridge right here to come to rescue people in the campground, and the current took his three-quarter-ton Ford truck, instantly washed it down into that corner up there, and he never got out of it," said Pinardi.
The storm not only claimed Koski's life, it damaged 85 boats and left behind a scene of destruction that took just under $15 million to repair.
Scientists have found climate change is increasing the frequency and intensity of rains that raise the risk of flooding that can lead to injuries and deaths like those witnessed at Saxon Harbor.
In the last decade, northern Wisconsin has witnessed three floods that are only supposed to occur once every 500 to 1,000 years.
Gov. Tony Evers said that's why he's proposed investing $30 million in the next two-year state budget to make roads and infrastructure more resilient to climate change, as well as restore wetlands that can absorb heavy rains.
"These floods are clearly devastating to our families, our businesses and to our homeowners, but this is a big job that not any one of us can do alone," Evers said at the Saxon Harbor grand opening. "In many cases, increasing the threat of flooding in our communities can be prevented with proactive efforts, smart investments and strong partnerships at the local, state and federal level."
Democratic U.S. Sen. Tammy Baldwin has been pushing for legislation that will allow communities to build more resilient infrastructure after local governments like Iron County struggle to make changes to avert the next big disaster.
"Most federal programs say, 'Well, you can't make these big improvements to become more resilient or stronger. You can only use federal tax dollars to build it back to exactly the way it was,'" said Baldwin.
That includes the Federal Emergency Management Agency, which provides disaster relief to restore infrastructure to its prior condition.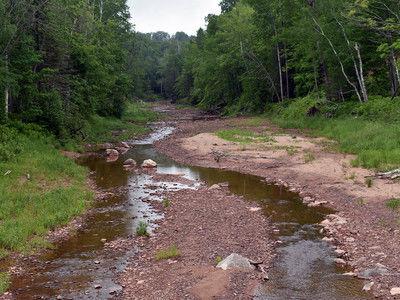 After the flood, Iron County Forest Administrator Eric Peterson said they had to use county land and water funding along with money from the Federal Highway Administration to install rip rap to reinforce the banks of the Oronto Creek. Those changes weren't eligible for funding using federal emergency relief, said Peterson. He added that FEMA didn't provide the full federal matching amount to reimburse the county for $2.8 million of work to relocate the campground out of the floodplain.
In a statement, a FEMA spokesperson said the agency approved $1.7 million as part of the county's costs to rebuild the campground, which would've been the amount to restore the campground in its original location.
"FEMA will work with applicants to build back in a way that is more resilient to future events, and in some circumstances in a manner that better meets future needs," the spokesperson said.
The agency noted the county applied for and received a $10,000 grant to mitigate future damage to aid with installation of rip rap along the creek.
President Joe Biden recently announced $1 billion to help communities, states and tribes prepare for extreme weather and other disasters through FEMA's Building Resilient Infrastructure and Communities program. The program aims to take a proactive approach to improve community resilience through investment that may avoid more costly repairs down the road as the nation contends with more intense storms.
But not everyone is convinced by the science, including U.S. Rep. Tom Tiffany, R-Hazelhurst. While he thinks the climate is always changing, Tiffany said he's not convinced the causes are manmade despite widespread consensus among scientists.
The 2016 flood is not the first time northern Wisconsin has dealt with severe storms, Tiffany said, when asked if he would support investing in communities to improve their resilience to flooding and climate change.
"We heard the stories that this has been going on for a long time. Each time, it's being built back differently, and that's what's important is just to continually make improvements," said Tiffany.
Tiffany helped procure $1 million from the Knowles-Nelson Stewardship Program for improvements to Saxon Harbor — a program he questioned reauthorizing two years ago as a state lawmaker. Tiffany admitted he doesn't agree with setting aside large swaths of land, which he fears will erode the tax base in northern Wisconsin counties. But he said the fund can do a lot of good for projects that contribute to the local economy.
Saxon Harbor attracts several thousand people on busy weekends during the summer, Peterson said. He hopes improvements to the 81-slip marina and campground will keep people coming back. He also hopes that repairing the road, putting in a bigger bridge and installing a concrete spillway will help control the flow of rushing water during the next severe storm.
Until then, he said there's always a bit of angst every time it rains.
"When the rains and the river waters come up, they work," said Peterson. "Will they handle a 1,000-year flood event like we had in 2016? Who knows? Maybe, maybe not."
Peterson said it's not cost-effective to prepare for floods that happen once in a lifetime.
Officials must strike a balance during the recovery and potentially overbuilding in response to flooding, said Jessica Felix, northwest region deputy director for the Wisconsin Department of Transportation. In 2016, transportation officials worked with FEMA and local leaders to rebuild nearly a dozen state highways in addition to federal roads after washouts in Iron, Ashland and Bayfield counties.
"We typically design stuff for like a 50- to 100-year-type storm — not a 500- to 1000-year storm," said Felix.
She said they consider average rainfall in designing repairs to roads, noting those figures are increasing as the state witnesses more intense storms. Repairs in 2016 included the installation of bigger culverts or bridges at some locations to better withstand future events, including at U.S. Highway 63 near Grand View and State Highway 13 near Highbridge.
At Saxon Harbor, officials say they've done the best they can to make the marina and campground more resilient. For Grace Hines, she's happy to see the harbor restored.
"The people that are coming back are just, particularly the outsiders that are coming back in, are so amazed at how nice it is again," Grace said.
Now, she says it's up to everyone to keep it that way for years to come.