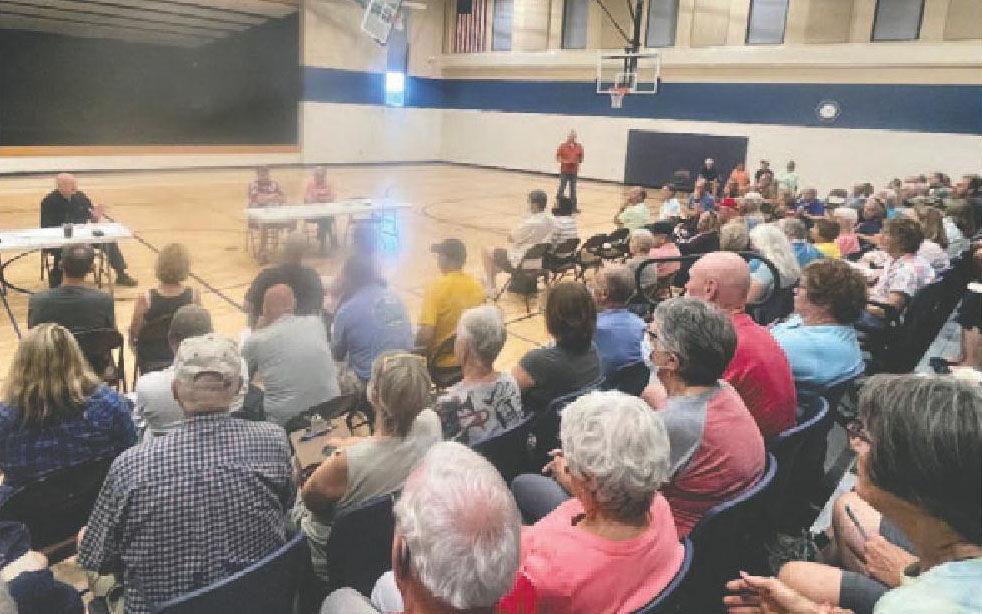 SHELL LAKE - Extending city sewer and water around Shell Lake has been discussed since the 1980s. On Saturday, July 16, city officials and City Council members held a meeting in the high school auditorium to once again gauge the interest lakefront and off-lake property owners had in the project.
Currently, public sewer and water is only available to city residents not on Lake Drive, the road encircling the lake. Private wells, conventional sewer systems, mound systems or holding tanks serve the Lake Drive property owners. The primary concern about these systems is whether they're adequately protecting Shell Lake's water quality.
Public Works Committee Chairman Ken Schultz opened the meeting with a reminder to the approximately 200 attendees that no decisions would be made at this meeting.
"We're not here to make decisions today; we want to hear your thoughts about the potential project," said Schultz, who then shared the results of last year's survey sent by the city to access residents' level of interest in having public sewer and water or remain on their private systems.
"There are 422 tax statements around the lake and of the 105 respondents to the survey, 51% were in favor of it, 42% were opposed and 7% were neutral. The majority in favor said their primary reason was lake protection, although cost was still a concern. Those opposed cited the costs involved and said their private system was working well, as reasons for opposition. The
majority of the residences have holding tanks and the balances are served by conventional or mound systems."
The initial decision to evaluate expanding the city's system was only designed to be an extension from Corbits Lane to Birch Haven, but was later changed to survey all the properties around Lake Drive by breaking them into six sections.
Approximately 40 people signed up to comment prior to the meeting. Their responses were roughly split evenly between those in favor and those opposed. The most common themes were how much would this cost and the importance of protecting the lake. Schultz explained there was no way to determine the cost now, with the price changes currently taking place.
"At one time, a rough estimate was about $25,000 per household for the lines running along the road. Laterals to the houses would be more," said City Administrator Andy Eiche.
Those with residences between Corbits and Birch Haven also mentioned the deteriorating condition of South Lake Drive's blacktop and said they hoped the road could be repaired after the lines were run, if that was the decision made.
In the 1980s, a similar proposal was made and testing showed many of the private systems were failing, which led to conventional systems, usually mounds, being installed. According to stated research, the average life span on systems installed before 2000 is 20-25 years, but some fail sooner than 20 years and others last well beyond that. Many variable, like clogging by roots, flooding from groundwater and vehicle traffic, affect their lifespan.
If the eventual decision is for sewer and water going around the lake, city officials emphasized the time frame to complete the project would be long, adding currently there are no state or federal grants available to reduce the financial impacts. Another water tower would be needed, and possibly upgrades to the waste treatment plant and storm water systems, as well.
"Again, no decisions have been made, but it might take decades to go completely around the lake if we go forward with this," said Eiche.
One reason mentioned to initiate work on the Corbits to Birch Haven section, besides the condition of South Lake Drive west of Birch Haven Road, is depth of the west end of the south bay. Averaging about 7 feet deep, any failing systems would leach into the shallowest portion of the lake, increasing the growth of weeds and algae. Although there was no e-coli bacteria detected during the last testing cycle, concerns were still expressed over the integrity of the private systems and if the recent tests were adequate to make this determination.
During the comment period, decades-long Shell Lake resident Lee Swan asked, "What are those that follow us going to inherit? Is it going to be a quality lake as it is now or will it be something else?"
Echoing Swan's comments, South Lake Drive resident Linda Anderson said she wasn't speaking for herself, but for the lake.
"All private systems have a life expectancy," Anderson said. "There are so many property owners on other lakes that would love to have the water quality Shell Lake has. We need to be proactive instead of reactive on this. Systems may appear to be working, but maybe they're not."
Other concerns raised were by people with seasonal homes. One of their questions was if the project went forward and they only used their property for a few months of the year, would they be assessed city sewer and water costs for the entire year? This was acknowledged as a legitimate concern, although there were possibilities of cutting off water during the winter months.
Another speaker said he paid extra money to put in a well and septic when he bought the property, adding this was the first he'd heard about this issue and wondered if hookup would be mandatory.
"Abandoning our existing system would be another expense; taxes are already high, it's a factor," he said.
Other speakers said a project of this size that went around the entire lake would be an added workload on the city's Public Works Department, a workload that would need to be addressed.
Summarizing the meeting, South Lake Drive property owner Duke Welter, who grew up in Shell Lake, said, "City officials asked residents and non-resident landowners for their suggestions and got an earful. There were heartfelt questions: Is it needed to preserve the water quality? When would it be done and how much would it cost? Should I replace my aging private wastewater system or wait for city services? Can the lake road be fixed, too? The city's comprehensive plan doesn't commit to extending those services, but many in the audience suggested the city's commitment would be beneficial. Future development might be required to protect the quality of the lake."
At the meeting's conclusion, Schultz once again reminded attendees no decisions had been made yet, but he appreciated the input.
"The Public Works Committee will be meeting to review what we heard today and to start the process of making some of these decisions," said Schultz.
Those wanting updates on these proceedings and the agendas for the upcoming scheduled meetings should monitor the city's web page for this information.