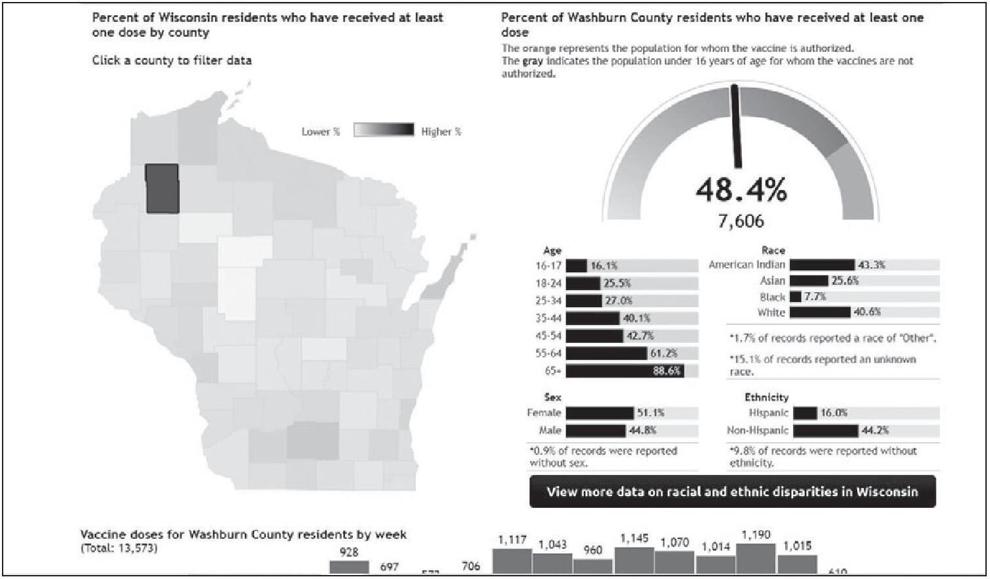 WASHBURN COUNTY– Eighty-eight percent of Washburn County residents over the age of 65 have gotten the COVID-19 vaccination.
That is the good news, since they are the generation most vulnerable to being hospitalized or dying if they get the virus.
The bad news is that while COVID-19 is still active – and the number of cases caused by variants are exploding in neighboring states, the rush to get a vaccination in Washburn County has slowed so much that the county's two hospitals and the health department have closed their vaccination clinics, leav-
ing the remaining demand for the shots to local health clinics, Walgreens, Walmart, and a pair of community-based vaccination clinics, one in Rice Lake and one in Superior.
The same downward vaccination trend is in play across the nation.
It is just one more complicating factor in trying to discern what the future looks like in relation to COVID-19.
"I think that we're not far enough down the road yet, to really have a good grasp of what that's going to look like," said Washburn County Public Health Officer Cheri Nickell. "There's a lot of different theories floating around about what we'll see and when it'll end."
People want to know how much longer they have to mask, to social distance, "and all those other things that everyone's really tired of doing," she said. They want more certainty on what the summer will be like, the fall.
"Everyone was hoping that this summer, we'd be all back to normal and everyone could take off their masks and get together, and unfortunately, some people are doing that prematurely," Nickell said. "But I think especially with the variants and what's going on in our neighboring states that we're not going to be where we want to be with that. And I think a lot will depend on what the variants do."
People hate to wear masks, but COVID-19 did not go away because the governor's mandate to wear them did, she said, and masking "is going to go a long way towards keeping COVID under control."
"This is really not the time to drop our guard," she added.
By the numbers
As of Monday, May 3, 6,348 (40.4%) of Washburn County residents had completed the vaccine series, while another 8% had received their first dose, leaving the county still shy of 50% and a long way from the 80 to 85% suggested for herd immunity.
"If you're talking about stopping a virus, that 45% is not going to get us there," Nickell said.
She is concerned the vaccination rate will top out at not much more than 50 or 60%.
"I'm very happy with the fact that so many of our most vulnerable people have gotten it," she added, "but I would wish that we would see more of the younger people getting out.
"I think that a lot of people just don't see themselves as at risk for it until they see a family member who does poorly with it or friends who were hospitalized, then they think, 'Oh, yeah, well, that could be me, maybe I should get the vaccine.'
"It's getting people to understand that the more people we vaccinate, the more protection the community is going to have."
An incentive for them to be vaccinated is that once they are two weeks past their full vaccination, they do not have to quarantine if they are exposed to someone with the virus.
Some people simply will not get a vaccine.
"You're always going to have that small percentage of people that are not going to get any vaccine no matter what, and you're not ever going to change their minds," Nickell said. "But I think a lot of people are just on the fence."
Or, she suggested, they simply are not going out of their way to make the arrangements and get time off work to get the vaccination.
Taking the shots to the larger businesses is a difficult proposition since they need a large space to social distance and to monitor vaccine recipients for 15 minutes after the injections. Plus the vaccines must be refrigerated and used within specific timeframes.
Nickell said the county got off to a slow start with vaccinating because of limited allocations from the state, but the county has been "ahead of the curve" compared to the state, ticking higher percentages of vaccinations in some of the age groups and the overall population.
Just under 4.48 million doses have gone into arms in Wisconsin.
Local hospitals began getting the vaccination in December, and those shots went to frontline health care workers and later to groups such as law enforcement and firefighters.
Those were the groups set as priorities by the state, which set the guidelines for who could get the vaccinations.
People 65 and older became eligible to get the vaccine on January 25. That same day, the county started its public clinics.
Appointment slots with the health department for 240 online appointments and 60 by phone were filled within about seven minutes of registration opening at 8 a.m. One hundred doses were set aside for a clinic that week for firefighters and law enforcement.
As of April 5, anyone over age 16 who lives, works, or attends school in Wisconsin could get a vaccination at the clinic.
The county health department hosted its last first-dose clinic on April 30, days after Spooner Health and Indianhead Medical Center had ceased their public vaccination clinics because of the diminishing demand.
Positive cases
The county had been one of just nine in the state to not have a positive case up until April 12 last year. The next day, a positive was identified.
The number of confirmed cases topped 1,400 in mid-April this year, though another 80some "probable" cases boosted the total likely cases closer to 1,500.
By the start of this week, the number had risen to 1,444 cases plus 83 probable cases, with 28 of them still active cases.
Eighteen county residents have died from COVID-19, and another two deaths are listed as likely related to the virus.
Nickell said the number of cases in Minnesota and Michigan has "exploded," primarily due to variants of the virus.
"I can't imagine that it's not going to come our way," she said. "It would be nice to think that it'll spare us, but it seems unlikely that we won't see that same burden coming our way."
Washburn County is rated as having "high" COVID-19 activity with its rate at 220.8 per 100,000 people and its trajectory of cases showing no significant change.
Where to get a shot
Following is information on where to get a vaccination in Washburn County and the area.
Updates can be found at co.washburn.wi.us/news/public-health/COVID-19-Vaccine.
• Economart Pharmacy, Spooner – A limited number of vaccines will be available by appointment only. To schedule an appointment: 715.635.8785.
• Essentia Health – Anyone can create a MyChart account on the Essentia Health website and self-schedule a vaccine appointment. Patients and community members 16 and older also can call 833.494.0836 to schedule a vaccine appointment. Availability of appointments is dependent on vaccine supply at each location.
• Indianhead Medical Center/Shell Lake Clinic and Spooner Health – No new vaccination available. Already scheduled second dose appointments are as planned.
• Marshfield Clinic Health System – Scheduling info is on its website.
• Mayo Clinic Health System-Northwest Wisconsin – Eligible patients can schedule their vaccine appointment using Patient Online Services (patient portal) or the Mayo Clinic App.
• NorthLakes Community Clinic – Currently vaccinating Northlakes patients. Vaccine information is online.
• Walgreens – Walgreens in select areas will be receiving COVID-19 vaccine. Information can be found online or by calling 800.925.4733.
• Walmart Pharmacy – Select Walmart Pharmacy locations are providing COVID-19 vaccination. Hayward and Rice Lake Walmart Pharmacies are on the list of participating locations.
• Community-Based Vaccination Clinics in Superior and Rice Lake – Anyone 16 and older can schedule an appointment by using the Wisconsin COVID-19 Vaccine Registry. For vaccinerelated questions and appointment registration support: 844.684.1064.
• DHS Vaccine Assistance Hotline – 844.684.1064
• Northwest Wisconsin Workfore Investment Board vaccine appointment assistance – Matthew, 715.201.2394, or NWWIB.com.