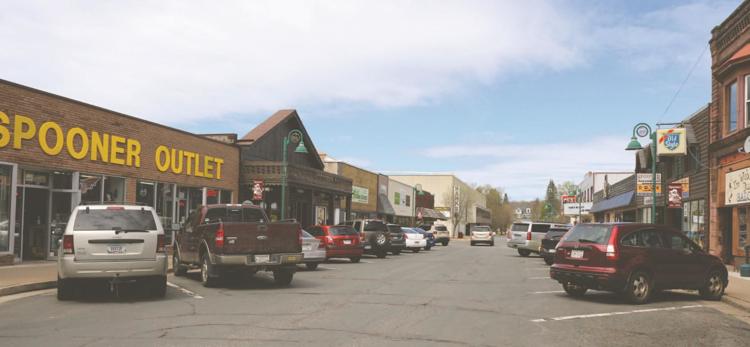 SPOONER – When the Supreme Court threw out the state's extended Safer at Home restrictions last week, that meant an immediate opening was possible for businesses.
And here in the Northwoods, some of the businesses took advantage of it immediately, while others are taking a measured approach.
Spooner, for instance, already has a variety of essential businesses that have been at least partially open, from one end of town to the other, from restaurants and a pharmacy with curbside pickup to lumber and hardware stores to fishing equipment and gun suppliers.
Spooner's Walnut Street, with its variety of essential and non-essential businesses, is a microcosm of a business community, a mix of services and retail. Featured here are some of the businesses' reactions to the reopening of area businesses, with more to come in next week's edition.
Staupe Computers
An unusual combination,
Staupe Computers combines the sale of action toys with computer sales and service by owner Jorgan Staupe.
The computer portion of the store is considered an essential business, and the number of repairs has been "way up," as are orders for new computers.
Part of it is that more people are at home, but Staupe attributes it also to the Paycheck Protection Plan because some businesses are allocating part of that federal money to technology upgrades. He is unsure whether that is forgivable part of the loan or whether it would need to be paid back.
A hot item has been webcams.
"Everybody's looking for webcams, but that's impossible to get right now," he said.
Several months ago he would buy webcams for $32 or $33 and mark them up a couple of dollars, but now the exact same one costs $120.
"So I won't order them at that point," he said.
"That's been the one difficult thing, is supply chains are definitely still lacking, but customers have been very understanding when it takes five days instead of three or eight days instead of five or 14 days in some cases. It's just been slow shipping," Staupe said.
Even though his is an essential business, he closed for about a month due to high-risk health issues in the family. But he said, "government assistance is slow to respond. And people need help. So I opened up."
He is worried sometimes when he makes a service call.
Most businesses have taken the right approach, he said. They generally do not have more than three people in any of the business he has been at, and everyone keeps their distance. He is a little more worried when he sees out-of-state license plates because he does not know where the people have been, while it seems to him that the local people are staying closer to home for the most part.
Businesses continue to have bills whether they are open or not, and Staupe said his business could "float for a couple of months," but he felt he need to serve his customers.
"The way I said it to my wife, was like, I have spent seven years building a business. And for 30 days now I've told my customers they don't matter by not answering my phone, and it's driving me crazy," he said of his month-long closure.
The Wobblin Duck Saloon
Tony Baier, owner of The Wobblin Duck Saloon on Walnut Street plus Tony's Riverside, believes the state "got a little carried away" with the closures. He believes businesses may have needed to be closed for awhile to allow the medical facilities to get supplies and plan for the pandemic, but the businesses should have been able to open at least a couple of weeks ago.
"We've got one case [of COVID] in all of Washburn County," he said, even with people coming in from the cities.
He prefers the way Sweden handled the pandemic, with no lockdown.
With the reopening of his bar, bartenders are sanitizing the bar more often, but social distancing in small bars like his is not financially feasible, Baier said.
"If you're going to get it, you're going to get it," he said of COVID-19, adding that getting it could boost immunity to it.
Baier anticipates a slow recovery in the bars and restaurants.
"It's going to be awhile. It'll be a year before it gets back to normal. I can tell already," he said. He expects that to be the case with both the younger and older crowds.
The reason, he said, is "false government warnings," saying half of what they come out with is "garbage." He suggests, for example, that some of the deaths are falsely being attributed to coronavirus.
"I know they lie. That's our government," Baier said. "They want to control everybody. That's what they like. 'You can't go here. You can't go there.'"
They don't care about your health, he said.
Northwind Book and Fiber
Northwind Book and Fiber has been closed to the public but has been doing curbside pickup and online ordering.
Puzzles have done well, and books have been the store's bestsellers.
"People are picking more known things because they're don't have the opportunity to come in and discover something new," said owner Carol Dunn. "So if you're a new author, it's hard, you're missing out on that. Or they pick things from our website that our staff picks."
Those sales have helped the store get by.
"We've done all right," Dunn said. "We can ship, we can do curbside pickup. People really want the things we have right now – the books, the jigsaw puzzles, knitting projects."
She said April was not bad for April, but "we have to have June, July, August, September, December."
She was able to open to the public on Monday, May 11, with the state's loosening of restrictions on certain businesses, but she felt it was too soon since she had been gearing up for opening two weeks later.
She waited until Saturday, May 16, to open to finish up some projects at the store, including getting her staff back on board and also setting up a sneeze guard, signage, and hand sanitizer stations.
Dunn has mixed feelings about opening now.
"It doesn't feel any different right now than it did a month ago or two months ago," she said. "It's not like it's gone away. We don't have a vaccine. There's no treatment. Two months ago, there were, I think, five cases in Wisconsin. Now there are over 10,000. I think it's still pretty scary."
And while few cases have materialized in the Northwoods, visitors from other areas where the disease is more prevalent could bring it with them.
"You want to be open because you need to be in business, and we love our customers," Dunn said. "We want them to be able to come in. But we also need to keep everybody safe. And we don't want a spike to happen up here. We don't want to be shut down again, in a more serious way. So I'm definitely conflicted."
COVID-19 cases in Wisconsin have "barely leveled off," she said, and what would ease some of the worry is a vaccine or treatment for COVID-19.
She will be limiting the number of people in the store at one time and will require masks. She notes that people do not say their rights are being trampled when they see the sign, "No shoes, no shirt, no service," so asking people to wear a mask for their health and the staff's health "seems pretty minor."
Three of her staff are returning to work, and two people will fill in for another staff member who cannot return yet. Dunn has been sending out more emails and lists of new arrivals, something she might continue as business ramps back up.
"Our customers have been fabulous. So supportive of us," Dunn said. "They maybe make a purchase with us, at least one, just to support us, or customers who are cabin people call and place orders when they wouldn't normally have when they're away from their cabin, a lot of that. People buying gift certificates for themselves to use later. So that's been really touching."