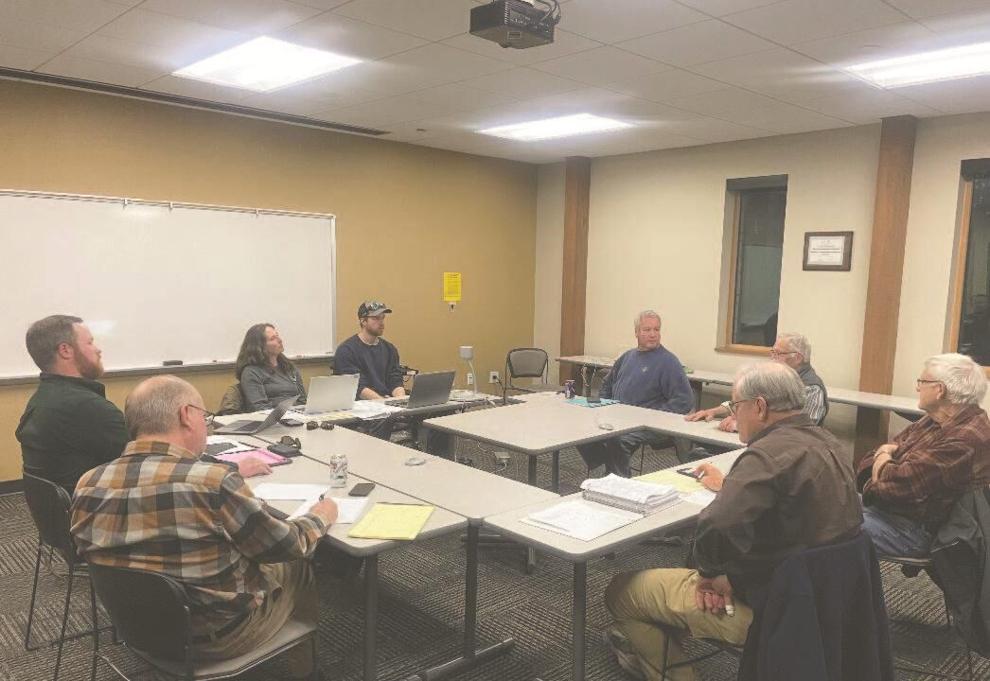 SPOONER - Members of the Washburn County Deer Advisory Council (CDAC) met earlier this month at the DNR's Northern Regional Office in Spooner. The purpose of the meeting was to make their final antlerless quota recommendations.
The discussion mirrored other CDAC meetings over the years, when county line Deer Management Units (DMUs) and private vs. public land quotas instead of DMUs determined by habitat proved to be difficult to manage.
Chairman Joe Weiss called the meeting to order, followed by Wildlife Biologist Nancy Christel reviewing the CDAC charter, which is gathering public opinion on deer population goals and quotas, reviewing the various metrics on herd trends and providing the DNR with population, antlerless quotas and season options.
"There's been a 24% success rate on filling the antlerless tags over the last five years," said Christel. "Private land permits haven't sold out for some time, but the public land tags were gone by Aug. 28 last year, a couple weeks before the season opened. A total of 5,300 permits were issued in 2021 and 1,537 antlerless deer were harvested. I reviewed all the comments submitted and once again they were mainly about predator numbers. There does seem to be a lot of deer out there, though some areas definitely have more than others,
but a severe winter would be tough on what's out there now."
A total of 134 public responses related to the county's deer herd were recorded and weighted by the committee. The comments related to the preliminary quota were split exactly 50–50, with half the respondents supporting the same or higher quotas and the other half stating the quotas were too high and preferred having fewer permits.
"Looking at those numbers, I guess you could say we're doing a pretty good job," quipped Weiss.
One common theme heard from committee members during the meeting was the apparent abundance of deer seen this spring.
"There seems to be deer in most every field I drive by in the evening," said council member Larry Damman. "I don't know if I've ever seen this many in spring before."
In a refrain heard in other counties during the discussion on the distribution of antlerless permits, the difference in habitat within the county's borders was a topic of discussion.
"There's two different habitats in Washburn County. With a few exceptions, the northern half is basically northern hardwoods, while in the southern half there's more agriculture," said Weiss. "That makes it difficult to make quota decisions; we've dealt with this for years now."
Weiss went on say he wasn't sure the public understood the process completely.
"We're doing the best we can with the tools we've been given," he said. "Respondents seem to feel better when they realize we can make 6,000 permits available, but historically we'll only shoot about 25% of them."
CDAC member Bill Taubman expressed concern the DNR really knew how many deer were being taken because of the current regulatory system. Some counties close to Washburn, like Polk County, give free antlerless permits to hunters. Taubman wondered how many of those permits are being used in other counties, since the current regulations are so liberal.
"We're working with flawed numbers, in my opinion, basically trying to make a silk purse out of a sow's ear. How many deer aren't being registered or shot in a county other than where they were issued? Carcass tagging would help," said Taubman. "I know some hunters are buying antlerless tags and not planning on filling them."
Brett Galliean attended the meeting remotely and didn't give a residence during his comments to the committee.
"There's 15 hunters in our group and we hunt in northeastern Washburn County (known for remoteness and a big woods hunting experience). We saw a few more does this year, but we only hunt bucks and we didn't have any success. We're not seeing them on our trail cameras either, but we are seeing a lot of predator sign," said Galliean.
Joe Romportl, the agriculture stakeholder member of the CDAC, expressed concerns over the crop damage farmers are experiencing.
"We all know there's plenty of deer out there. I'd like to see the tags increased and maybe farmers who have large tracts of land get free tags to help control the numbers," said Romportl.
As the meeting wound down, Weiss asked if there were any specific issues the council would like to include with the recommended antlerless quota. Comments from the council included the continuing problem with the diverse habitat in northern and southern parts of the county making it difficult to allocate permits in an effective manner. Weiss also expressed an interest in a longer deer gun season with an earlier opening day.
"There's a lot of deer on the ground now, but with our late opener, the rut's basically over and there's not much natural movement. An earlier opener would likely increase opportunities for gun hunters. The hunting population is getting older; this would be an incentive for them to get out," said Weiss.
Damman agreed with Weiss.
"Deer would move around more if there was a longer season when there wouldn't be so much pressure over a shorter period. It would give hunters more opportunity to get into the woods, too; that's what it's all about. Carcass tagging would help a lot, too; there would be more incentive to register their deer then. There's just not enough tools available now to make the system work effectively."
At the meeting's end, the council decided unanimously to recommend 6,000 private land antlerless permits, the same as last year when they didn't sell out, and 3,100 public land permits, an increase from 1,600 in 2021.