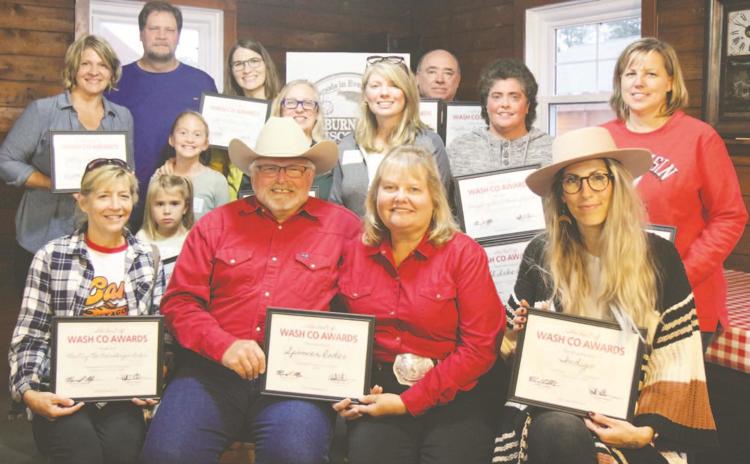 WASHBURN COUNTY – Visitors to Washburn County want to know: Where is the best place to eat? To get a drink? Take the dog? Hike a trail? View a stunning sunset? Have fun?
The staff at Washburn County Tourism Association (WCTA) always have multiple answers, and now they have some answers that locals and visitor alike have approved definitively: The association handed out 12 awards on Wednesday, Sept. 24, during an appreciation picnic at Hunt Hill Audubon Sanctuary.
The 12 categories were chosen based on questions that the WCTA often gets
Kaitlin Hanson, assistant tourism director, spearheaded the inaugural Best of WashCo contest in which about 500 people cast their votes among the 12 categories.
They put out a request for nominations and then narrowed each category to the top three and put those out for voting. More than 500 cast their votes throughout the contest.
The winners, chosen by votes on social media, are:
• Paw Friendly: Spooner Dog Park.
The park in Spooner was created by Ethan Martin.
"He created this as an Eagle Scout project, so super cool to have him give back to the community," Hanson said. Since he is in college, his mom, Christina Martin, accepted the award for him.
• Exciting Event: Spooner Rodeo.
• Wide Open Spaces: Shell Lake Beach.
Hanson said Long Lake, Shell Lake Beach, and other local parks all were nominated.
• Favorite Sunset View: Dock Sitting. With so many docks in the county, no one dock took home the prize.
• The Creative Side: The Potter's Shed. "So this came down to galleries where you can just show your artistic side, viewing art, buying art, creating art, and The Potter's Shed is the winner of that where you can do all of the above there," Hanson said as she handed out the award.
• Family Fun: Jack Link's Aquatic & Activity Center. The county has many attractions and things to do, and the winner was the center, Hanson said.
• Off the Beaten Path: Washburn Co. ATV Trails. The 117 miles of Washburn County ATV trails slipped ahead of Hunt Hill Audubon Sanctuary by three votes.
• Rest Your Head: Totogatic Campground.
"We had a lot of great lodging properties nominated, and we have a lot of in Washburn County," Hanson said. The leading choice was Totogatic Park, a campground and park managed by the Washburn County Forestry Department.
• Water Fun: Floating the Namekagon River. Floating on the Namekagon River winner for water fun and the award was given to Camp Namekagon in Springbrook are outfitters for trips
• The Shopping Bag: Indigo the Label.
"People always ask us where they can go for some good retail therapy," Hanson said. "You can't beat some good downtown shops. And we're lucky to have a new shop in Shell Lake called Indigo," Hanson said as she introduced Indigo as the winner.
• Best Bites: Laughing Goat Food Truck in Shell Lake. A difference of five votes separated the top two contenders in a race that was close throughout the voting. Laughing Goat food truck in Shell Lake.
• Best Pour: Alley Cats Coffee.
"This one came down to literally till the second I closed vote for this," Hanson said.
"These last three categories – the shopping, the eating, and the drinking – apparently people are really passionate about this," said WCTA Director Michelle Martin. "Those were neck and neck on all three of them. It was wonderful to watch."
"We love what we do, we are absolutely blessed to be able to promote our beautiful area," Martin said.
Ann Sayers, deputy secretary of Wisconsin Department of Tourism, who attended the awards ceremony, commended Martin for serving on the Governor's Council on Tourism. Sayers started her job on January 22, and she said Martin pulled her aside at the first council meeting she attended and said, "I've got to tell you about Washburn County. There's so much going on."
"I've spent all day here, and it's been an incredible day," Sayers said. "I always say the downside of having this job is that I get to see all the wonderful things that our state has, and I want to visit them more. So I'm doing a lot of traveling."
She said she has a to-do list for the county now.
"I've just seen nothing but innovation and collaboration and all this, like, energy here today," she said. "So this has been a fabulous, fabulous time. So much of that is due to Michelle and Kaitlin, and I'm really, really grateful to you for all that you're doing energizing community."
Background
Hanson said in an interview later that they did not know what to expect when they launched the awards and they were "blown away" by the great response.
"It makes us feel good to know that that many people saw this and took the time to participate," she said, "and so now we have all these people who are interested and hopefully will stay interested in continuing on with this. We hope to do it every year."
They first got the idea through Burnett County's Top 10, and they reshaped the concept to concentrate on 12 categories with the idea that they would highlight one of the categories each month throughout 2020. The plan so far is to possibly highlight at least the top three nominations from each category.
They spotlighted the nominations and voting through social media, email newsletter, and the industry newsletter.
Hanson said she was like a "kid in a candy store" watching the voting results come in each day.
"It was very exciting to watch it just kind of explode," she said.
The "WashCo" initially started in-house as shorthand for Washburn County, and then they began using it for some of their hashtags on social media. The informality seemed to embody a bit of fun.
Email addresses from voters were taken just for eliminating any duplicate voting. Hanson said they might consider an optional survey next year and the opportunity to post comments during voting. This year comments were accepted during the nomination process.
Categories could change next year, too. Best Bites, for instance, could stay as a general range or it could be narrowed down in any number of ways, including Best Pizza or Best Fish Fry or Best Sunday.
With so many restaurants in the county, "you could do a whole ton of awards just for the restaurants in itself," Hanson said.
While this year's awards and subsequent years' winners may help answer the visitor's "Where do I ..." questions, they do not answer one of the questions often asked at the tourism center, the one about people trying to find that resort or place they visited as a child, the one nestled in the woods on a lake. Sometimes those childhood memories – as vivid and compelling as they are – are not so easily answered as what trails are great for the furry family members.