Lundeen's trademark tropical shirts reflect his philosophy of having a reMARKable life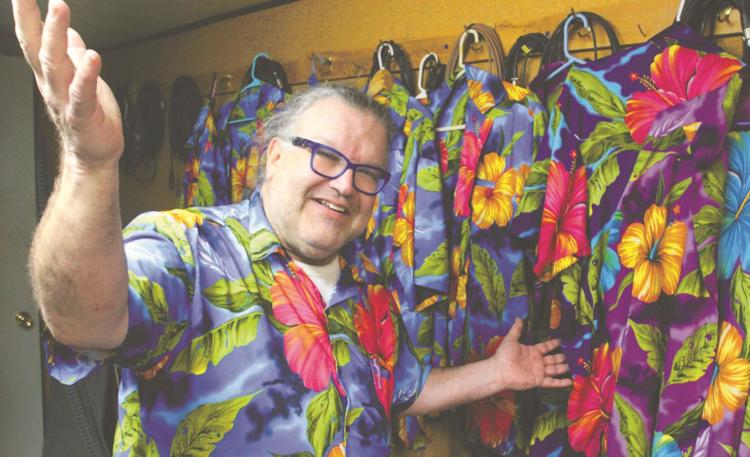 Anyone who knows Mark Lundeen, the radio engineer at WOJB, will tell you his signature look is a colorful tropical blue or purple shirt featuring large, yellow/orange hibiscus flowers and greenery.
Lundeen often compliments those noticeable shirts with either blue-or purple colored framed glasses.
"I want a loud, vibrant tropical shirt because nobody wears those kind of shirts," he said.
In fact, Lundeen owns 18 tropical shirts that he rotates through the month.
And the shirts are "tropical" not "Hawaiian" because for Lundeen they represent the idea of a desirable, warm destination with sandy beaches versus a specific location.
The last time Lundeen was not wearing a tropical shirt was 15 years ago at a funeral, but now even at funerals he looks like someone plugged him into a light socket.
"To me a funeral is a celebration of a life and why not celebrate the life?" he said. "A lot of people say, 'He's in a better place now.' Well, I would like to think he's in a tropical location."
Tropical state of mind
For Lundeen the tropical shirt is less about being noticed and more about an intentional or tropical state of mind.
"In northern Wisconsin, it cost me $17 to put on my tropical shirt and to put on my attitude of I'm on vacation," he said. "I love my work. I love
my job. I get paid to do a hobby, so why not live and breathe like I'm on vacation doing a job I love. Why not be and feel like I'm in the tropics."
In all the years people in the area have known Lundeen, he claims no one has asked why he wears tropical shirts 365 days a year.
"I find that remarkable," I said, and he responded, "ReMARKable! Yes it is."
"Living a reMARKable life" is the name of Lundeen's web page atmarklundeen.com, where he explains the background to "reMARKable."
"I was living a 'good' life, a good family and marriage, good friends and social life," he wrote. "I was still missing something in my everyday life. I was always 'waiting' for something great to happen, but it seemed that the 'great thing' or opportunity kept passing me by. I was always reacting to life's ups and downs. Then I read a book by Jim Rohn, 'Take Charge of Your Life.'"
Rohn's ideas challenged him to accept responsibility for his life and be more intentional. Instead of letting life just happen to him, he intentioned to make the life he wanted.
"I learned to take charge of my life and determine where my happiness is going to come from and where my destinations are going to be and what do I plan to be in life and how successful do I plan to be in life and what is success," Lundeen said.
He decided to literally wear his intentionality on his sleeve.
"To me the shirts are just an outward demonstration of what I feel like inside," he said. "People say to me, 'Did you just come from Hawaii?' and I say, 'No, I'm still there.'"
He describes himself as "an average guy with an above-average attitude living an above-average life" or a "reMARKable life."
Then a little over a decade ago, Lundeen and all his intentionality experienced a year where his wife of 19 years left him, he was unemployed raising two children, and he lost his house and filed for bankruptcy.
"That was really, really tough," he said. "I never had thoughts of ending it all, but I just wasn't sure how I was going to move forward. I really held strong to my faith, and I went back and read those books that talked about attitude and keeping a good attitude, and I had a lot of good friends who said we are going to make it through this, and I did. It was actually a significant change in my life for the better."
Don't stop
Lundeen said he learned walking through the proverbial "valley of the shadow of death" that it is a valley with open on two ends and the most fatal mistake in that valley is to stop moving until one is out.
"Don't stop, keep going because you'll get to the other side of it," he said. "Lot of people stop in the middle of the valley and die. Whether it is emotionally or mentally, they are stuck. But don't stop, keep going."
On the reMARKable website, Lundeen shares life lessons he has learned from walking out of the valley and from his years of studying inspirational speakers like Rohn and Zig Ziglar, Dale Carnegie, and Earl Nightingale.
In a recent post, he shared five of Rohn's concepts of choosing a lifestyle: "To me, lifestyle is not something that happens overnight, nor even within a couple of months. Lifestyle is first a choice and then a commitment to a life-long journey. The key is I get to choose what the journey will be like regardless of what is happening outside my control."
Choose to be grateful
One of the key concepts he has learned to living the lifestyle he has chosen is to be grateful.
"Just being grateful will change your whole world and how you look at the world," he said. "To be thankful for every experience you come across, both good and bad, be thankful for those experiences because they made you grow in character and character is what everyone is seeking."
Lundeen also describes himself as a bornagain Christian who had a remarkable conversion in 1981. He went from a high school drop-out who used drugs and smoked a pound of marijuana a week to someone who never used an illegal substance again.
"To me that said God was real," he said of his conversion.
His faith and life experiences have taught him to be empathetic to others who are struggling. He encourages people to accept how they feel but when they are in those dark places to also recognize they can choose to "move on."
"I have told many people who I know have gone through a really bad experience, that you were created for a purpose and you are not working through that purpose right now," he said. "You are stuck in this place. You need to move on. How they move on, I don't know. I can't give them specifics on how to move on."
January is the time of year when many feel stuck and many are making resolutions to change their lives.
Lundeen said most lifestyle changes realistically take up to two years to effectuate. He encourages people to be patient and make small changes that over time become significant.
Often when people try to make huge changes, he said, they do not keep up the commitment and then swing back and sometimes digress, but small change over time collectively creates a new normal and an upward ascendancy.
For himself, Lundeen has made a commitment to be in better physical shape, and during these winter months three times a week, wearing those loud tropical shirts, he walks around the inside of Walmart. It is not an intense workout every day, but it is something he can do three times a week every week.
"People ask me, 'How can you be so happy?'" he said. "Happiness didn't come to me overnight. It came to me one bit at a time. I had to discipline myself to see that happiness is a choice. It's not an emotion."
Lundeen chooses to wear those tropical shirts every day.
He chooses a tropical state of mind.