Hayward Hurricanes boys basketball team members were honored and received awards for their 2018-19 season accomplishments by coaches, parents and the community at an awards banquet Tuesday, March 5, at The Steakhouse. 
Coach Albrecht thanked the coaching staff and their spouses, players' parents and the players — who are "a great group of young men," he said. "They are doing things to be good citizens of Hayward High School, not just good basketball players. You parents are raising exceptional young men."
Albrecht paid special tribute to this year's seniors for their "dedication to our "basketball family and your teammates. They are Mikia Cox, Riley Dobbs, Craig Burger, Larry Butler, Jacob Boss and Matt Dorn (who received the "Team First" award). 
Each senior spoke of their memories and gave thank-yous to their supporters.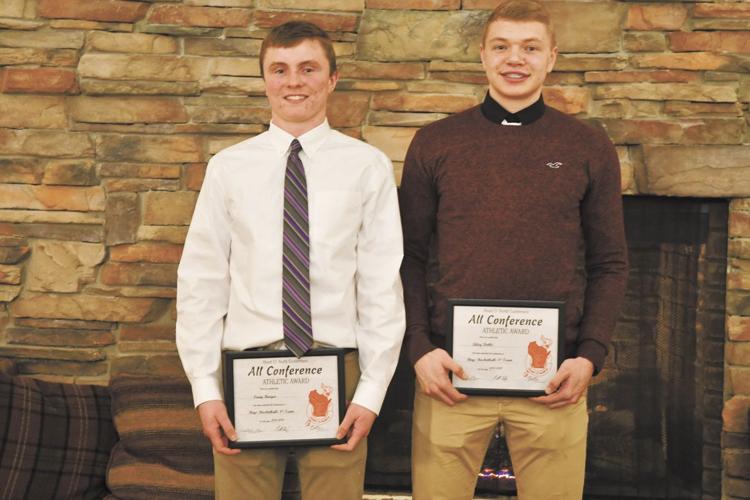 Albrecht presented Heart O' North All-Conference First Team awards to Riley Dobbs and Craig Burger. 
Dobbs was voted Player of the Year in the Heart O' North. He was the only player in the league who ranked in the top six in points, assists and rebounds and also excelled on defense against the opponents' top players.
"I felt I had the best two players in the conference," Albrecht said. "They were a big part of our game plan, and stayed on the floor a lot" throughout the games. He added, "I will truly miss these seniors. They have done a great job."
Burger, a first team HON All-Conference selection, along with Dobbs, said, "The coaches had an impact on us beyond the game. It's been a fun run. It's a lot more fun when you have a good crowd (of fans), and a lot of our games had really good atmospheres."
Dobbs praised his parents, "my biggest supporters," along with his coaches through the years. 
Also playing minutes on the varsity were sophomores Henry Schmitt and Cole Phillips, and juniors Austin Wessel, Tommy Tiffany (starter), Tanner Johnson, Jakob Shaw, Louie Kolkind, Jackson Morgan and Mason Chipman. 
Tiffany and Wessel both "had a great year for us," Albrecht said.
C Team Coach Jared Phillips commended players Elijah Heyworth, Niijoo Sullivan, Louden Lohman, Trae Stone, Gaitlin Gunn, Jordan Miller, Matthew Halberg, Owen Stamp, Xander Larson and Blake Olson.
"We had a fun season," Coach Phillips said. 
"We will be asking a lot from these freshmen in the near future," Coach Albrecht added. 
JV Team Coaches Pat Harrison and Stu Neville recognized players Tyler Bratley, Chad McCallum, Henry Schmitt, Cole Phillips, Jackson Morgan, Ayden Froemel, Sam Snider, Jakob Shaw, Louie Kolkind, Tanner Johnson and Joe Balber-Benjamin. Several of the JV players also saw action in varsity games.
The JV team posted a 14-8 record this year including a six-game win streak, which was "really good," Coach Harrison said. "They worked hard, played hard and got a lot better."
It was "Good to see you (JV players) come together as a team," Albrecht said. 
Banquet attendees viewed a season highlight video produced by Roger Burger, featuring this year's seniors. 
This year's Hurricane team finished with a 13-11 overall record, outscoring opponents by an average of 55.7 to 51.2.
Team leaders this year included: 
Points per game: Craig Burger, 15.4; Riley Dobbs, 14.8.
Rebounds: Riley Dobbs, 7.8 per game.
Field goal percentage: Craig Burger, 47 percent.
Free throw percentage: Wessel, 19 for 23 (82 percent); Dobbs, 51 for 63 (80 percent); Burger, 57 for 77 (74 percent).
Assists: Burger, 74; Dobbs, 67.
Steals: Burger, 47; Dobbs, 42.