There was no dramatic photo-finish for the 46th American Birkebeiner 50K Saturday morning, Feb. 22, but there was plenty of excitement from a massive crowd of spectators on a brilliant, sunny day in Hayward, who came to watch elite skiers from around the world vie for the winner's podium.
Jessica Yeaton, an Australian studying in Albuquerque, New Mexico, finished a good 50 meters ahead of her nearest rival, coming in at 2:13:20.6. 
Yeaton was followed by Riitta-Liisa Roponen of Finland who came in at 2:14:02 and Erika Flowers of Bozeman, Montana at 2:15:00.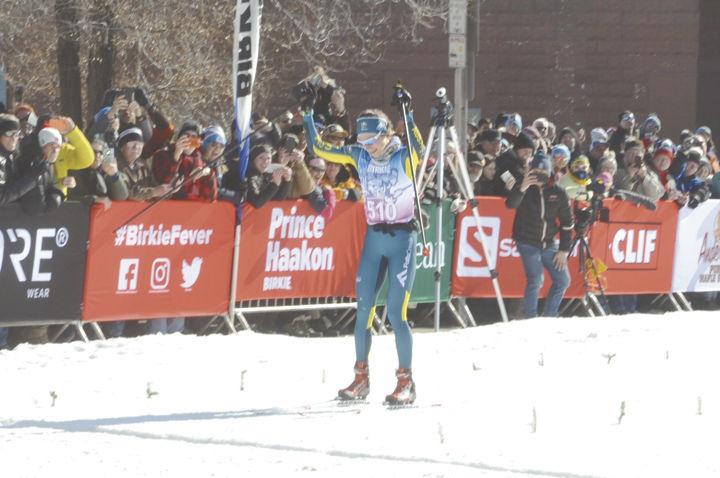 The men's 50K skate race was a little more suspenseful, but Niklas Dyrhaug of Norway was 10 meters ahead of his five closest rivals when he crossed the finish line.
Dyrhaug finished in 1:59:01.7, followed by Ian Torchia of Rochester, Minnesota, in 1:59:03.3 and Robin Duvillard of France in 1:59:03.7.
Yeaton said she was in a group for the first 25K and then at OO she put on a "little bit of a surge," a gamble she hadn't planned on but that ultimately paid off. 
"I was definitely pushing it, knowing these fast ladies were behind me, chasing me," she said.
Roponen was ahead after an early sprint on the trail, but at a second sprint Yeaton took over.
"I was wondering, 'Where did Jessica go?'" said Roponen. "She is so fast. I last saw her on the uphill."
In the men's race, Dyrhaug had planned to get out ahead early for the first 10-15K where he thought he had the best chance to create a gap with the others, but a group stayed with him all the way to the end.
Duvillard pushed the group the last 10K. He created a small gap but couldn't break away. He said his "aggression" might have helped ensure his third-place finish, softening up the other skiers who otherwise might have taken their time.
Once on Lake Hayward, Dyrhaug said, there were at least a group of 10 contending.
"It's hard to know how it's going to end, but I wanted to stay in front," he said. "I was so nervous that there would be some gain, so I tried to stay in front. I felt pretty good and I was pretty confident (so) I decided to go for a long sprint, maybe 500 meters from the finish line, and it worked out."
He added, "It really is crazy coming over the bridge there and all the people and the crowd lifting you up. I wanted to look back, but I just focused with all the sprint strength I had until it was about 50 meters, and I saw I had 15 meters (as a gap). It was a great day for me."
The 30-degree temps made the course a little faster and all the podium winners complimented the conditions on the course.
"It was amazing," said Torchia. "It made for a really fast race. I think close to the record."
"I thought it was consistent throughout the whole race," said Yeaton. "You could not ask for better skiing. It was gorgeous out there. It was fresh corduroy the whole way, and I kept thinking to myself, 'this is the best Nordic skiing I've done.' It was perfect. I wasn't too cold and wasn't too hot."
The top finishers were asked to describe how they felt at the finish.
"I'm ecstatic about winning," said Yeaton. "This means more than any victory in my career. It was just so special."
"It was unbelievable," said Flowers, who has been on the winner's podium before. "I couldn't wipe the smile off my face coming down Main Street. You are just in this tunnel of sound and everybody is so excited, whether they know you or not. That energy is what keeps people coming back year after year. Just to cross that finish line, whether you are first or you're 500th, the sheer energy coming off Main Street is just unrivaled." 
Roponen, who has been on many Finnish teams and competed in the World Cup and Olympics, was asked to describe her first marathon race in America.
"Everyone was telling me before the race to enjoy and have fun," she said, but for her the race was hard and she was battling until the end. 
"That last 100 meters was so amazing," she said. "I almost started crying. People were cheering for you. The feeling was so emotional for me."
As a Midwesterner, Torchia said the second-place finish is huge for him. 
"This is the big event of the season," he said. "They talk about Birkie Fever and it's kind of a joke, and then you get here and it's real. You get so stoked. Last night I was running and I was shadow boxing while I was running, because I was just so amped to race today."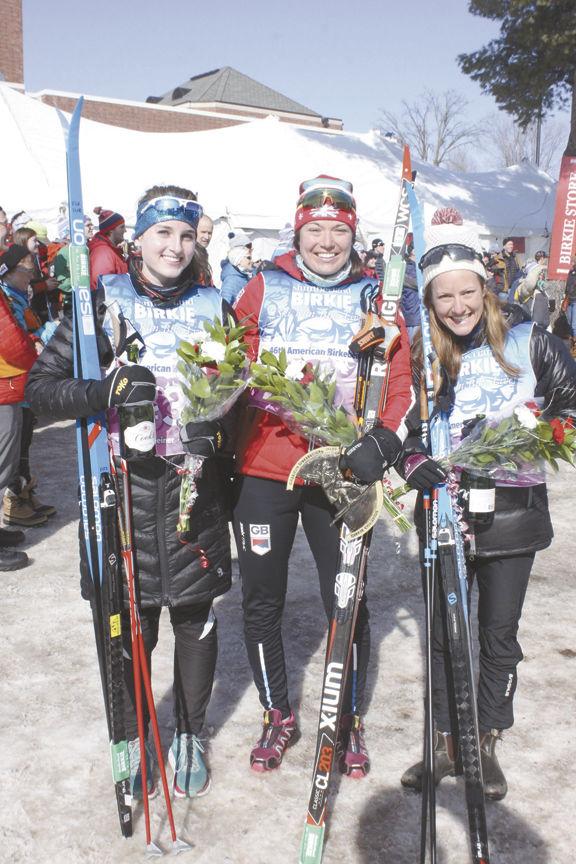 In the women's classic 55K, Nichole Bathe, originally from Madison but now living in Oslo, finished first in 2:49:47. She was followed by Anja Gruber of Boulder, Colorado in 2:55:20.3 and Delaney Fitzpatrick of Minocqua in 3:00:38.3.
"I went off pretty hard, and I knew I could double pole," said Bathe. "I just tried to get over the hills as quick as possible and get to the double pole. I was lucky enough to have some of the elite men pull me (by creating drag), which was awesome. That was good of them. It was awesome to ski the course. I've never done it before."
The key for her first-place finish, she said, was focusing on her legs in the first portion and her arms towards the end to create a gap. 
Bathe had never skied a Birkie, although she skied the Kortelopet when it started and ended at Telemark Lodge. This was her first time racing south of OO. 
"I've never done Main Street before, so it was really cool," she said. "It was awesome."
It's deafening coming down Main Street. It's just fantastic."
In the men's classic Peter Holmes of Ketchum, Idaho, finished first in 2:26:46.4. He was followed by Chris Pappathopoulos of Sun Prairie, Wisconsin with 2:38:38.8, and Evan Wetzel of Waukesha, Wisconsin at 2:38:40.7.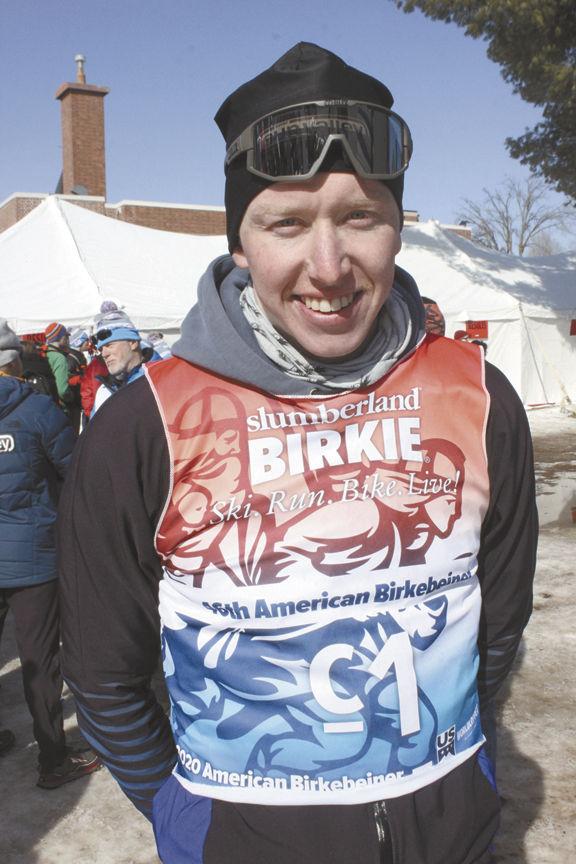 "I just kind of went hard off the start," said Holmes.
Holmes was motivated to push himself by a bet with one of his female teammates from the Sun Valley Team, who wagered that she would finish before him.
"She got me by five minutes, but that kind of pushed me," he said.