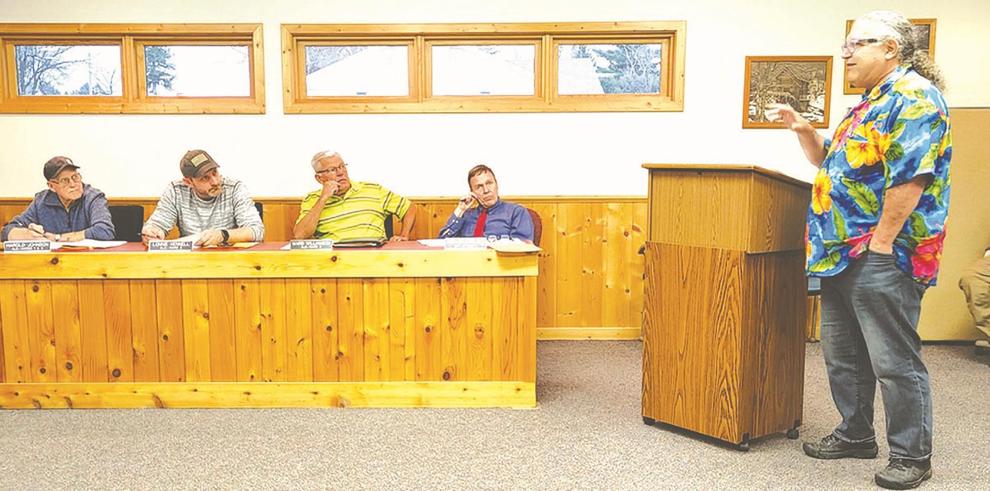 Mark Lundeen, an engineer for radio station WJOB, appeared before the Hayward City Council Monday, May 9, to discuss his goal of creating an online TV station for the Hayward area and to alert the council that eventually he would be asking the city for financial help.
Lundeen, known for wearing colorful tropical shirts, discussed his involvement in public access television in the Twin Cities before moving to the area six years ago.
Public access television is offered by cable providers whose contracts with municipalities requires them to make production and studio facilities available for local programing, mostly produced by volunteers.
Public access television stations rose to prominence during the 1980s and through the 1990s, but attention to cable access waned with the rise of the internet and prominence of online sites such as YouTube, where anyone with a camera or phone can shoot videos and easily post them.
Lundeen is pursuing a TV station that would use online streaming technology with content that focuses only on Hayward and offers news, events, weather, sports and community information.
He has formed a non-profit and is now raising awareness by visiting municipalities and local marketing agencies, such as the Hayward Area Chamber of Commerce, Hayward Lakes & Visitor Convention Bureau and others.
"Everyone I've talked to said this is amazing," Lundeen said.
Like public access television, he said, local residents and business owners could make their own programing.
Lundeen said the station would help those from out of the area who have a Hayward connection to stay in touch.
"Our audience will be those people from Chicago, Madison, Minneapolis and St. Paul, who are tourists here or have a second home here and they are going to want to see what's happening in Hayward today," he said.
One of the ideas for the new online station is to place seven cameras around the Hayward area so people can see what's happening any time of day. He has discussed placing a camera at Second and Main streets with Hayward Business Improvement District ( BID) President James Netz.
Lundeen said he wants the council to be aware of the project because at some point he would be asking the city for financial support, but does not know how much.
He noted the city receives cable provider fees that are intended to help with local programing, but he also said those fees are scheduled to expire in about three years so he doesn't want to count on them. The primary source of funds, he said, probably would be grants.
Another source of income, Lundeen said, would be advertising.
He said the online station would not be regulated by the Federal Communication Commission (FCC) because it would be entirely online versus broadcasting over airwaves regulated by the FCC. The online status would allow the station to offer advertising or sponsorships, even though it would be functioning essentially as a public television station.
"Having a community station is just so much easier now because of what the internet provides," he said.
With a grant from the state, Lundeen has rented the front of a building off Highway 63 where the once occupied by the Sawyer County Record. If more funds become available, he intends to rent the back of the building this June to use as a studio.
LWC update
Kristy Maki of the American Birkebeiner Ski Foundation (ABSF), which manages the Lumberjack World Championships (LWC), updated the council on the July 28-30 competition which, this year, also will include a performance by comedian Charlie Berens on July 17.
She said the new, handicap-accessible bleachers would be installed beginning May 16 at the Lumberjack Bowl.
Maki requested a banner across Main Street in early July, and as in years past, she asked for handicap parking to be allowed along the biking and walking path just outside the Lumberjack Bowl and nearby city spaces to be used for volunteer parking.
She also noted that this year's Lumberjack Run would start at 8 a.m. Saturday, July 30.
The council approved all of Maki's request.
Other business
Mayor Charlie Munich thanked St. Joseph Catholic Church for its $2,500 donation to be used in the Public Works Department.
The council approved a request by the Hayward Civic Club to have a fireworks display on July 4 and a display banner over Main Street from June 27 to July 5.
Matt Ostrander was appointed as the city's representative to the Weiss Community Library Board.
The council approved taking bids for blacktopping of Wheeler Street and Bay Avenue, and with funds available in the public works budget, Munich said, the city also will take bids to seal coat various city streets.
The council approved raising the pay for the person watering Main Street plants from $13 an hour to $18 to attract a person to take the job. The city had been unable to attract a worker for $13 an hour.
During public comments, Sawyer County Sheriff Doug Mrotek introduced the new Sawyer County Administrator Andy Albarado, who assumed the position two weeks ago from Tom Hoff, who retired in March.
Albarado, who previously had been a coordinator for Rusk County, said he had much experience working in county government and interacting with the City of Ladysmith.
"So I've worked closely with the City of Ladysmith all those years," he said, "and I've been through the good times between councils and boards and the bad times, and sometimes when they don't agree the staff has to figure out how to get things done."
Albarado also updated the council on construction of the second courthouse to be built between the existing courthouse and the sheriff's office. Work will begin May 16, and a brief groundbreaking ceremony will be held at 5:30 p.m. Thursday, May 19, before the County Board meeting.