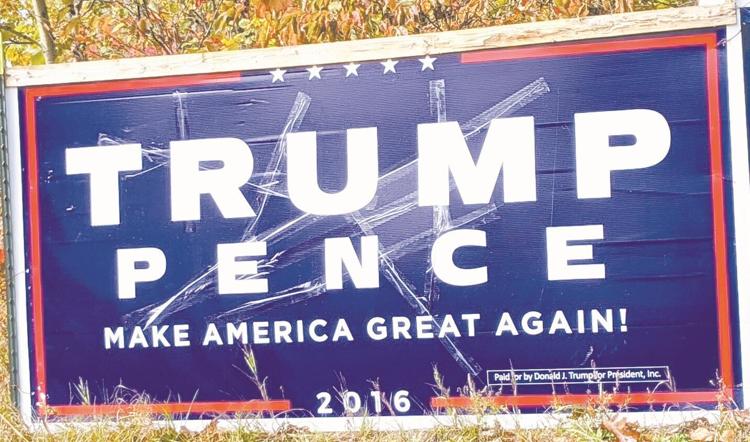 There are probably more game cameras out this fall than in years past, but they are not out there to capture an image of big buck or black bear strolling down the trail.
More and more property owners have a game camera aimed at their front lawn in the direction of a political sign. They're trying to capture a photo or video of someone stealing or defacing the signs.
More and more people complaining of their signs being stolen or damaged are being advised to position a game camera to capture an image to turn over to law enforcement.
And some images have been captured.
In early September a game camera captured video that appears to show a FedEx driver stealing a large Trump sign in St. Croix County.
The Record has received an image recorded on Sept. 22 and passed on to the Sawyer County Sheriff's Department of what appears to be a man stealing a Biden sign off Hospital Road in the Town of Hayward.
Sawyer County Republican Party Chair Jim Miller claims there are several videos, also
in the possession of the sheriff, of a man repeatedly stealing Trump signs.
Over the last month, the Record also has received reports that campaign signs have been stolen or defaced on private property or in the right of way of ditches near people's property.
Every election season, and in particular every contested presidential election season, there is some vandalizing of signs, which is a crime under state statute 94301 concerning damage to property and 943-20 (1) for theft.
Hayward Police Chief Joel Clapero said three complaints (two concerning Biden signs and a third he wasn't sure about) have been filed, but only one complainant wanted to pursue charges. However, he said he has heard other reports of missing signs.
On Sept. 9, Sheriff Doug Mrotek reported there had been four complaints of stolen or vandalized Biden or Democratic signs, including one in Winter Township, two in Ojibwa Township and one in the Round Lake area.
On Tuesday, Sept. 28, the sheriff's office reported that since July eight reported incidents had been reported with no delineation of the type of sign — Republican or Democratic — that had been damaged or stolen. Six of the complaints resulted in an officer responding and two were just logged in for information purposes.
"I think it is unfortunate that some people stoop to that level of stealing and/or damaging signs, especially trespassing on private property to do it," Mrotek said. "Where is our appreciation as Americans for each other and the process that makes America the best?"
The Record has received several complaints of Joe Biden signs being stolen or damaged on North Riverside Road in the Town of Hayward.
Barbara Williamson, who lives on Riverside, said she had two Democratic candidate signs stolen, one for Biden and another for Tricia Zunker, who is running for the 7th District congressional seat.
"I was disappointed," she said. "I wanted the signs up. I didn't care if others knew how I voted, and if someone voted for Biden, that would be fine by me."
Nearby on Highway 77 in Hayward, a woman, who asked not to be identified, said she has had two Biden signs stolen off her front yard on two separate occasions. One theft occurred on a recent Sunday while she was home.
"I feel angry about it," she said about the stolen signs.
The woman said she is considering putting up a third sign but she was concerned about antagonizing whoever was stealing her signs.
"It feels like such an assault for someone to walk over my property and take a sign," said Pat Olson, who lives off Nelson Road and had a Biden sign stolen. "It's robbery, and it's a violation of free speech."
Stephanie Arntsen lives off Hospital Road in the Town of Hayward. She had a small Biden sign stolen and replaced it with a much larger wooden sign she made that reads: "You stole our signs, not our votes. Vote Biden 2020."
Just down the road from Arntsen, John and Joan McGaver have had five signs stolen on two occasions: First three signs were stolen — Biden, Zunker and "Vote From Home" — and then on Tuesday, Sept. 22, two more signs were stolen — Biden and Zunker.
The man stealing the McGavers' sign on Sept. 22 didn't realize his image was captured by a game camera and handed over to the sheriff.
Most of the reports the Record has received have concerned Democratic candidate signs, but Republican signs also have been targeted. Mrotek said he had been informed of a Trump sign that had a Biden sign stapled over it, and he knows of other Trump signs that were either damaged or stolen but the residents didn't want to file a complaint.
The Record received reports of a large Trump banner being damaged off Highway 63 north of the KOA Campground in Lenroot Township and another off Highway A in Round Lake Township, but was not able to confirm.
On Sept. 26 a large Trump sign at the corner of Bender Road and Highway B was slashed, but by Monday it had been taped back together. The signs sits on property owned by Curtis Scherer, but was placed there by Miller, who said several people saw the damaged sign over the weekend and it upset them.
Miller said he knows of two large Trump signs that have been damaged in Sawyer County, and several people have reported smaller Trump signs that have been stolen. He also knows of one woman in Hayward who had her Trump signs driven over by a vehicle.
Miller said he didn't doubt the reports about the Democrat signs but noted it was happening to Republican signs as well. However, he didn't think as many Republicans were filing complaints, a sentiment shared by the sheriff.
Paul Demain, one of the vice chairs for Sawyer County Democratic Party, said the county office had distributed 260 yard signs, and he estimates 10 percent had been either damaged or stolen.
Demain believes the illegal activity will subside when law enforcement eventually arrests a person for damaging or stealing a sign.
"This shows ill intent on both sides by those doing this damage and stealing," said Demain. "People should be ashamed who are doing this. It just shows desperation."
Miller said the leaders of both the Republican and Democratic parties do not condone stealing or damaging political signs. He believes those doing the illegal activity are not serious, dedicated party members for either side but rather are those caught up in the political intensity of a heated presidential race.