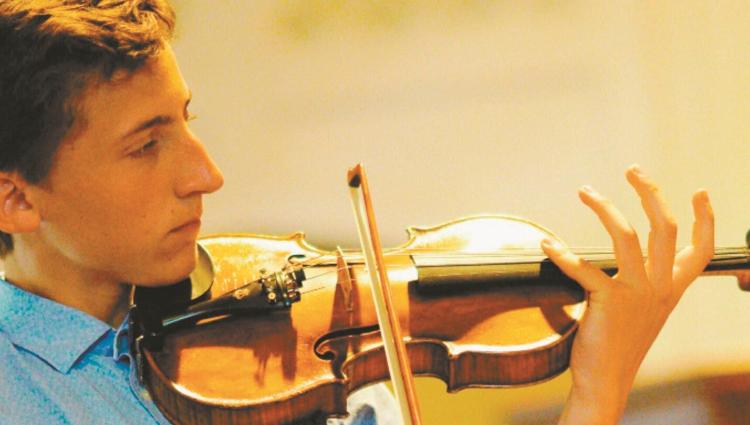 Henry Zietlow had so much potential.
He did well academically. He was a gifted athlete. He was a musician. A teacher once described him as someone who approached life with a "joyful enthusiasm."
But all of his potential would forever be unrealized.
The 18-year-old was traveling north on Highway 63 in the Town of Springbrook on Jan. 14, 2019, heading from his Minnesota home with his mom, Sarah Risser, to a ski trip in Michigan, when a truck driven by Andrew Ninke, 25, of Deer Park — hauling a trailer with a vehicle on it — crossed the center line and crashed into them.
Ninke and Risser, both injured, were taken to hospitals, but Zietlow died at the scene.
"A brilliant young man lost his life," Risser said. "He was born with such a big heart. He was really gentle, he was very sweet natured. He worked so hard. He was a really hard worker. He did really well academically. He was in his first semester of college."
Ninke was cited for operating left of center, causing a death, which had a fine of $1,397.50, and operating a semitrailer without capable brakes, which carries a $175.30 forfeiture.
Alcohol blood concentration tests showed no alcohol in his system.
The registration for Ninke's truck also had expired the month before. The trailer was owned by a man from Clayton, and Ninke's Ram did not have a system for operating the trailer's brakes. The combined weight of the trailer and the Ford Fusion that it carried was
above the legal weight limit for a trailer without brakes.
Risser maintains that the left of center and no brake charges are insufficient, and that Ninke should have been criminally prosecuted.
She said she is not out for vengeance, just for accountability and to raise awareness about driving responsibly and hauling responsibly. Her campaign to see that happen has been very public, with a billboard close to the accident site and an online petition urging the Washburn County's district attorney to prosecute Ninke.
"I think so often people become statistics, and I think it's really important to have an image to make people realize how real it is," Risser said of the billboard. "Loss of life is hugely significant."
The online petition says its intent "is to communicate to the state that enforcing the laws on the books that were enacted to ensure safety is imperative — not only for justice — to address the ongoing public health crisis of traffic violence and road fatalities. This petition is as much about upholding Wisconsin law as it is about preventing senseless and needless loss of life on Wisconsin's roads and the ongoing pain and grief endured by surviving family and friends of road-traffic victims."
Risser said she believes that criminally negligent drivers "get a pass."
"If we want to improve road safety, we need to start holding criminally negligent drivers accountable," she said. "I think that a lot of people care about road safety. I think that a lot of people want to see justice, who care. I think a lot of people are concerned that we have such a high number of road fatalities every year."
According to the Department of Transportation, between 2013 and 2018, the latest years shown on its website, on average, 128,789 crashes occurred annually, 504 of them with fatalities, with an average of 41,415 injured each of the years.
Wisconsin's fatality rate is .89 per 100 million miles of travel.
Washburn County averaged 348 crashes between 2013 and 2018, compared to 257 in Sawyer County, 660 in Polk County, 807 in Douglas County, 253 in Burnett County, 791 in Barron County, 363 in Bayfield County and 300 in Ashland County.
"This is about our son, but it's really about so much more," Risser said. "It's about doing what's right. It's about curbing the loss of life."
She would not say whether she believes incarceration of Ninke is appropriate, or for how long, but she said Ninke's driver's license should have been revoked, at the least.
Two traffic tickets were not commensurate with the loss, she said.
"It really is another public health crisis, the number of people who lose their lives on our road, and we need to start doing something about it. That's really the message."
Original decision
The case originally was considered by District Attorney Angeline Winton, now circuit judge for Washburn County, and the charges reflected her decision in the case. The citations were from the State Patrol.
The case had been closed when current District Attorney Aaron Marcoux took office, but the family had contacted the State Patrol with questions about the investigation, and the State Patrol asked Marcoux to meet with the family to hear their concerns.
Marcoux, four State Patrol officials, county victim witness coordinator Tammy Fee, Risser and her husband, Nathan Zietlow, met last November.
Marcoux said in meeting with the family he went through each point they raised and explained his position that Ninke was not criminally negligent.
Risser said she found the answers "extremely unsatisfying and subjective" and a follow-up letter with additional photos and reports was "100% dismissed."
Marcoux said he had the case reviewed by his assistant district attorney, without saying what his own conclusion was, and also sent the case file to the state attorney general's office and asked that the traffic and driving-while-intoxicated specialists also review it.
"Just to make sure nothing was missed," he said.
They all reached the same conclusion: "That this is a very, very tragic accident," Marcoux said.
A tragedy, but not a case of criminal negligence.
The crash
One of the major points Risser disputes is the condition of the road at the time of the accident. Ninke listed sleet as a weather condition and snow or ice as a road condition in his statement to the State Patrol.
Trooper Michale Anderson said in his report, "It was an overcast day with freezing rain which caused icy road conditions in Washburn County."
The citations cite freezing rain or drizzle and "wet, ice" as road conditions.
In the dispatch audio following the 911 call, according to Marcoux, the icy roads were discussed, and officers were said to be slipping. Salt trucks were requested.
Coincidentally, Marcoux had driven that same road that day and had gone through the same storm. As a salt truck driver earlier in his life, he said he recognized clues of iciness in the trees weighed down by the mist, for example, and a skim layer of black on the road.
"I remember it being very icy, and I remember having to deal with the roads and drive through that very stretch on Highway 63," he said.
Risser said the iciness was never proven.
"It was always speculative," she said. "That was always presented as it may have been a contributing factor, but it was never proven, ever, that ice caused the accident."
In her own statement to the State Patrol, Risser recalled the weather being rainy and the road "wet."
She said other vehicles that stopped after the accident did not slide, and other people walked there with no problem.
"I got out of the car and walked," she said. "I was injured. I was in a state of shock. I could walk without slipping."
What was known "beyond a shadow of a doubt," she said, was that Ninke got into his vehicle knowing it did not have a way to engage the trailer's brakes and the trailer was overloaded.
One of the citations said Ninke "was pulling a trailer behind his vehicle that was loaded with another vehicle. The trailer/vehicle combination require trailer brakes be equipped. The trailer had brakes but they were not equipped to the defendant's vehicle."
Marcoux said that he learned in his investigation that even if the brakes had been connected, their use on icy roads could have caused the truck and trailer to jackknife, potentially causing more fatalities.
He said his investigation showed the lack of brakes on the trailer and the overweight trailer and load were not factors in the accident.
Criminal negligence
Culpability embodies a spectrum of levels, from negligence to recklessness to being intentional.
According to Wisconsin Statute 939.25, "criminal recklessness" means "ordinary negligence to a high degree, consisting of conduct that the actor should realize creates a substantial and unreasonable risk of death or great bodily harm to another."
Marcoux said negligence as a legal term embodies duty, causation and harm. Drivers have a duty to everyone to operate by the rules of the road. Crossing the center line into oncoming traffic caused the accident that took Zietlow's life.
"So you have duty, causation and harm, so you have negligence," Marcoux said.
"That's the civil standard of negligence. Criminal negligence has a very specific standard that's found in the statutes, as defined in the statutes, and in looking at the different case law and looking at the facts of the case, looking at the police reports, looking at all of the stuff, I didn't believe it rose to that level of criminal negligence."
A civil case, yes, he said, but no amount of compensation would ever compensate the family for the loss of their son, he said.
"I've got six children of my own," Marcoux said. "I don't want to spend a second even contemplating having to bury one of my children in the way that she had to put her son to rest."
But the death was caused by an accident, he said, and ethically, he could not prosecute the case. Beyond that, he added, it would be highly likely a jury would return a not-guilty plea.
"It's just a really a heartbreaking situation because I would love to be able to bring the family some sort of relief," Marcoux said. "I would love to be able to use the authority and the power of this office to bring them reconciliation, to bring them whatever it is that they need to heal.
"But I am bound by the law. I can only use the authority of this office with the authority that the Legislature is given me, and that is that I am to prosecute crimes, and I'm to prosecute forfeitures in traffic citations and all that other stuff, and law enforcement in this case issued citations.
"And they were the appropriate citations for the facts. There is a civil case in a civil remedy to deal with the financial end of the compensation for the loss, the harm."
Risser said the research into case law on criminal negligence by her and her husband, Nathan Zietlow, a lawyer, suggests that the case actually does rise to criminal negligence.
She said she would like to have a conversation with the state attorney general about the case. She is not sure how she will pursue the case, but said she has no intention of pursuing it in civil court because she is convinced it is a criminal case.
Marcoux said Ninke has expressed remorse for the accident.
"He explained to me that he is contacted on a regular basis by the family and that he wants the family to understand that it was a tragic accident and he is extremely regretful and extremely sorry that a life was lost during that," Marcoux said.