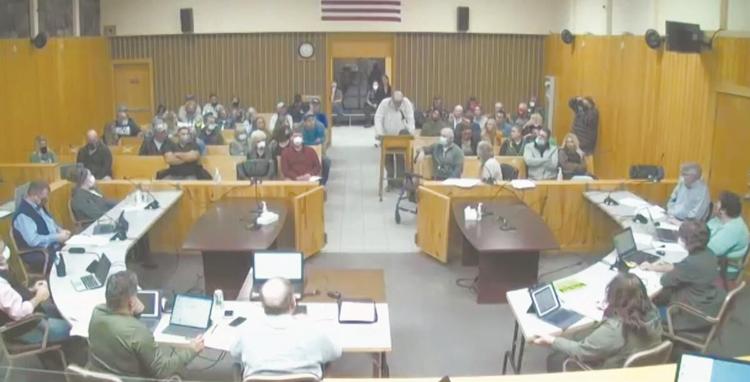 "In my opinion, we are probably really not ready to pass this," said Tweed Shuman, Sawyer County chairman and vice president of the county Health and Human Services Board. "I think it needs more discussion and I think we need to think it through."
Shuman spoke at the HHS board meeting Tuesday, Oct. 6, regarding a proposal to revise the county ordinance concerning communicable diseases and public health hazards. The proposed revision has drawn attention as the county responds to the COVID-19 pandemic and rising number of positive cases in the county.
Shuman's comment came after nearly 45 minutes of statements from the public, including several business owners. Most of the speakers were opposed to the revision, and some were opposed to the ordinance itself, citing concerns of overreach by the county's public health officer, who is a non-elected official.
Finally, Shuman moved to postpone any action on the matter for two or three months, which HHS board members approved unanimously.
Background
Upon the advice of Corporate Counsel Rebecca Roeker, the county began exploring changes to its health ordinance that would give the County Board of Supervisors legislative oversight of any orders issued by the Sawyer County public health officer. Roeker said the oversight also would strengthen the enforcement of orders.
Under state statutes, the county public health officer has the authority to issue orders such as the state face coverings mandate which requires masks to be worn in public places.
Sawyer County Public Health Officer Julia Lyons has issued no orders during the COVID-19 pandemic, but she has published advisories, suggestions for controlling the spread of COVID-19.
Roeker has advised there are "enforceability" issues with the county's existing ordinance based on the May 13 ruling by the Wisconsin State Supreme Court. That ruling ended the extension of Gov. Tony Evers' Safer at Home order, an extension that was found to have been made outside the purview of the state's administrative rules.
Adding the legislative element to the county's ordinance, Roeker has said, would allow future orders to withstand a court challenge and would provide elected officials oversight, addressing the fears of overreach by the public health officer.
Update
Prior to discussing the revision, Lyons gave a status update of COVID-19 and noted the county is experiencing a surge in new positive cases, reflecting recent trends across the state.
"The entire state is having some difficulty keeping the virus in control," she said, adding that community spread is occurring because many people still are not wearing face masks and others are gathering and not observing social distancing guidelines.
After Lyons spoke, HHS board member Jennifer Vobornik, owner of Main Street Gourmet Popcorn in downtown Hayward, said she had been sick with COVID-19 and expressed frustration over not receiving any clear direction or advice from public health regarding the operation of her business during the pandemic.
"There was really no good answers," she said. "I was told do what you want."
Lyons acknowledged businesses need more attention than contact tracers hired to follow community-spread are able to offer.
HHS board member and Lac Courte Oreilles Tribal Governing Board member Lorraine Gouge said most people want to get back to their normal life, but she encouraged the necessity of following safety measures.
"We are all getting tired," Lyons responded. "We are all sick of COVID."
Approximately 40 people were in the audience and another 100 or more viewed the meeting online on Zoom. Seventeen spoke during public comments; 15 expressed concerns with or opposition to the revision and to the county ordinance itself, and two were supportive of the revision.
Four letters that were submitted but not read during the meeting supported the revision.
Concerns
Most of the concerns centered on giving too much authority to the public health officer, a non-elected official. At least three people said they were surprised Lyons was not a resident of the county, and at least two said it should be the sheriff and the district attorney who cite violations rather than the public health officer.
"I do not believe anyone should be given the right who is not an elected official to have any of these mandates or powers," said Brett, who noted he was not a business owner. "That is why we elected you. We trust you. You should be making these decisions, especially the right to impose forfeitures against a business. My understanding is that falls under the DA's and the sheriff's jurisdiction, and both are elected officials, and that should be where it stays."
Chelsea Tremblay of Tremblay's Sweet Shops said her family owns businesses in two other counties and had received much more assistance and direction from those county health officers than from Sawyer County regarding safe COVID-19 practices.
"No one talked to us and no one gave us guidelines," she said, adding, "When I hear about more power going to them, it doesn't make sense to me when they don't even have time to tell us what the rules are and guide us. I don't know how they have the time to deal with more power."
One man at the meeting, Don, said he was a retired state inspector who had done hundreds of inspections, and he criticized the county's ordinance for not mirroring the state statute, as most county ordinances are written. Because of that he believed the ordinance would be subject to a court challenge.
Billy Jo Sabin, owner of Angler's Bar and Grill in downtown Hayward, said it had been difficult running a business safely with so many tourists around over the summer, but she noted her business had made it a priority to keep customers and staff safe.
Sabin recounted Angler's experience requiring staff to wear masks after the business had been notified by the health office to wear them.
"We put them on for three weeks to follow the guidelines for the mask mandate," she said, "and I had three servers that about passed out from wearing them. We are busy there and it is hard to wear them when you are hustling like our staff does to keep up. And I gave them the option, as it should be, whether they wear them or not. It should be a self-choice, not somebody telling us to wear them.
"We all know COVID is here. We know the virus is real. We are in this together. This ordinance to give even more authority is dividing us even more, and we are all here because of it, and we hope you are listening to us and why we are here," she said. Sabin added she hoped the revision would be dropped, just as similar attempts had been dropped "in other communities."
John Dettloff, who called himself a 48-year resident and business owner for 36 years, said he had chosen for his business to go beyond COVID recommendations. He said he treasured the right to make that decision and cautioned against revising and possibly infringing on such rights. He added that the state statute had given the county public health officer too much authority, but he also noted he had learned a lot from Lyons, but she wouldn't always be the county's public health officer.
Brenda Dettloff said she had major heart surgery in April and had chosen to wear an N95 mask for her protection, but added that mandates shouldn't be applied to all.
"You can't make everyone abide by the same ordinance," she said. "You can't do that. It's not fair."
A man by the name of Taylor, who said he is not a county resident but does business in the county, said the revision had divided people and would result in people "snitching on your neighbor."
A woman named Christine, who identified herself as 17-year resident and former lawyer from Illinois, applauded Lyons, but noted the state Supreme Court had overturned the Safer at Home extension for exceeding authority, and it appeared to her it that the county was headed for a similar court challenge.
A man named Richard asked who would pay for enforcement of violations, and added he didn't want his taxes going up to pay for it.
In support
Ellen Domask, a resident speaking over Zoom, supported the public health officer's authority and complimented Lyons for staying on top of the pandemic.
"This is a first for all of us," she said. "It's a pandemic and we need leadership and direction. And apparently she is showing that right now in our schools and all the testing we are doing."
She added, "I would like to remain safe and healthy, as I would like you to, too. If the numbers keep on going up as we are seeing in the state currently, businesses are going to be forced to be closed because everybody is going to have it. So if we don't wear a mask now just to keep everybody healthy and safe and to keep our businesses open, I think we are kind of defeating the purpose."
As had been done with schools, Domask also wanted to be alerted of any outbreak occurring from a business.
"But if there is an outbreak in a business, why shouldn't I know that?" she asked. "I am a patron to each one of your businesses. If there is an outbreak and I didn't know about it and I got COVID because of the aloofness of certain people, that would really be an infringement on my right as a citizen in the county."
Another woman on Zoom, Erin, said she was a resident of a neighboring county and was a retired public health nurse who said the public health officer is not an elected official because the position requires expertise in several areas of public health.
"I am going to represent the voice (and) feelings and observations of those who don't belong to this community," Erin said, "and one of those things is, what's going on in Hayward? What's happening? And why are people unwilling to do what is just a temporary thing for the safety around them?"
In a letter, Ellen Lafans of Cable, who identified herself as a registered nurse of 40 years with training in local and federal pandemic preparedness, supported the revision.
"Any proposal to discard this important measure to protect citizens — whose number far exceed the few who have raised opposition — should be denied," Lafans said.
Discussion
Before making his motion to postpone, Shuman noted Lyons already has authority from the state to issue public health orders, whether or not the county ordinance is revised.
Supervisor Dale Olson said he had received more input on this issue than any other, and added Lyons had done a good job and recounted asking her to "tread softly" with her authority and he said she had.
Supervisor Chuck Van Etten said he didn't understand why the revision was occurring if Lyons has authority under the state, and added the authority in the county ordinance should be with the sheriff.
However, Sheriff Doug Mrotek has repeatedly said he doesn't have the expertise to enforce health orders but would assist the public health officer.
Supervisor Dawn Petit said it was unfair to criticize Lyons for not being a resident of the county because that was not a condition of employment, and she challenged the business owners to consider if they applied that same standard to their employees.
"That is something you guys should think about when you make statements," Petit said. "She is a county employee. She deserves the respect she has earned. She has gone to school. She has earned her stripes, and her word has weight on this board. I want to commend her and I will not go for disrespect of her at all or anyone on this board at all."
Dr. Sabrina Dunlap, a member of the Health and Human Services Board and a 22-year resident, noted Lyons had worked closely with the medical community.
Stressing the importance of wearing a mask, Dunlap offered a possible scenario of how not wearing a mask could impact the medical community. The scenario involved a child of a medical professional who had worked in a restaurant and caught COVID-19 because masking was not enforced. Later that child babysat for other medical professionals, potentially passing on the virus to the whole medical community.
"You can shut down the medical community and then you can't come into the hospital and be treated for your stroke or for your diabetes or perforated diverticulitis," Dunlap said. "It's not just the freedom to wear a mask; it's the freedom to keep everybody else in the medical community safe."
After Shuman made his motion to postpone, there was no discussion on the merits of postponing, but all of the board members voted in favor of the motion.