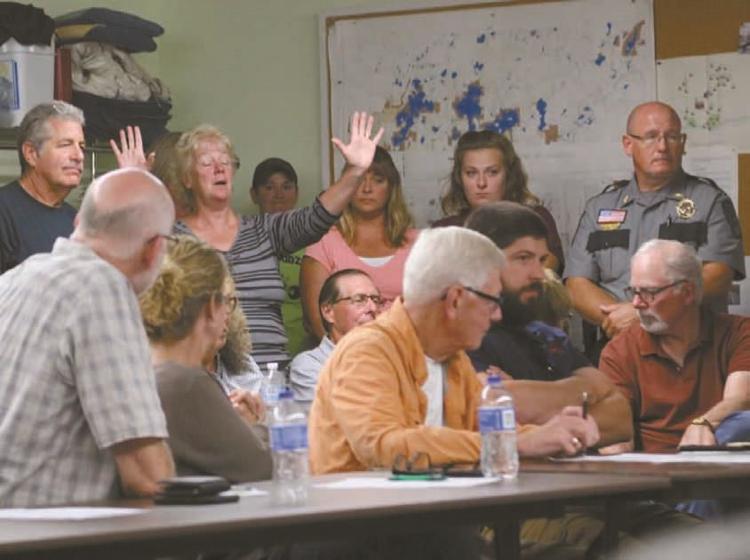 A proposal to open up all 99 miles of town roads in Spider Lake Township to travel by all-terrain vehicles (ATVs) and utility terrain vehicles (UTVs) drew an overflow crowd to the Aug. 14 town board meeting.
After nearly two hours of debate, pro and con, Town Chairman John Leighton appointed a committee to draw up a survey to be posted on the town's website. The survey will ask town landowners and residents their opinion on the issue, before the board makes a decision.
Town Supervisor Mike Lemminger first proposed three months ago to open all town roads to ATVs and UTVS.
Leighton checked with the Wisconsin Towns Association, which advised that roads may be opened by a majority vote of the town board at an ordinary town meeting, with proper notice of the agenda. At that time, the board voted to table the issue "to give the opposition the opportunity to do whatever they wanted to do," he said.
Lemminger said he wants residents to be able to drive their ATVs on town roads to get to their hunting spot, to a business or to see a friend "without the risk of getting a ticket. Seventy-five percent of our roads are dead ends, and there won't be massive amounts of people driving down them," he said.
"Everybody around us is opening up their roads," Lemminger added.
Don Mrotek, trail coordinator for the Sawyer County ATV and Snowmobile Alliance, said, "There is a lot of fear about ATVs coming in and causing problems. We already have laws covering a lot of (the concerns)," such as young kids driving on the roads. "It's against the law for a 12-to 15-yearold to be on the road without adult supervision." It's also illegal for anyone under age 12 to operate an ATV. Town resident Jerry Keating said manufacturers in their advertisements for ATVs and UTVs "state in no uncertain terms 'Do not take these vehicles on roads.'"
Another speaker said the concern of the ATV/UTV manufacturers is for paved roads, as "ATV tires are not meant to grip roads."
Mark Little, recreation safety warden for the northwest region of the Department of Natural Resources, said the town has the statutory authority to open its town-maintained roads as
ATV/UTV routes. Once the town enacts an ordinance, it sends it to the DNR and other local law enforcement agencies.
Leighton said the Town of Spider Lake currently has bicycle and snowmobile trails, but no ATV trails. "So if we open our roads to ATVs, it won't be to get to a trail." However, local people who own ATVs are driving them on roads, he said.
Mrotek said, "The main purpose of opening up roads for ATVS is for locals and land owners. Most of your roads are dead ends. We don't foresee that much traffic coming in here."
Snowmobile laws allow an operator to drive his sled from his residence or place of lodging to the nearest trail, Mrotek said. But ATV operators are prohibited from driving their machines on roads. So if a person wants to drive to his neighbor's place, that road has to be listed as a legal route.
Mrotek added that ATV/UTV drivers must have the headlights and taillights on their machines on at all times while they are on a road.
Explore the issue fully
A resident of Boulder Lodge on Highway 77 said he saw seven ATVs driving "full speed" on the highway that evening (Aug. 14) and said ATVs drive on Highway 77 "regularly."
Mrotek advised the speaker to notify the sheriff's department of the violators.
Spider Lake resident Tim Sullivan said that according to the DNR, the number of ATVs registered in Wisconsin is increasing, as is the number of fatalities involving ATV operators. Rollovers account for 65 percent of those fatalities.
Sullivan said another problem is noise and environmental pollution associated with ATVs — "all the crap that comes out of two-cycle engines." He urged the board to table the topic to explore it more fully "without making a rash decision."
The owner-director of the North Star youth camp on Spider Lake said he "fears for the safety of our bicyclists, especially kids" who cycle on the roads if ATVs are allowed on them.
Warden Little said that so far this year, there have been 15 ATV crash fatalities in the state, including three fatalities in Sawyer County.
He added, "We (DNR) only investigate fatalities. We know there are many more crashes. Most of the fatalities were the result of speed." Slightly more than 50% of the crashes were on roadways, he said.
According to the statistics, "the most unsafe operators" in the fatal crashes were middle-aged men, Little said. "Those are the folks who haven't gone through our ATV safety course." He added that more than half of the fatal crashes involved alcohol consumption.
Town resident Janet A. Brandt said the town has signs stating "'Share the road.' Shouldn't this include ATVs?"
Addressing another concern, Little said the state does not require ATV owners to have insurance. Mrotek said that if a person wants to take out a loan to buy a new machine, the lender will require the purchaser to have insurance.
A cabin owner on Murphy Boulevard said, "It scares me to death to add ATVs" to the traffic on that road, where pedestrians often are present. "There are so many scary turns and hills," she said.
A resident of Paddock Road said she is strongly opposed to opening up roads to ATVs. "It's a quiet road and that's why we bought there." She added that a friend's 12-year-old son was killed while riding an ATV with his dad when its wheel caught the edge of a road and the four-wheeler tipped over on him.
Mike Martin, Great Divide district ranger for the U.S. Forest Service, said they manage the roads in the national forest jointly with the local town and "we defer to the town's" decisions. "We weigh safety and ecological concerns" in doing that. One example is Rock Lake Road, which is open to ATVs and other traffic, he said. "We worked with the club to resolve" safety concerns there.
The lower standard roads (two-tracks) that are not maintained by the local town are listed on the Chequamegon-Nicolet National Forest motorized use maps, Martin added. They are listed as open, closed or open seasonally.
Designated routes?
"We find a variety of users" on the roads, Martin added. "An ongoing challenge we have" is with those ATV/UTV drivers who "push the envelope and try to go further at the end of a dead-end road" to go to other areas, he said.
Martin, who resides in Spider Lake Township, said he is opposed in principle to opening up all town roads to motorized use. He would support looking at designated routes. The town's eastern third is mostly national forest, with gravel roads. In the middle third, there is a lot of private land around the lakes.
The western third contains the silent sports trails — the Birkebeiner Trail and CAMBA bicycle trails — intermixed with vehicle traffic. Martin said. "But ATVs and UTVs are a different beast. With a Polaris RZR, you can go from zero to 60 mph quickly with the touch of a throttle. That's faster than a car."
Mrotek said the Alliance's ATV/snowmobile maps show connector routes to the trails and businesses in the county, but don't show all the signed roads and streets that are open to ATVs.
A resident on Highway A said, "You people that live on dead-end roads have nothing to worry about. We (ATV users) are not going on your roads. We stay on routes. Snowmobilers and dirt bikers go off the roads. Give us (ATV riders) a fair shot."
The City of Hayward is a good example of opening up routes to ATV traffic, he added. "The businesses in Hayward are loving it."
Sawyer County Sheriff Doug Mrotek said there were three complaints involving recreational vehicles in the county from 2017-19, including one ATV/UTV complaint in the Town of Spider Lake. One of the complaints was of bicycles not riding single file when a car wanted to pass.
"We live in a great community and there's no reason we can't all respect each other and work together," the sheriff added. "It's that 2 to 5 percent of people in every sport who wreck it for everybody. It's up to us in law enforcement to deal with that (offenders). We want to know where those problem areas are so we can focus on that and change that behavior."
DNR Warden Aaron Koshatka said that since January this year, he has responded to three complaints of ATVs riding on the same section of Highway 77. To date he has not written a citation involving ATVs, he added.
We live in a great community and there's no reason we can't all respect each other and work together. It's that 2 to 5 percent of people in every sport who wreck it for everybody.
Doug Mrotek
Sawyer County Sheriff