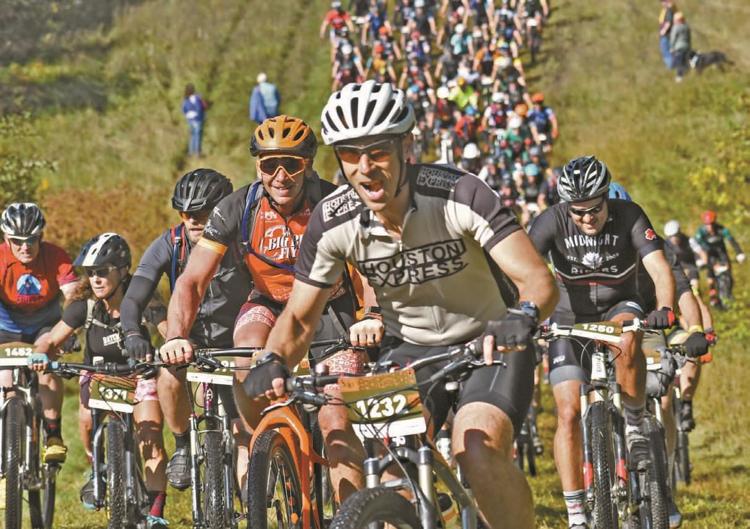 More than 2,250 cyclists raced on the forest trails between Hayward and Cable in the 37th annual Chequamegon Mountain Bike Festival Saturday, Sept. 14. Enthusiastic riders enjoyed sunny weather with temperatures in the 60s and trails that were muddy in spots.
All racers in the Chequamegon 40-mile event and Short & Fat 16-mile event finished at a new location, the American Birkebeiner start chute in the town of Cable.
About 50 riders raced in the new Chequamegon 40 proelite event, which started three hours after the main race on North Main Street in Hayward.
Pro cyclist Alexey Vermeulen of Ann Arbor, Michigan, took the victory in 2:14:54, more than two minutes ahead of six-time Chequamegon 40 champion Brian Matter from Prescott, Arizona (2:17:05). Jorden Wakeley of Grayling, Michigan, was third in 2:17:07.
Winning the pro/elite women's title was multi-time Chequamegon 40 champion Jenna Rinehart of Mankato, Minnesota, in 2:39:29. She averaged 15.05 mph over the course. Leia Schneeberger of DePere was second in 2:49:37. Sara Kylander-Johnson of Duluth was third in 2:49:13.
"Starting later in the day (1 p.m.) with not as many riders was definitely safer, not having to go through as many riders trying to push their way up," said Rinehart. "The women's race could play out on its own, versus having so many men interfere with the women." (In past years) You couldn't always see the other women when you start in a mass group," she said.
"It was fun, a good idea," Rinehart added. "I really enjoyed coming in to the finish with everyone lined up and cheering. It was a fun way to finish."
In the main Chequamegon 40 race, Josh Molnar of Way-
zata, Minn. won the male division in 2:28:08. Adam Tripp of Hudson was second in 2:28:15, and Ben Olson of Perham, Minnesota, third in 2:28:21.
Tracy Paradise of Victoria, Minnesota, a member of the One Track Mind Team, won the women's main Chequamegon 40 race in 2:48:00, with Kenzie Statz of Wisconsin Rapids second in 2:49:52, and Bonnie Weiskopf of Stillwater, Minn., third in 2:55:38.
"It was really fun, really muddy," said Paradise.
The Short and Fat race came down to a tight four-way sprint, with Braeden Anderson of Ironton, Minn., winning the men's race in 51:35. Pavel Nelson of Cameron was one second behind in second place, while Barrett Hall of St. Paul took third in 51:37. Aidan Lemorande of Suamico took fourth in the same time.
Zoe Camp of Minneapolis easily topped the women's field in 1:02:03. Lauren Munger of Minneapolis was second in 1:06:18 and veteran racer Kelly Skillicorn of Winona was third in 1:06:35. The top Hayward finisher was Alison Menk, 11th in 1:13:26.
A member of the One Track Mind team in the 40-mile race, Jonathan Sandberg of Excelsior, Minnesota, said, "We love this race. It's like the pinnacle of summer, a fantastic event. We had a beautiful day, lots of slow mud trails."
Ben Neubauer of Oshkosh said the race "went pretty well, pretty fast. There was water out there, which was to be expected. Overall the finish venue worked pretty well."
Another rider said, "You can't ask for better weather for the race."
Memorial award
At the awards ceremony, the family of a rider from Winnipeg, Manitoba, who died of a heart attack while riding the course during last year's Chequamegon 40 race, presented the Brent Bottomley Memorial award to the top Canadian finisher in this year's Chequamegon 40.
Bottomley's friend, Andy Dewall of Winnipeg, thanked "all the medical responders for their valiant efforts to save Brent."
Brent Bottomley's widow, Kim, presented the memorial award to Gillian (Jill) Vale of Wasaga Beach, Ontario, who placed fifth overall in the women's race in 2:56:50.
"This place was very special to Brent," Kim Bottomley said. "He loved coming here." She added that Brent Bottomley coached the first allfemale cross-country ski racing team in Canada.
Racers in this year's event also raised money (amount to be determined) for the Chequamegon Area Mountain Bike Association (CAMBA).
Chequamegon Mountain Bike Festival Director Peter Spencer presented $2,500 checks to both the Wisconsin High School Cycling League and Minnesota High School Cycling League. "This is to help grow our sport at another level," he said.