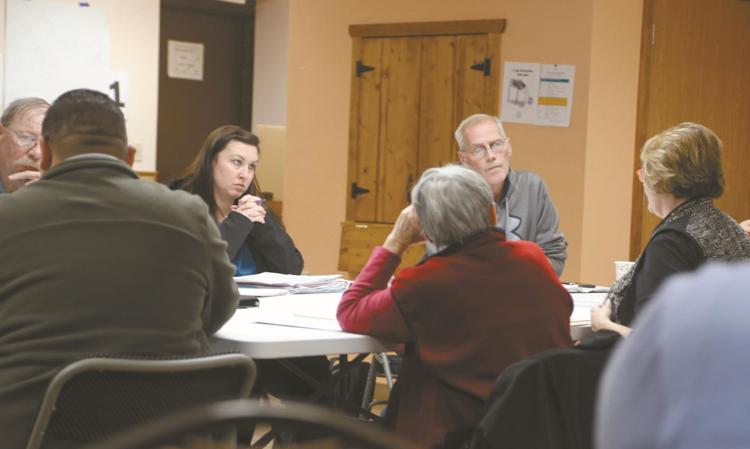 The WALDO senior center and meal site on Highway 70 in Winter re-opened Monday, Nov. 4, by order of the Sawyer County Senior Resource (SRC) Board of Directors after several local residents complained about its being closed for two weeks by SRC Executive Director Wenonah (Joey) Johnson.
Several Winter area residents attended a special meeting on Oct. 30 of the senior center board in Hayward to complain about the abrupt closing. Johnson told the board she had closed it for two weeks to conduct training of the cook.
"At our last board meeting, (a local resident) expressed that (the cook) needed more training," Johnson said. "The cook that was there was being treated disrespectfully and was being bullied. So we decided that it was best to close it for two weeks because we don't have a substitute right now because we're short by 1 1/2 staff."
She added that, "We filled out all the paperwork for the state so we could be closed for two weeks. Home-delivered meals (meals on wheels) are still being delivered. We made arrangements before closing the site that anyone getting or wanting home-delivered meals could still get them. We are going the
extra mile; no one is going without a meal that wants a meal."
Winter area resident Tom Jewell said, "I feel it was unnecessary to close the Winter WALDO Center down for two weeks for staff retraining. When (the director) was trained for the first time, they found an interim site director to come in there to keep the center running. A lot of people are very upset about that; they don't think it was necessary." He added that he has never seen the site director bullied and she is "good about accepting constructive criticism."
Johnson responded that, "All the things that you're talking about and concerned about we are working on. The oven there should have been replaced when they did the revitalization (of the senior center). Barb (Applebee) and I are looking at a temporary gas stove with oven to replace what you have there now. We can't afford to put a convection oven there, because it's $1,600."
Johnson added, "For the last 1 1/2 years we've been trying to get all of our sites in compliance. We're short-staffed and (are) doing what we can."
She also noted that, "It's important that the advisory board (from Winter) participate in the senior center and be a voice for the center."
Helen Dennis, Sawyer County supervisor representing the Winter area, said, "If you knew about these problems, the (Senior Resource Center) board should have had a special meeting before closing the Winter Senior Center."
SRC board member Troy Morgan said, "The closing happened kind of quickly and it was ill-timed, on a Friday. I would have expected some kind of notification, at least to the executive committee. It kind of came out of nowhere."
Johnson responded that, "With everything that has transpired in Winter the last several years, from compliance to the demands, it had come to a boiling point where I felt something needed to be done quickly, because there were too many things going on. Sometimes you have to just shut the door and start over and figure out what to do. Yes, we probably should have called an executive board meeting, but when people are upset and don't have confidence in an employee, you have to do something right away. And that's what we did."
Dennis said, "Things were going on for two years. This should have been talked about, addressed a long time ago, not just someone deciding to close the center, which affects our community, southern Sawyer County. I'm not happy about this. It takes 24 hours to call a special meeting, which can be posted. If this was an emergency, somebody's not doing their job."
"I apologize for it," Johnson responded. "It's not as if we haven't tried. We had the state there in Winter on July 26. We went through everything, explained everything to everybody, what we had to do to be in compliance and nobody ever said anything. Yes, we probably should have had an executive board meeting. I'm in error, wrong for that, but sometimes the only way to learn is by our mistakes."
Morgan said, "My understanding is that the training (of the Winter site staff) was going to be provided by one of our staff persons going down there, which is why I was so surprised when this occurred. Nothing was mentioned at our last full board meeting of any type of closure. When we reorganized our staff to save money, I asked if this was going to put us in a bind as far as being able to support all of our sites, and the answer then was 'No, we will be fine.' But now it's news to me that we're a person and a-half short."
Johnson responded, "The shortage happened after the last board meeting because we had to let a person go that was not a good fit."
The board then voted to re-open the Winter WALDO senior center as soon as possible.
Johnson said the Winter site serves about 11 congregate lunches per day. This number doesn't include the home-delivered meals.
"I know there are people in Winter who would volunteer," Dennis said. "The important thing is we need a good cook."
Morgan said, "Anyone who prepares food at a senior nutrition site has to comply with the USDA safe-serve rules, and volunteers at the senior centers need to go through a background check."
Johnson said, "A year ago we had a compliance check and we had 20 pages of things we had to correct. That's part of the reason why people are sometimes reluctant to volunteer because they don't want to do all that stuff. Unfortunately, we have to do it."
"And you're dealing with government money," said Sawyer County supervisor Ron Buckholtz. "If people want to volunteer they have to have background checks."
Budget discussed
Sawyer County Administrator Tom Hoff told the SRC Board that in the last two years the Sawyer Senior Resource Center has gotten $91,892 per year from the county and is asking for $100,000 for 2020.
"We want a $10,000 increase. But whatever we get we will live within our means for 2020," Johnson said.
"We didn't get the full amount of the (federal) 85.21 grant this year, so other program areas have to supplement that, and there is a shortfall." She said the bingo held at the senior center brings in $3,000 to $3,500 every month. Also, the Sawyer Senior Resource Center is expecting a monthly check of $15,000 to $18,000 Nov. 6, based on the center's August expense claims submitted to the Greater Wisconsin Agency on Aging Resources, Inc. (GWAAR). The state agency in turn submits the expense claims to the state, which submits them to the federal agency. The claims are submitted via the Community Aids Reporting System (CARS).
"I can say very proudly that for the last three times we've had no errors on our claims, so we are getting our money," Johnson said. All of our paperwork has been corrected so we are now getting in a constant flow of money. All of our claims are now in. Everybody will have a program budget for the coming year."
The members of the Sawyer Senior Resource Board include Amanda Mansheim, chairperson; Jeffrey Hoivik, vice-chairperson; Carolyn Swanson, secretary; Troy Morgan and Dale Schleeter, Sawyer County Board representatives; Terrence Manuelito, Lac Courte Oreilles Elder Program; Dennis Welling, Exeland; and at-large representatives Desmonde Bennett and Signe Lawson-Jones.
Johnson and Lawson-Jones serve as the SRC co-executive directors.