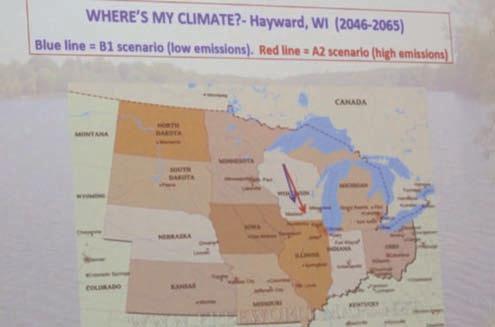 She called it a "polar bear free" seminar on climate change.
Cathy Techtmann, Environmental Outreach State Specialist, University of Wisconsin-Extension Institute for Community Development from Iron County, said her talk on climate change would not discuss how a warming earth is impacting polar bears.
"Not because polar bears are not being affected by climate change," she said. "They are, but they are out of sight and out of mind for many of us."
Techtmann gave her presentation at the 21st annual Northwest Wisconsin Lakes Conference on June 21 at Hayward Middle School. It was titled "Do Culture and Science Agree that Climate Change is Affecting What We Value in Our Lakes –What can We do?"
Her focus was on "placed-based evidence" from the state and local perspective, premised on the belief that climate change is occurring and is revealed locally by extreme storm events, decreasing winter ice cover, poor fall wild rice harvests, "unprecedented" blue-green algae blooms, animal and plant species making appearances on the landscape earlier than decades ago and a growing season that has added an additional five to 20 days.
She cautioned against reading short-term weather trends as evidence for or against climate change and advocated for using longer models of data and local knowledge for creating a baseline for comparison.
Using quantitative data, she cited temperature data from 1950 to 2006 that show Wisconsin has become 1 degree Fahrenheit warmer and northwest Wisconsin has become even warmer, by 2 to 2.5 degrees.
The Wisconsin Initiative on Climate Impact (WICI), she said, is projecting warmer winters, more rain and more extreme rain events of 2 inches or more.
She presented WICI's "low emission" carbon dioxide (CO-2, the greenhouse gas) modeling for the middle of the century that projects Sawyer County would have a temperature similar to that of the Wisconsin Dells; the "high emission" model projects a temperature similar to that of Madison.
She acknowledged some people are confused about the concept of a warmer Wisconsin, given that recent winters have experienced weeks of brutal cold related to polar vortex winds that swept down from the Artic. That cold air mass chilled the state greatly in 2014 and to lesser extents in 2015, 2016, and 2018-19, but she noted that at the same
time Alaska experienced some of its warmest years on record. Overall, the earth became hotter as the carbon in the air rose from 398.6 parts per million (PPM) in 2014 to 411 PPM in 2018.
Local impact
Techtmann asked the audience to consider how climate change has been impacting the region in 10 areas:
1. Wild rice, highly vulnerable to flood waters and intense rains, had several record-low harvests.
2. Walleye fishing, vulnerable to rising temps, is a species being replaced by bass, which thrives in warmer water.
3. The prevalence of carp which, like bass, are more adaptable to warmer water.
4. The increased prevalence of aquatic invasive species (AIS) in warmer water.
5. The disappearance of brook trout, which require cold water, from 95% of their current waters by mid-century.
6. Whitetail deer increasing in numbers as warmer winters allow more to survive.
7. Snowshoe hares decreasing in numbers as snowless winters make the animals more vulnerable to prey.
8. Loons declining in numbers as temperatures increase and black flies prey upon chicks and rising lake levels threaten loon nests.
9. Ice fishermen have fewer days on the ice as temperatures rise.
10 Snowmobiling impacted by fewer snowy days and more days of rain during the winter.
Even the forest cover, she said, is expected to change. The U.S. Forest Services has predicted several species will have a noticeable decline, including balsam fir, black spruce, butternut, chokecherry, mountain maple, paper birch, quaking aspen, white spruce and yellow birch.
"As the forest changes that will impact other species," she said.
What to do?
One adaptation to climate change, she said, is replacing culverts with larger units to accommodate for intense weather events.
Those living around lakes, she said, can shift to floating docks that adapt to rising water levels.
"I would suggest to you that good lake stewardship actually builds resiliency to climate change," she said.
She encouraged reducing impervious surfaces for the purpose of capturing and diverting the flow of intense storm waters to reduce flooding, erosion and sedimentation.
She said lake associations will need to become even more aggressive to stop AIS as even warmer water makes it more accommodating for invasive species.
She encouraged using shoreline buffers, a zone of plant life near the water, to create habitat for species and to leach out nutrients as water flows to the lake.
"Be prepared," she said. "Variability is going to be the new norm. We can expect more change coming and we need to be more prepared for it."
Climate change
Techtmann showed a slide from the Yale University Climate Communication Research that revealed from 2013-18 the number of people "alarmed" or "concerned" over climate change had increased and those "dismissive" or "doubtful" had decreased, revealing more people are accepting the concept of climate change.
Based on a Yale University interactive map, she said, 68% of Sawyer County residents believe climate change is real, one percentage point greater than the state percentage. But she noted only 30% to 33% of people talk about climate change.
She said the challenge is to speak to others respectfully about climate change. She encouraged the use of local stories to help people understand its impact.