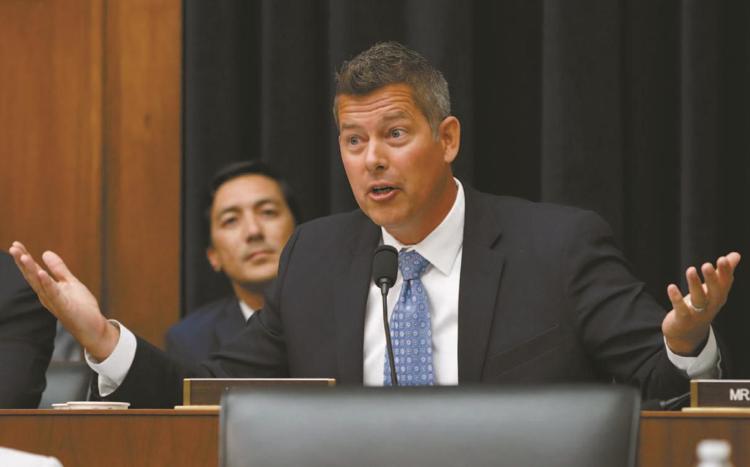 Sean Duffy has been a dedicated public servant, first in his tenure as Ashland County district attorney, then as a Congressman representing northwest Wisconsin since 2010, said Brian Westrate, treasurer of the state's Republican Party.
Duffy, 47, of Wausau and a Hayward native, announced Monday on his Facebook page that he is resigning Sept. 23 to spend more time with his family.
Duffy says that he recently learned that his ninth child, due in October, has a heart condition and "will need even more love, time and attention due to complications." Wisconsin Gov. Tony Evers will have to call a special election to fill the vacancy.
"I have nothing but respect for him," Westrate said. "Making the decision to put your wife and family first is about the most honorable thing you can do."
Westrate said Duffy will be remembered for his efforts in securing the border and meaningful immigration reform, to focusing on obtain-
ing rural broadband.
"He pursues things his district cares about," Westrate said.
"He has been a stalwart supporter in Washington for the state of Wisconsin. He's been a good team player for the state. He's been a good partner for the conservative caucus. He will leave a legacy of civil service."
In his statement, Duffy said that raising a family is hard work, particularly when he is frequently gone.
"Being away from home in Washington four days a week is challenging, and for that reason, I have always been open to signs from God when it comes to balancing my desire to serve both my family and my country," he wrote.
Duffy added, "It is not an easy decision — because I truly love being your Congressman — but it is the right decision for my family, which is my first love and responsibility."
State Rep. Rob Summerfield (R-Bloomer) said he was saddened to hear the news and he wishes Duffy's family well.
"He's been a great congressman for our area, and a strong voice for northern Wisconsin, with his personality. He's been a strong advocate," Summerfield said.
When asked if he would consider seeking the vacant seat, Summerfield said he needs to talk that over with his family and supporters.
"I wouldn't rule it out, for sure," Summerfield said. "It's always something I've been considering. We'll just go forward from here."
State Sen. Kathy Bernier (R-Lake Hallie) said she doubts that this is the last time the state has heard from Duffy. She has known him for years.
"He's always struck me as a very impressive young man, passionate and smart," Bernier said. "Sean will be missed, and I wish him all the best."
U.S. Sen. Ron Johnson released a short statement, saying he is saddened by the news.
"Family responsibilities should always come first, and I fully understand and respect your decision to devote your full time and attention to your family," Johnson wrote. "You are in our prayers."
Rep. James Edming (R-Glen Flora) of the 87th District also issued a press release in praise of Duffy's tenure in Congress.
"Throughout his time in office, Congressman Duffy has been an amazing advocate for the hardworking folks of Wisconsin's Northwoods in Washington, D.C.," Edming wrote. "Our state and our nation are better today because he stepped up to serve the people of Wisconsin's 7th Congressional District. I am proud to call Sean my friend and I know that stepping down was a difficult decision for him and his family. I will truly miss working with him on behalf of the people that we both represent."
Duffy is now the 12th incumbent Republican in the U.S. House of Rep Representatives to announce they are not seeking re-election. Westrate said the national media is playing up that angle, but it doesn't fit in this case.
"(National media) are trying to make it sound like he's part of the Republicans running scared for the hills," Westrate said.
Duffy has been a staunch supporter of President Donald Trump, and frequently appeared on national political news programs defending the president.
Duffy is the 10th of 11 children of Tom Duffy Sr. and Carol Duffy of Hayward. He participated on the high school hockey team and graduated from Hayward High School in 1990.
While earning a marketing degree from St. Mary's University and then later a law degree from William Mitchell College of Law, he participated in the Scheer's Lumberjack Shows across the state and country, and he also competed as a spar pole climber and logroller in the Lumberjack World Championships in Hayward, winning three world championships in the 60-foot speed climb. Later he was a color commentator for ESPN's Great Outdoor Games and in 2004 he was the Honorary Athlete for the Badger State Games.
State Games. In 1997 he appeared in MTV's sixth season of "Real World: Boston" as the "lumberjack from Wisconsin." From that TV connection, he would later meet his wife, Rachel, who appeared in the fifth season, "Real World: San Francisco."
After graduating from law school in 1999, Duffy practiced law with his family's law firm in Hayward and then in 2002 was appointed district attorney to Ashland County by then Gov. Scott McCallum.
In a fitting setting for announcing his candidacy to challenge then 42-year incumbent Dave Obey (D-Wausau), Duffy chose the Lumberjack Bowl in Hayward on July 2009. In early 2010, Obey announced he would not run for another term and later that year Duffy ran against 24th District State Senator Julie Lassa (D), whom he defeated.
Duffy would go one to win four more terms, each with large margins over his Democratic challengers.
Some local Sawyer County Record Facebook comments on Duffy's resignation include:
"Thank you for your service Sean. I'm holding you and Rachel and your family in our hearts and prayers. Your little one will be showered with love and blessings," said Tami Lambert Rusch.
"Good and Bad people will come and go, but good ideas last and last. Sean will be missed. He is good people," said Jalmer
"Thank you for you dedicated service," replied Sean Biedermann. The 7th Congressional District covers most of northwest Wisconsin, including Sawyer County. In press releases, Duffy has boasted about holding town halls in all 20 counties he represents.
Duffy and Rachel have eight children with the ninth on the way. They now reside in Wausau.