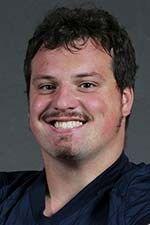 MENOMONIE — UW-Stout center Bailey Roux is one of three Wisconsin Intercollegiate Athletic Conference (WIAC) football student-athletes named as semifinalists for the 2020 William V. Campbell Trophy®, presented by Mazda and hosted at the New York Athletic Club.
Roux, along with UW-Whitewater's Quinn Meinerz and UW-Oshkosh's Michael Olson, is one of 199 semi-finalists for an award that recognizes an individual as the absolute best football scholar-athlete in the nation, and 12-14 of the candidates will be named recipients of a prestigious NFF National Scholar-Athlete Award, also presented by Mazda
Roux, a senior from Rice Lake, Wis., is majoring in Criminal Justice and Rehabilitation. Roux carries a grade point average of 3.769, and is a six-time recipient of the Chancellor's Award for Academic Excellence. Roux, a 2020 team captain, was a 2018 All-WIAC second team selection and repeated the honor in 2019.
Outside of the athletic arena, Roux has been active on the UW-Stout campus and within the Menomonie community. Throughout the last couple of years, Roux has been involved in internships with the local Boys and Girls Club, spending an estimated 400-plus hours developing academic and athletic programs. Roux plans to graduate in December, then return to Stout next fall to pursue a masters in school counseling.
"Bailey understands the DIII model and gets involved with many things here on campus," UW-Stout football coach Clayt Birmingham said. "He is among the first to volunteer for the many opportunities to serve our community and campus. He understands the big picture of getting involved and helping others, all while carrying a good GPA. A class act man."
The award recognizes an individual as the absolute best football scholar-athlete in the nation for his combined academic success, football performance and exemplary leadership. The NFF will announce 12-to-14 finalists in November, and each of them will receive an $18,000 postgraduate scholarship as a member of the 2020 NFF National Scholar-Athlete Class Presented by Fidelity Investments. Later this year, one member of the class will be declared as the winner of the 31st Campbell Trophy® Presented by Mazda, having his postgraduate scholarship increased to $25,000 and receiving his own 25-pound-bronze version of the iconic statue.
Nominated by their schools, which are limited to one nominee each, candidates for the awards must be a senior or graduate student in their final year of playing eligibility, have a GPA of at least 3.2 on a 4.0 scale, have outstanding football ability as a first team player or significant contributor and have demonstrated strong leadership and citizenship. The class is selected each year by the NFF Awards Committee, which is comprised of a nationally recognized group of media, College Football Hall of Famers and athletics administrators.
More on the 2020 Campbell Trophy
"These 199 impressive candidates truly represent the scholar-athlete ideal," said NFF Chairman Archie Manning, whose sons Peyton (Campbell Trophy® winner) and Eli were named NFF National Scholar-Athletes in 1997 and 2003, respectively. "For more than 60 years, the NFF National Scholar-Athlete program has showcased more than 800 college football players who have been successful on the football field, in the classroom and in the community. And we are excited to celebrate the 30th year of the William V. Campbell Trophy® Presented by Mazda, which honors the best of the best. This year's semifinalists further illustrate the power of our great sport in developing the next generation of influential leaders."
Named in honor of the late Bill Campbell, the trophy has been prominently displayed inside its official home at the New York Athletic Club since 2013, and the winner is honored each year during a special luncheon at the venue.