The Light Building Construction class at Rice Lake High School is building hope for those who need it most.
Students in Dan Buchmann's Light Building Construction class built a tiny house during first term, and various students have been helping finish the interior.
The house will be moved in the near future for transitional living quarters for those in need of a place to stay.
The project was sponsored by Community Connections to Prosperity, the poverty coalition serving Barron County. It is building Homes of Hope — tiny homes to be used for the homeless in each of the towns, cities and villages throughout Barron County.
Community Connections spokesman Lori Zahrbock said,  "The home will be placed at an area church, which will provide electrical hook-up, access to water and a mentor support system for the home residents.   
"We are currently working with the City of Rice Lake to create special permitting.  We are hoping to have occupancy by February of 2021."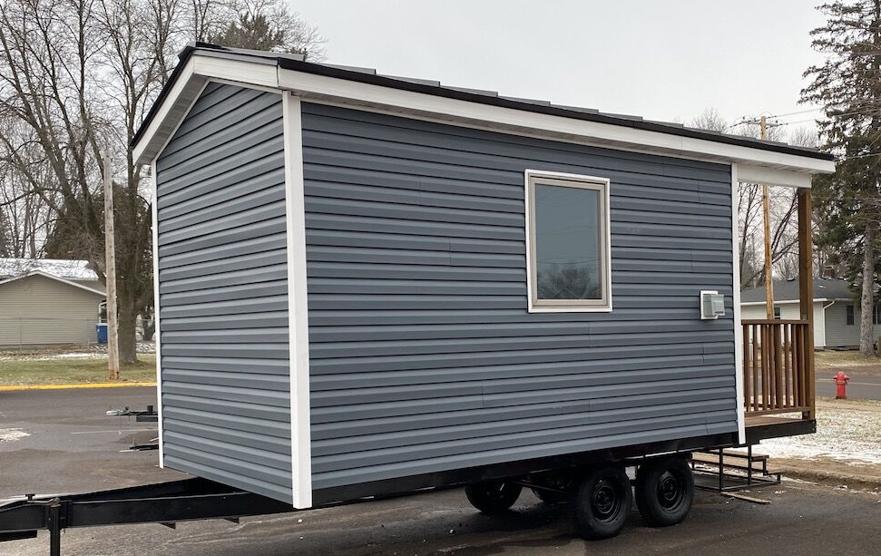 She added, "We are still in need of white blackout window curtains and rods (32x42), full and twin size mattress, 5 gallon water jug with pour spout, two small kitchen stools, toaster, and coffee maker.  If you have items to donate please contact Lori at Benjamin's House at 715-736-2437.  To follow the progress of the tiny houses in Barron County follow Homes of Hope on Facebook."
High School principal Curt Pacholke said, "We were happy to help with the project and provide the students with a relevant hands-on learning experience with a greater purpose."
Buchmann, the instructor, said, "It was a good project for my class. The students got construction experience in framing, roofing, siding, fascia and soffit, deck building, building codes, interior finish work, flooring and electrical.
"They also realized that they were doing something good for the community from the skills they learned in class. Several students will be taking the advanced framing class in the spring, where we are building a house for Habitat for Humanity."
The high school class thanks Wild Rivers Habitat for Humanity, Paul's Sheet Metal, and Pillar Construction Group for their donations of materials to make the tiny house happen.