"It's a long way from Park Falls to Rice Lake." 
That's all I could think to say at the finish line when someone asked me, "How was it?"
A long way, to be exact, is about 80 miles via the Tuscobia State Trail on a bike overloaded with gear, food and a wet, weary biker. It took me more than 12 hours to finish. 
While I was not first to do so, but I'd like to give a first-person perspective on the race from a first-timer's point of view. I hope it will be helpful for anyone thinking of taking on the Tuscobia—or at confirm to anyone who saw those *ahem* crazy people slogging along the snowy trail in drizzle and darkness... that they are indeed crazy. 
"I'm starting to feel like a crazy person." That's what I said to my friend James Kiffmeyer when he asked how I was doing that morning, having just arrived at the Knights of Columbus Hall in Rice Lake. That was the site of registration, the pre-race meeting the night before and the finish line, at least for the 56% who finished in 2019. 
James, a finisher of the 80- and 160-mile Tuscobias, told me it wouldn't be the last time I felt a little crazy in the course of the day.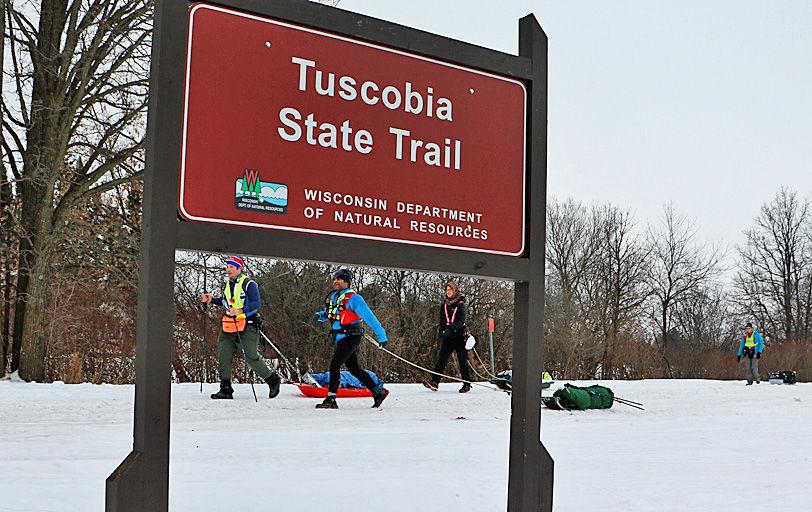 I was sleep deprived to boot, thanks to the holidays, newspaper deadlines and hosting another Tuscobia racer for the weekend. I got up at 4:30 a.m. the day before to take him to the start of the 160-mile walk and was awoken at 1:42 a.m. that night when he showed at our door after dropping out — no hard feelings though. I was more than happy to help. 
Never before had I biked 80 miles at once, but I knew I had the strength to do it. I signed up for the race knowing the elements would be the X factor. I expected frigid cold, and felt I could handle it fine. But above freezing, with rain? That was scary. I did not expect that, I had never biked in such miserable weather, and didn't know how the packed trail snow would hold up to that. 
Leading up the race, I rode in below zero temperatures a few times and I rode in fresh, somewhat soft snow. I rode snow covered singletrack and gravel roads, usually 1-2 hours at a time, carrying a little extra weight—water, food, spare tube, etc. My longest ride was from Haugen to Beaver Brook on the Wild Rivers Trail, about 33 miles. 
I wouldn't say my training was as much as I hoped for, but I did what I could, mainly focusing on maintaining the strong base of miles I put on throughout the year (1,600 in the end). 
The week before the race I did 27, going to Birchwood and back with James and fellow Tuscobia multi-time finisher Greg Crites. That day the edges of the trail were firm, and we were cruising. I was optimistic the conditions would hold for a week, and it would be a relatively fast race. Of course, the forecast just got warmer and warmer.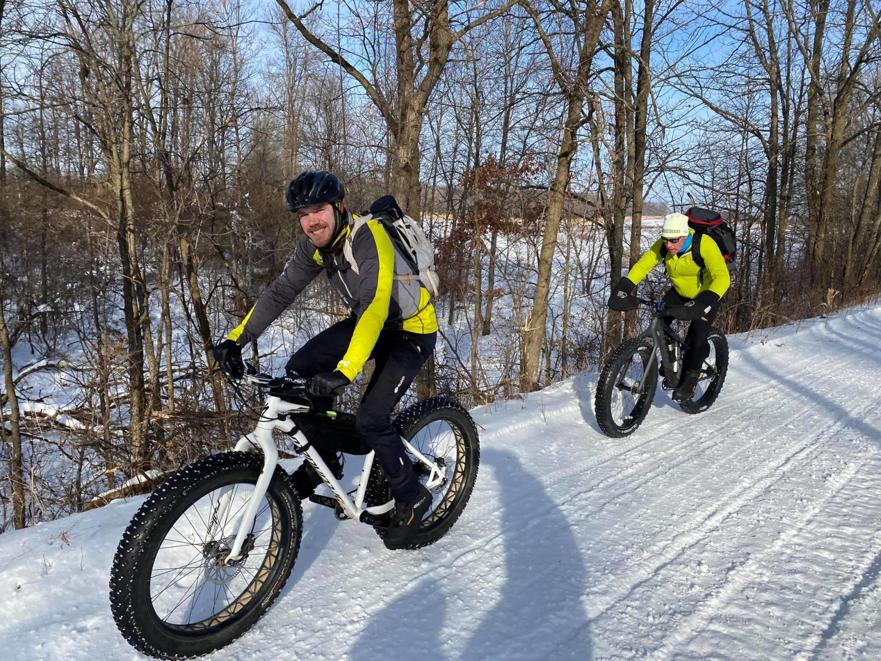 Most 80-mile competitors ride a school bus from Rice Lake to Park Falls for the 10 a.m. Saturday start—and bikes/sleds are taken in a semi-trailer. But Kiffmeyer, in addition to providing me many pieces of great gear and advice, gave me a ride to Park Falls City Hall.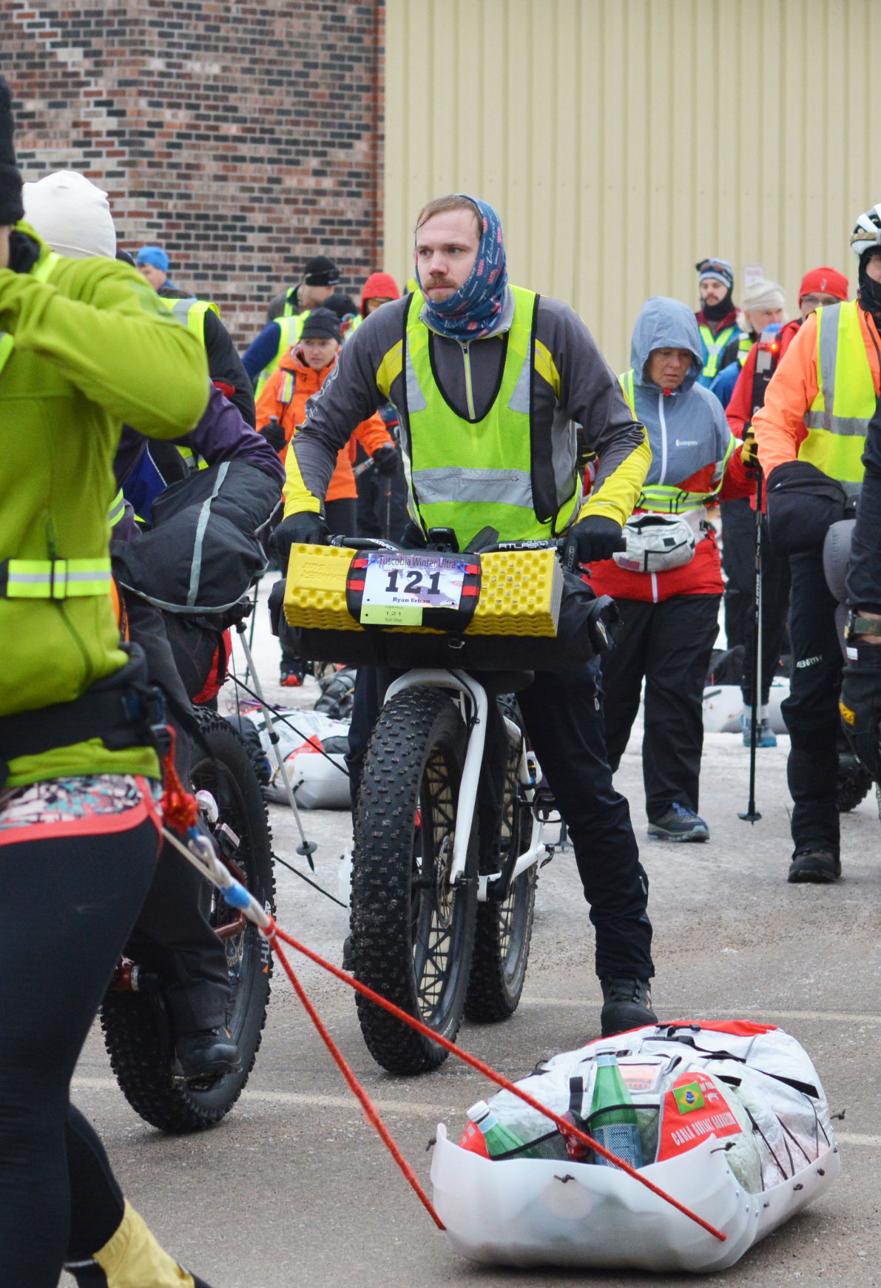 Racers are required to carry many things—a sleeping pad, a bivouac shelter, a sleeping bag rated for 0 degrees and red flashing lights. For lights there were two on the rear of my bike and one on the front—and I forgot to turn them on at the start. I realized this a couple blocks in before reaching the trail, and had to stop. So, after starting at the back of the pack, I passed quite a few people in the first 10 or so miles. 
They were 10 good miles, too. Then the rain came, starting as a sparse drizzle and building into a steady one. 
I had hoped dry weather would hold out longer, but I decided to go with the flow and cover as much ground as possible before the conditions worsened. My pace was a hair faster than what felt comfortable, and I ate and drank frequently, which I believe was key to making it through the day.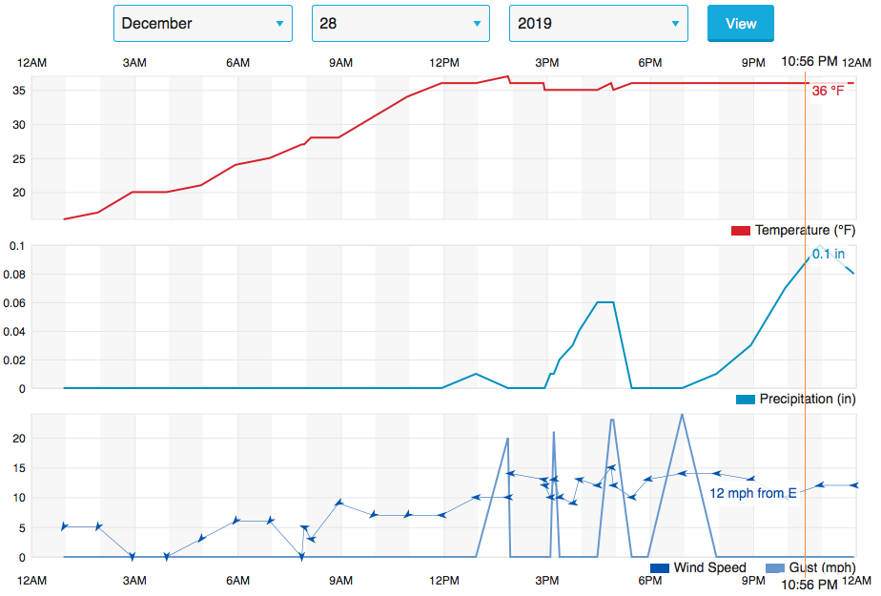 I told myself if the snow was soft and barely rideable before I arrived at Ojibwa (roughly halfway) I would consider dropping out and not feel too bad about it—it would be safe and prudent, and there was always next year for this local. 
But the conditions were okay — firm enough in fact that I stopped once to put more air in my tires. Snowmobilers were infrequent, and courteous when they passed.
While most of the day was a blur, the Ojibwa stop sticks out in my mind. There aren't exactly many landmarks on the trail. I crossed some creeks and rivers, and lumbered through Winter (metaphor intended).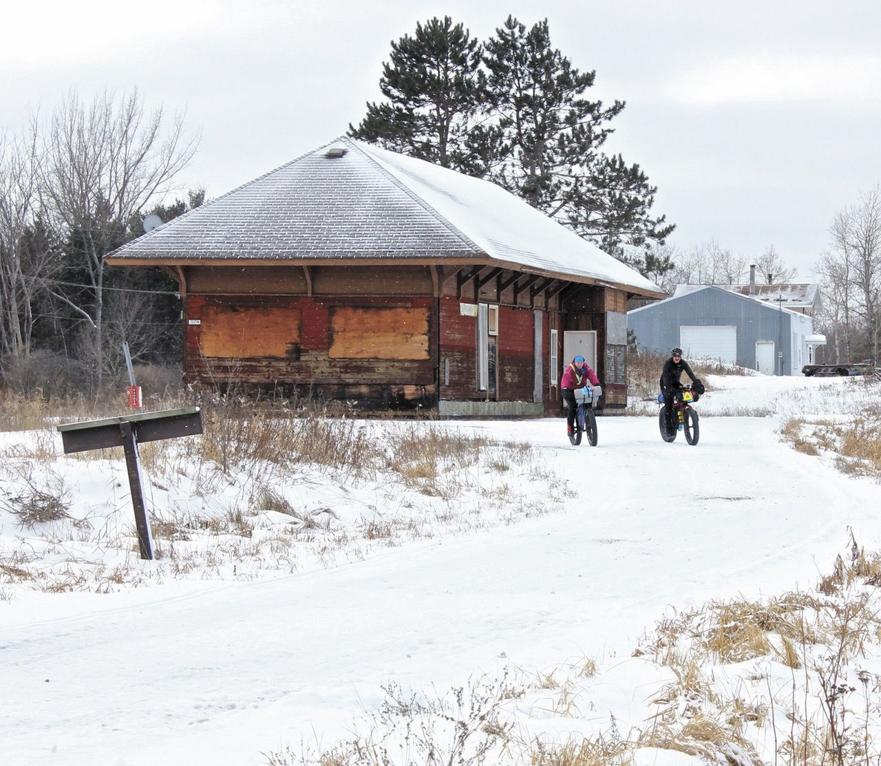 But the Ojibwa stop was special. It's a bit off the trail in a small park shelter, built from rounded red river stones that are signature to the Flambeau and Chippewa River country. 
Inside it was dark and wet, with not much for seating, especially since many of the people inside had dropped out or were contemplating calling it quits. I sat for a bit with what must've looked like 45-mile stare on face, but soon relaxed.
It was a cheery, conversational atmosphere. Each rider thanked the volunteers as they left, and everyone gave a cheer to wish them on their way.
One older, grizzled gentleman, who I presume was a Tuscobia vet, said "This is the worst conditions ever for this race! I feel terrible. There's nowhere I'd rather be!"
There was a fire in the hearth and a volunteer dried my gloves for me. I had some coffee, coca cola, chips, bean and ham soup, all of which really hit the spot. I ate my own snacks too, as I had packed way too much. 
I entered with a "be prepared" mindset, and carried more than needed. Some riders don't bring a spare tube, but I did, plus two bike pumps, the second of which I brought by mistake. I had tools, which came in handy at Ojibwa—not for me, but for another rider whose valve stem had broken loose from the tube. I helped him out. I hope he finished. 
To my surprise, it wasn't raining when I left Ojibwa after an hour of rest. But any boost I had was dampened by the worst conditions yet on the trail. My rear tire slipped out quite a few times, and I fell a couple times. I was not alone in this. As another rider put it, "I've been making snow angels all day!"
But I kept going and kept eating, knowing I would need my strength for the ascent into the Blue Hills. 
Then, miraculously, the trail firmed up. The grooming angels had worked some magic between Couderay and Birchwood. 
I was going uphill, but moving quickly, which felt amazing. As darkness set in I was having the most fun I'd had all day. I pulled away from a small pack of riders and was alone in the remoteness of the Blue Hills—a sublime feeling.
From the start, I had the trail segmented in my mind. It was downhill to Ojibwa with some ups and downs, then flat/slight downhill until the Blue Hills, which would be the test, and then I'd be home-free after reaching Birchwood. All the while the strategy was simply "just keep going," and though the miles went by slowly, the progress felt steady.
I only saw two people before getting to Birchwood. I came up on the 160-mile run winner, Brian Corgard. Later, a light suddenly appeared behind me. It was the 160-bike winner, Neil Beltchenko. He was flying, which might have made me feel a bit demoralized if I wasn't feeling so good at that point. 
Conditions worsened a bit before Birchwood, and I decided to take a half-hour break at Ed's Pit Stop, a gas station. I had a Coke and banana, changed clothes and chatted a bit with a couple racers and regular folks curious as to what the hell we were doing. 
Leaving for the 17-mile stretch home started rough. My bike slipped in the icy parking lot and I went down hard. The trail at the point was also the consistency of mashed potatoes. There were a few steep up-and-downs to boot. I was able to get ahead of a few other bikers by bombing down the hills and riding up the other side when others were walking.
After that the trail is flat and a slight downhill grade to Rice Lake. Conditions were good—overall conditions were good on about ⅔ of the course I'd say. 
I was tempted to ride without stopping for breaks, but thought better of it. I took a few breaks to eat and drink and avoid bonking.
The silver lining of the miserable conditions was that they came with a tailwind from the east. But the wind wasn't fun after turning southbound on the Wild Rivers Trail. The rain seemed heavier too.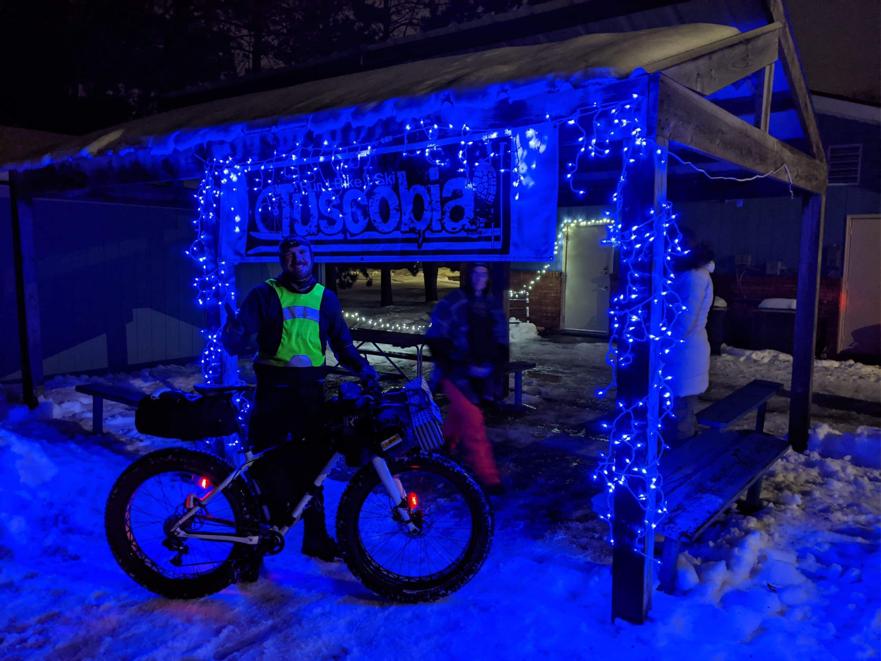 The finish line at KC Hall is illuminated with blue holiday lights and a banner. Three people stood there as I pedalled in. I was so out of it though that I didn't even realize they were my wife Anna and a few friends until one of them handed me a beer. "Oh, you people are my friends!" I said.   
I was glad they were there, otherwise it might have been a very lonely conclusion to an epic day. Though there were also more friendly volunteers, beer and Drag's pizza. Fine rewards and fitting of the race--few frills, you're on your own, make the best of it. I did. 
Spare tube

Tire levers

Bike pumps

Small multitool

Bike tool

Petzl headlamp (2)

Planet Bike lights (4)

Extra AAA batteries

Garmin 820 gps

Nemo -20 sleeping bag

Therm-a-rest Z Lite sleeping pad

Revelate Designs Sweet Roll (front bag)

Revelate Designs frame bag (not sure of models)

Revelate Designs top tube bag

Revelate Designs rear bag

Chamois Buttr

Outdoor Research Bottle Parka (2)
Thermos (2)
The things I wore (Stayed warm and kinda dry -- recommended!)
45NRTH Wolvhammer boots

Sugoi ZeroPlus pants

Pearl Izumi and Podiumwear bike shorts (swapped out)

Craft thermal base layer (2) (swapped out)

Synthetic t-shirt (2) (swapped out)

Sporthill breathable long sleeve top (wore ¾ of race)

Bontrager waterproof jacket (wore ¼ of race)

Smartwool socks (4) (Swapped out)

Yoko Windstopper gloves

Outdoor Research convertible gloves (2) (swapped out)

Reflective vest

Buffs (3)

No helmet (gets in the way of a headlamp)
Coffee (Woodland Coffee Roaster Nordic Notes)

Homemade cookies

Oreos

Cheetos

Jack Link beef jerky

Clif Bloks

Scratch Labs energy chews

Homemade maple syrup

Homemade pickle juice

Lays original potato chips

Coca Cola

Ham bean soup

Delayed release caffeine pills
Specialized Fatboy (4.6-inch tires) (SRAM GX components)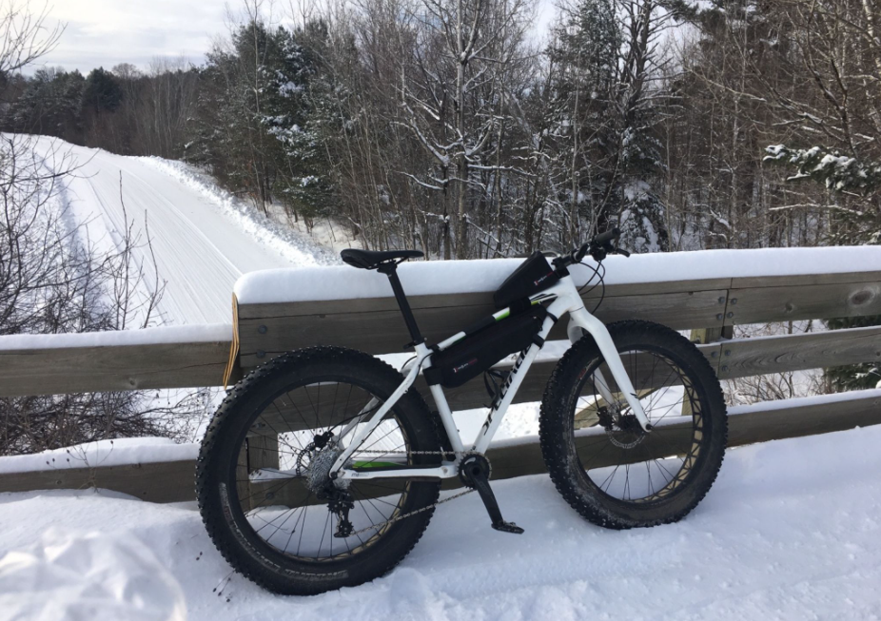 To Chris and Helen Scotch for putting on a well-run events

All of the awesome volunteers

James Kiffmeyer and Eric Grundin for loaning me their gear

My friends Steve, Lindsay and Bjorn for the cheers at the finish

My wife Anna for the cookies, finish line beer and understanding that I would be on my bike for hours at a time in less than great conditions.