An airplane caught fire and was destroyed after an emergency landing at Rice Lake Regional Airport on Sunday, according to the Rice Lake Fire Department. 
The pilot, James Kleven, stated that a smell of 'something hot' was detected on take-off and an emergency landing was made on Runway 19, south to north. The pilot on exiting the aircraft detected flames on the aircraft firewall near his feet. 
The Rice Lake Fire Department arrived at 2:27 p.m. and confirmed a twin engine fixed wing aircraft heavily involved with fire on Runway 01-19. Lakeview Medical Center Paramedics confirmed that both occupants were out of the aircraft and uninjured.
Rice Lake fire fighters controlled the fire with a remote controlled bumper nozzle applying approximately 750 gallons of Class "B" foam solution.  The fire was declared under control at 2:31 p.m.  Final extinguishment was accomplished utilizing a Class "B" 1-3/4" attack handline.  The fire was declared extinguished at 2:43 p.m.  A minor fuel leak from the right was contained with absorbent booms.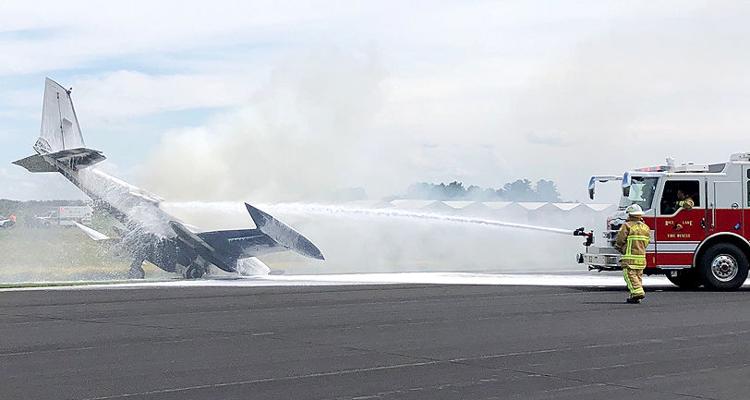 The aircraft, a Cessna 310Q, registration number 3843X, is owned by Larry Wiesner of Rice Lake.
No damage estimate is available at this time.
Rice Lake Fire Department cleared the scene at 3:58 p.m.