Street Eats will take place on Saturday, Sept. 14 in downtown Rice Lake. Marshall Street will be closed between Main St. and Wilson Ave. and will be filled with a dozen food trucks, live music, drinks and fun.
New this year, there will be family hours from 2-4 p.m. with child-focused activities to enjoy.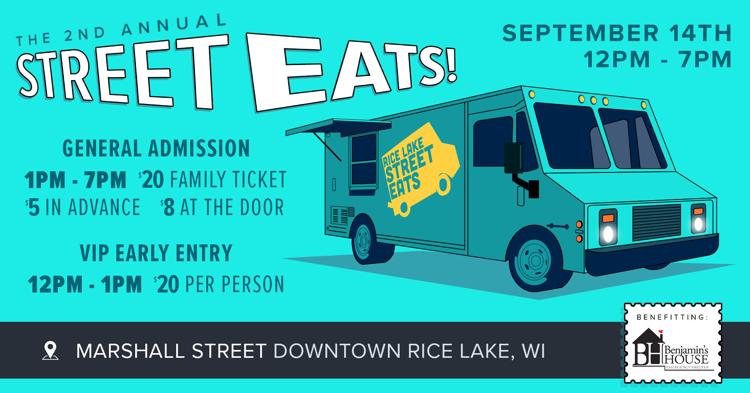 Also this year there is an opportunity to be a VIP. For $20 you will be allowed to enter the gates at noon (an hours before general admission) for first tastings. The VIP also includes free water during the event as well as a free dessert from one of the stands.
This event is a fundraiser to help support Benjamin's House, the local homeless shelter serving Barron County. Admission for the event is $5 in advance, $8 at the door. A family pass is $20 for two adults and up to four children ages 4-15, children under 3 are free. Food trucks will be available from 1-7 p.m. All ages are welcome, so bring the family and help support a good cause. For ticket information visit www.benjamins-house.org.
If you are interested in volunteering for this event or would like more information on how you can support the homeless in Barron County feel free to contact Executive Director, Lori Bowman, at 715-736-2437.