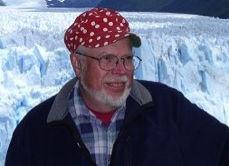 BIRCHWOOD — David M. Mickelson, Emeritus Professor of Geoscience, Geological Engineering and Water Resource Management at University of Wisconsin—Madison has been selected by the Superior Lobe Chapter (SLC) as the Environmental Educator of the Year.
The Superior Lobe Chapter is a unit of the Ice Age Trail Alliance responsible for maintaining and protecting over 50 miles of main, spur and loop trail segments of the Ice Age National Scenic Trail (IANST) in Burnett, Barron and Washburn counties and a portion of Rusk County.
Dr. Mickelson's distinguished career is devoted to researching and teaching earth surface processes. In addition to his academic teaching and worldwide research he engages in widespread interpretative activities that promote an understanding and appreciation of a land ethnic for Wisconsin's glacial and driftless landscapes. His efforts have increased the awareness and appreciation tor the Ice Age National Scenic Trail among thousands of people.
During the award presentation held in conjunction with the virtual Annual Conference and Meeting of the Ice Age Trail Alliance, Sue Greenway; member of the Board of Directors of IATA and Treasure for SLC, cited how Dr. Mickelson has taught and promoted conservation in 37 Wisconsin counties with heavy emphasis in Dane, Washington, Sauk, Langlade, Barron, Manitowoc and Sheboygan counties. He assisted Dolly McNulty with planning and implementing the IATA ColdCache treasure hunt covering geological landforms that is now part of international Geocaching with millions of worldwide participants. McNulty and Mickelson also developed and presented a five-day Road Scholar programs on the Great Wisconsin Glacier for lifetime leaning participants.
While representing the IATA, he has delivered conservation messages at Canoecopia and Madison Home and Guardian Expo. Greenway expressed appreciation for Mickelson's work on the glacial exhibits funded by 3M Company that explains how the land of her hometown Island City of Cumberland was formed. Mickelson was instrumental in the production of the Interpretative Guide to The Tuscobia Segment of The Ice Age National Scenic Trail. He also is the first author of Geology of the Ice Age National Scenic Trail, which is the most detailed and scientific-based publication on the IANST. In the book's introduction, Mickelson reveals the essence of his overriding objective as follows: " . . . each footfall takes you over often violent geological history . . . If you know how to read the landscape, the Ice Age Trail can tell you how Wisconsin came to be."
In keeping with the Chapter's practice, Mickelson will be nominated by the Chapter for consideration as the Wisconsin Conservation Congress Outstanding Educator of the Year.