The Main Street Market's sandwich packaging was going to waste. So, the Rice Lake co-op switched from wrapping its Mediterranean Chickens, Avocado Smashes, and Ham and Swiss in generic plastic wrap to an all-natural, unbleached wax paper as part of its Reduce Waste Initiative.
The new 100% soybean wax is petroleum free, recyclable and compostable, and reduces the square-footage required to keep a sandwich fresh. 
Practically every product is packaged at some point during its life, and some packaging has an extraordinarily long lifespan. For example, a plastic water bottle made this year isn't expected to biodegrade until 2469.
Packaging and containers made up approximately 30% of the trash produced in 2015, according to the University of Michigan's Center for Sustainable Systems. 
That includes 2 million tons of paper and plastic plates and cups.
Plastic bags are another common item that ends up in land fills. Americans used over 100 billion plastic bags in 2014, according to a 2017 study published in the journal "Waste Management" and some communities have begun to tax or outright ban their use.
"A plastic bag isn't so bad if you use it 30 times," said Sandi Rungren, co-op employee.
The market encourages shoppers to bring their own bags and boxes, or to stuff their pockets with their purchases. Members that do are entered into a monthly drawing for $20 in-store credit.
"Plastic free! #reducewasteinitiative" tags highlight initiative products, and the staff plan to ramp things up after the holidays with a compost collection program and hands-on, educational classes.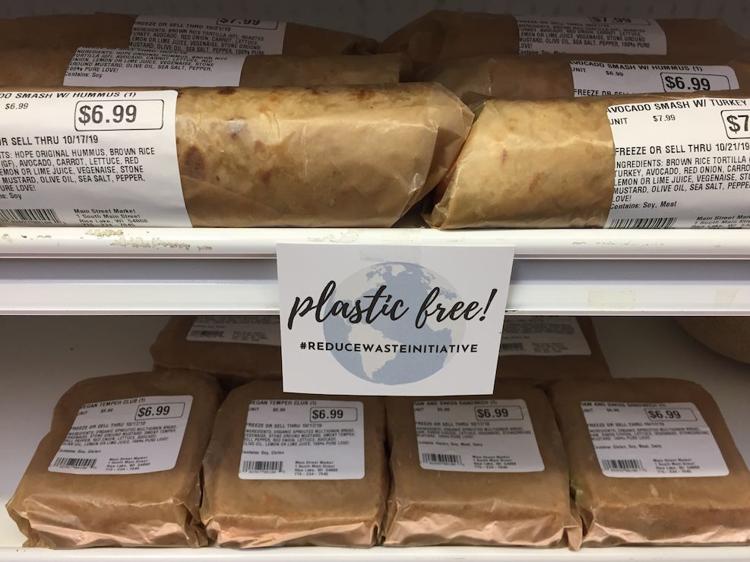 Employees want to see the initiative move down Main Street and then spread across Rice Lake. 
Sustainable packaging and waste-less mentality has hit the national stage. Clif Bar reduced its wrapping by 10% in 2015 and, in an effort to save the turtles, companies including Starbucks, Hyatt and American Airlines announced the end of plastic straws in 2018.
Last week it was announced that Heineken would ditch plastic 6-pack rings for sturdy cardboard can toppers in the United Kingdom starting in April.
The eco-trend is likely to continue, especially once companies figure out how to turn sustainability into profit by attracting new customers, obtaining tax breaks  or cheaper supplies. 
The man hold-up for local business is cost. 
Though Main Street Market uses less wax paper than it did plastic, it still costs more. It's looking into buying the paper in commercial quantities, but that's just the expensive reality of going green, employee Britt Ricci said. 
"We just think it's worth it. We know it's worth it," she said.