Purple loosestrife control beetles have been raised and released in a Birchwood wetland area through a project of the Birchwood Blue Hills Charter School collaborating with the Red Cedar Lake Assn. and the Washburn County Land and Water Conservation Department.
The newly-hatched beetles were placed into individual nets and the pots containing new beetles were moved to Red Cedar Lake, only a few miles from where they were raised, starting in April.
In July, the beetles were placed inside each netted plant. The beetles mate, lay eggs and hatch to create a new population. They devour the stem and leaves of the purple loosestrife plant, effectively weakening the plant and eventually killing it, said Lisa Burns, conservation coordinator with the Washburn County conservation department.
"The beetles have been known to fly as far as a mile to find food. They will not cover your windows like the Asian lady beetle, and you likely won't even see them unless you're searching for them," said Burns.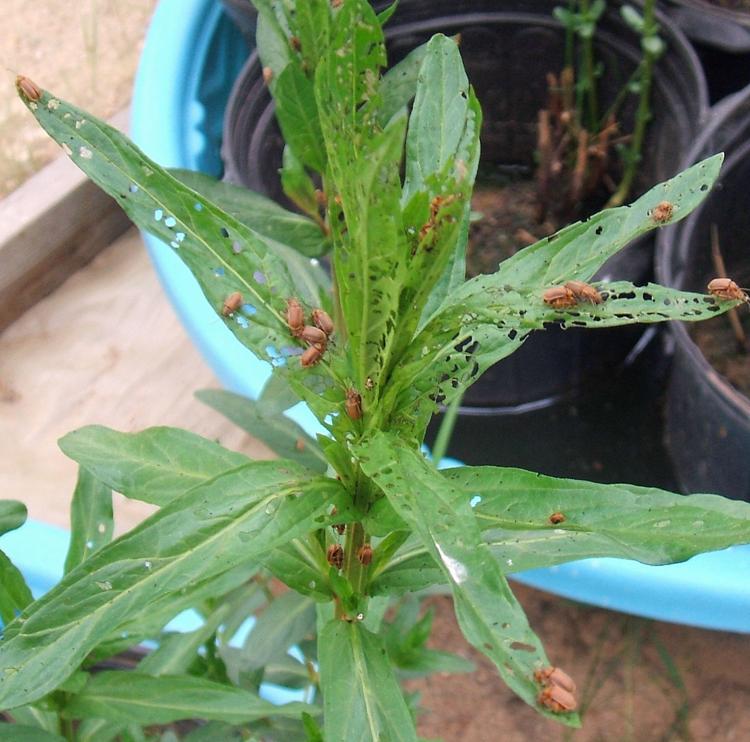 Release points are determined from where past infestations were documented. Students, county staff and members of Red Cedar Lake Nature Committee teamed up in canoes to release 1,000 beetles into an infested area of purple loosestrife.
Since the project began in 2011, approximately 30,000 biocontrol beetles have been released in Red Cedar Lake and wetlands in the surrounding area.
Purple Loosestrife is an aquatic invasive plant that appeared in the U.S. in the early 1800s from Eurasia. It is a woody plant with a square stem and tall purple spike with tiny purple flowers. 
Introduced as a garden perennial plant, the aesthetically pleasing woody invasive has aggressive roots and strong tolerances to water quality and diverse environmental conditions. 
"The plant chokes out native species by blocking off waterways, and it produces an astonishing one million seeds per year, extending its reach every season," said Burns. 
Purple loosestrife can be found growing along shorelines or in ditches.
In late April, purple loosestrife rootstock was dug up. The Birchwood students planted the roots into large pots with soil. Twenty buckets were set into two large plastic swimming pools with water to grow. Fine mesh nets were placed over the plants to help them grow straight. 
"It's an incredible experience to see an active group of students invested and working hard to protect the lake," Burns said. "It's heartening to see youth showing passion and interest in protecting our natural resources." 
Burns pointed out Jenny Landes as one of the student group's advisors for continued interest in the project.