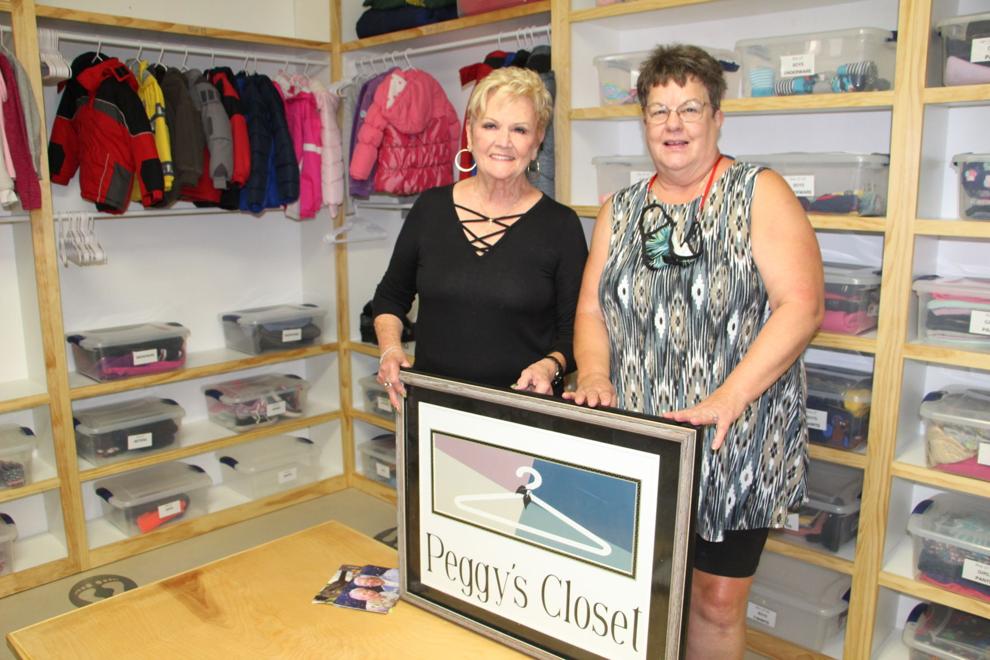 Classmates of the late Foster Friess continue to spread his charity throughout the Rice Lake community, and Peggy Weber is no different. As she departs from her job as cook at CESA #11 Head Start, she is leaving behind a nook filled with free clothes for the kids, a tire swing, a new bike path — and an elevator.
Weber, who graduated from Rice Lake High School with Friess in 1958, received $100,000 from the well-known businessman and philanthropist to donate to a charity of her choice, and Head Start, which occupies a building on Orchard Beach Lane, is the lucky beneficiary.
The Rice Lake Head Start child development program serves about 70 children from ages 3 to 5 and about 25 pregnant women or parenting families with children ages birth to 3 via weekly home visits, said Cindy Cross, director of the Rice Lake Center.
The federally funded program serves families at or below poverty level and besides furnishing educational opportunities, provides health, dental, vision screening and three meals a day, all for free.
Head Start also partners with the schools on a 4-year-old kindergarten program, hiring teachers licensed by the state Department of Public Instruction.
"We do just a little bit of everything," Cross said.
But more help is always needed and that's where Weber's contribution to Head Start will make a difference.
Weber, who recently retired from Head Start, knows full well the rigors of delivering meals to hungry children in their classrooms, where they eat family style, "passing the bowl and having conversations," as Cross explained.
Because the kitchen is located in the basement, that means a lot of stair climbing for staff and so Weber wanted part of the $100,000 she donated to go toward the installation of an elevator.
Although the elevator is a big-ticket item and will save wear and tear on feet, knees and backs, Weber seemed most proud of a downstairs nook Head Start staff dubbed Peggy's Closet.
Weber's children helped to plan, build and install the shelves and racks in Peggy's Closet, which is now filled with warm outer wear, underwear, socks, snow suits, boots, sweats and other items of clothes.
The idea for creating Peggy's Closet came from staff who all too often saw their students wearing clothes that were woefully inadequate, especially in winter. A lot of the time teachers were buying the children clothes out of their own pockets, Cross said.
But with the addition of Peggy's Closet to Head Start, that's no longer necessary to keep kids properly attired if their parents can't afford to.
"Now if they are need they can go to this closet," Weber said.
Part of the donation also will go toward a tire swing in Foster Friess' name in the playground and a new bike trail to replace the current uneven path.
Although Weber won't be around the building full-time anymore, she does intend to substitute when needed and will see how Friess' generosity benefits small children on the local level. And she will be reminded of how his charitable work left the world a better place.
"Foster was just an asset to the world," Weber said. "Not just to Rice Lake, but to the world."