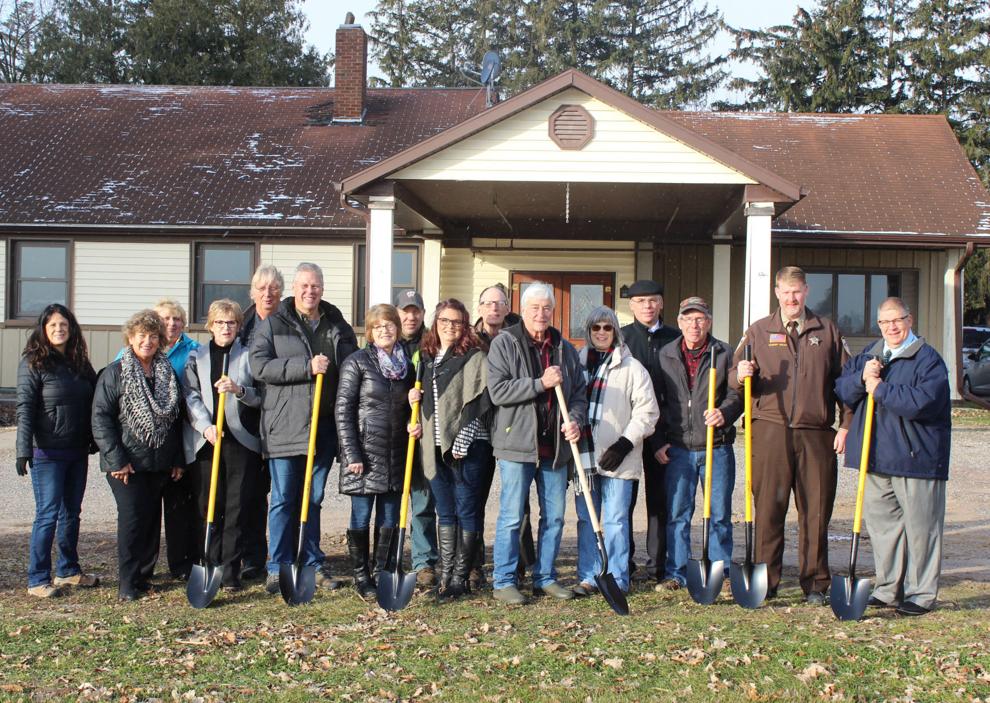 Transforming a former Barron County-owned nursing home into future Salvation Army transitional housing has been years in the making. As plans call for the Family House Shelter to open come spring, people in need of a roof over their heads will soon have one more place in the county to turn to.
Unfortunately, the shelter won't be available for the upcoming winter. The sudden dips in temperatures and sporadic snow flurries have put the county's homeless residents in cold weather mode — instead of camping out or sleeping outside, many are huddling in cars, couch surfing or calling homeless shelters.
But the shelters are filled to capacity while fielding an unprecedented number of cries for help. While the Family House won't solve all of the county's needs, it's a step in the right direction and 16 people celebrated with a ground breaking on Thursday.
The foundation
In August the Salvation Army closed on property on Highway TT to the south of Highway 8 a few miles west of Barron. That accomplishment came after five years of hard work by many people, including Barron County Economic Development Corp. Executive Director Dave Armstrong with the help of Duana Bremer, Salvation Army director for St. Croix, Polk and Burnett counties.
People who had fallen on hard times and no longer had a home clearly needed an option for transitional housing in Barron County — no matter the reason.
COVID-19 proved to be both a blessing and a curse for the transitional housing project, Armstrong said. Although the pandemic sent shockwaves through society, the federal government started to provide Community Development Building Grants for recovery.
On behalf of the Salvation Army, Barron County applied for and received $550,000 in CDBG funds. Combined with $350,000 from an emergency shelter fund and $200,000 from the late Foster Friess, Bremer had the money to buy the building, fund renovations and cover operations for a little while.
The Salvation Army wants to renovate the building to provide transitional housing for about 14 people, from male and female individuals to families who can't find a home. Tenants would pay rent, probably around 30% of income, and they could come from a variety of backgrounds and circumstances.
The Salvation Army Service Center will also provide case management and housing navigation, plus the organization will open the facility to the homeless who don't want to spend the night but seek a shower, laundry and a hot meal.
Building blocks
But the Family House Shelter will be just a drop in the bucket when it comes to filling the overwhelming need for homeless shelters and transitional housing in Barron County.
Benjamin's House, a homeless shelter in Rice Lake, does a great job, Armstrong said.
But when residents leave, they face discrimination from landlords who don't want to rent to them, said Barron County Board of Supervisors Chairman Louie Okey, noting transitional housing can help residents through programs, case workers and education with the ultimate goal of getting them back in the workforce.
Armstrong lauded the Barron County Department of Health and Human Services and Sheriff Chris Fitzgerald for their emphasis on drug abuse prevention. But once people have entered the system, they need help and support, and the Family House can provide it.
"The idea that somebody that's on meth, etc., just stops meth and goes back to work is nonsensical — it doesn't happen," he said. "They need help from the sobriety and recovery aspect. This is one piece that can help."
Armstrong, who said he's in his 34th year of sobriety from alcohol and drugs, knows whereof he speaks when it comes to the relationship between drug use and homelessness.
"I've been there and done this when I was younger," he said. "I understand this from a long time ago."
Breaking ground
About 16 people with stakes in the success of the transitional housing venture congregated at the site Thursday morning for coffee, sweets, a tour and a ceremonial groundbreaking. Since the Salvation Army bought the buildings, it has made strides cleaning it up but clearly had a long way ago — hence the estimate that it wouldn't be ready to accept residents until spring.
Unfortunately the need heading into December for homeless services is critical. Bremer said one morning she received phone calls that two men from different homeless shelters in the region were being "exited" due to drug use. She tried to get them into the Salvation Army Adult Rehabilitation Center, but the free center was uncharacteristically booked full.
"They have never been full in the last 10 years that I've worked with them," she said.
Benjamin's House and all Salvation Army shelters also are filled to capacity at the moment, Bremer said. The Salvation Army in Polk County is taking an average of 10 calls for services a week and on the morning before the ground breaking, Bremer received four calls herself — all before 8:30 a.m.
Lori Zahrbock, executive director of Benjamin's House, confirmed the shelter was full and they have received an average of nine calls a week in November, mostly because people are not able to find housing or due to family disagreements.
"In my six years here I have never seen this many calls at any time of the year, and this has been going on since September," Zahrbock said. "I would attribute it to lack of affordable housing in our area and also fallout from the pandemic as stress and family issues have become greater with more people staying home."
Still, there's no reason to stop calling for help. The Salvation Army has entered agreements with local motels to rent rooms, and continues to provide gas cards and help for rent and utilities. The hotline to call for assistance is 715-554-4928 between 8 a.m. and 4:30 p.m.