Rice Lake man on crusade to end semi-truck traffic on stretch of Wisconsin Avenue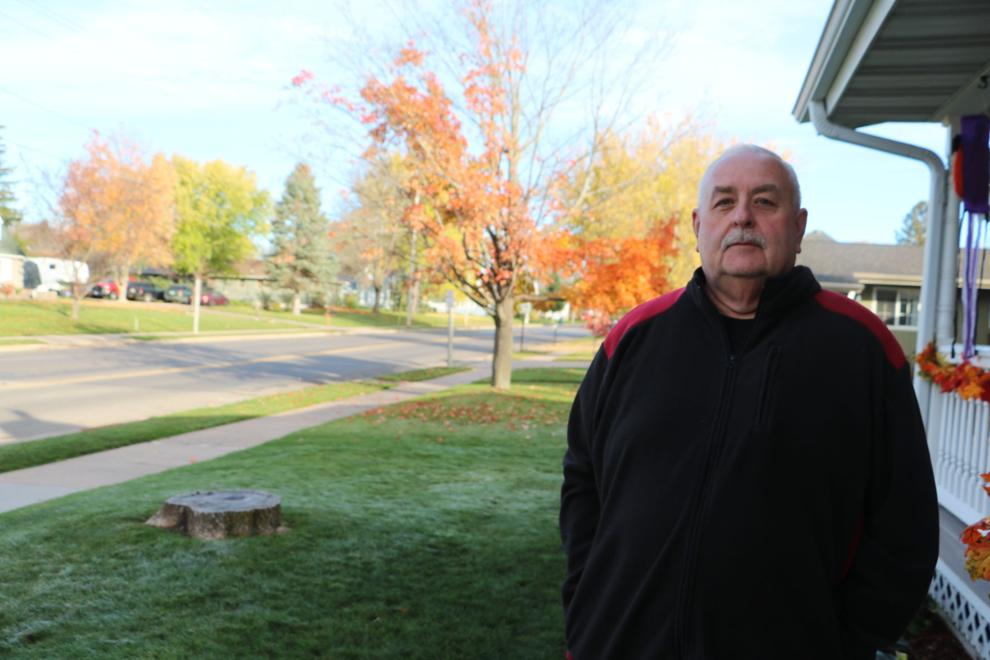 Semi-truck traffic on Wisconsin Avenue is dangerous and travels too fast, says a homeowner who lives along the stretch between Knapp and Allen streets, and semis should be banned for the sake of safety. But a traffic study concerning the removal of semis from the arterial plus other costs could run the city up to $29,800 and is unwarranted, says the city's director of streets.
Jay McGowan, who lives at the intersection of Wisconsin Avenue and Allen Street, has appeared before the Rice Lake City Council three times recently to try to persuade it to ban semi-truck traffic on his residential street — and he plans to keep at it even if he's going against the odds.
"Neighbors have said to me, 'Jay, we commend you, but we're telling you right now you're wasting your time. We've been after them for a long time. Other people have gone, and nothing has come of it.' Well, I won't have that. I stick with it," McGowan said.
In his quest to gain support, McGowan said he has obtained 55 signatures from Wisconsin Avenue residents on a petition. Only four people declined to sign for various reasons, he said, and many people have applauded his tenacity and hope the City Council will act this time.
McGowan, who originally hails from Chicago, came to Barron County by way of Florida in 2009 to help his ailing father. He's happy here and moved into his Wisconsin Avenue home 2½ years ago. He immediately noticed there was too much traffic on the residential street, especially after it became a detour route when the roundabouts were under construction.
"Everybody got use to coming this way," he said.
McGowan cited the difficulty semis have making turns at the intersection of Wisconsin Avenue and Allen Street, which can force traffic to back up to make way. He's heard the same happens on the north end of the stretch, and — according to him — some truck drivers have been rude when people call out to them to slow down.
The stretch has no stop signs, which allows traffic to get up to speed in the 25-mph zone, and there are 10 marked cross walks, not including two major crossings at the high school, he said. McGowan equates living on Wisconsin Street with living on Highway 53 because of the noise, number of semis and the speeding.
McGowan feels semis should be routed onto West Street, a 45-mph stretch that marks the border between city and town of Rice Lake limits, and take Allen Street east.
But Streets Director Jim Anderson planned to advise the City Council at its Tuesday, Oct. 26, meeting to put the brakes on McGowan's request.
Anderson's brief prepared for the City Council's meeting cites the cost for the city's consulting engineers to do a traffic study.
If SEH determines there are truck turning issues at the intersection of Allen Street and Wisconsin Avenue, it would provide an alternate concept design and study alternate signing and warning signals for a total cost of $29,800.
West Avenue does not have safe traffic controls at the Allen Street intersection and southbound trucks have a blind spot when turning east to enter the city, Anderson said. A four-way stop would actually be more dangerous and installing a roundabout would require the participation of the town of Rice Lake and be expensive, he continued.
In addition, the only two Rice Lake streets that intersect West Avenue along that stretch are Augusta and Allen, making it an impractical route for trucks delivering to businesses throughout the city, he said.
Wisconsin Avenue was last reconstructed in 1994 with the intention of evening out the street's width to accommodate two-way business and truck traffic, Anderson wrote in his brief.
The streets director also noted that a traffic study was performed in 2004 after a child was struck by a school bus at the intersection of Wisconsin Avenue and Carson Street. As a result, bump outs were installed at the intersections of Wisconsin with Carson and Augusta/Messenger streets to slow down traffic and give pedestrians less distance to travel while crossing the street.
Anderson also said in the brief that Rice Lake Police Department Chief Steven Roux determined through a recent analysis that the average speed of traffic along Wisconsin Avenue is 29 mph.
Roux said in an email that he encourages residents to contact the department about perceived safety concerns and he will try to get officers into these areas with the available staffing.
"Our officers have recently enforced violations for speeding and operating while under the influence on Wisconsin Avenue when we have specifically assigned officers to this area," he said, also noting that the department receives traffic-related complaints throughout the city and directs its attention to these areas to improve safety.
Instead of spending money on a traffic study of Wisconsin Avenue, Anderson planned to recommend that the city work with the Rice Lake Area School District to find funding for two overhead pedestrian-activated LED warning devises at school intersections.
Another recommendation is to buy four electronic LED interactive speed warning devices to place between Highway O and Knapp Street plus another two at the south and north limits of the school zone.
"I have empathy for people who live on arterials," Anderson said. But he also noted they can't change traffic patterns based on 28 years of city planning and engineering studies to accommodate one person.
McGowan, on the other hand, wonders why the city needs a study and can't just enact a truck route ordinance. He and his neighbors feel ignored by the City Council.
"The council has failed us terribly as far as we're all concerned," he said.
Editor's note: An update on this story will be posted online after the Rice Lake City Council's Tuesday meeting.