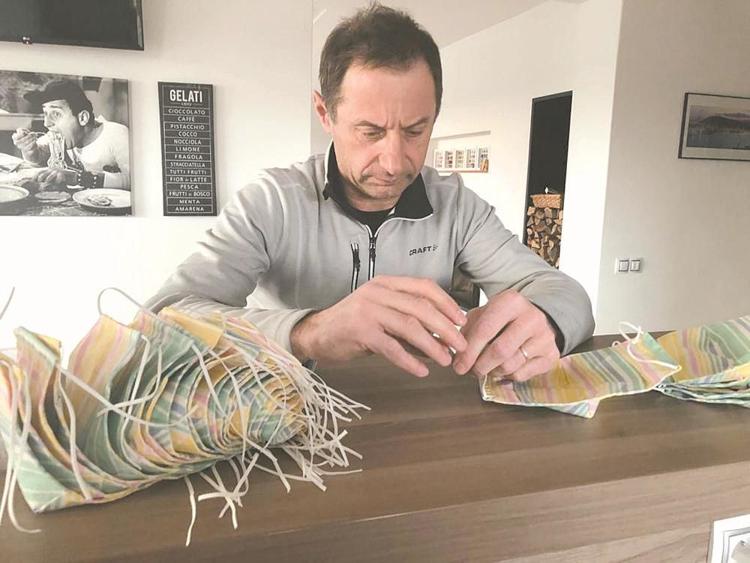 Anyone who has connected with Rice Lake's sister cities knows that Zamberk and Miharu and their citizens share many similarities with us.
Unfortunately, the effects of the COVID-19 pandemic are among those similarities in the sister cities in Czech Republic and Japan.
In Zamberk's region— Usti nad Orlici District, population 138,000—there have been 25 cases, few of which have been reported in recent weeks.
In Miharu's region—Fukushima Prefecture— population 1.8 million—there have been nearly 100 cases.
Miharu
Japan is still under a coronavirus state of emergency, which was extended this week until the end of May, though there have been no hard lockdowns.
"Of course, everyone is stressed about the uncertainty of it all," said Jeana Schieffer, a Rice Lake native who has taught English in Miharu since 1986.
"I run an English kindergarten in Koriyama and teach English conversation in Koriyama and Miharu. We cancelled English conversation classes from mid April just like the violin, piano, swimming, kids sports, etc.
"However, we will try to open online lessons from May 7. We are scrambling now to learn how to host online lessons and inform our students how to log in from a tablet or cell phone.
"Public schools don't really have the option of teleschool either as most Japanese homes do not have a computer or even internet. Everyone here uses their phones, and most children have never used a computer," said Schieffer.
But technological shortcomings are not the only struggle for those staying home.
"It is not practical for Japanese people to work from home, because Japanese
homes are typically very small," said Schieffer. "If the schools are closed and parents are at home, too, it would be three or four people spending all day together in a space about the size of your kitchen. Not very practical. So most companies are keeping their doors open and most adults are still headed to work."
Japan's school year typically begins in April.
"Parents are concerned about how much longer schools will be cancelled. We expect the schools to be closed til the end of May at least, but no one knows for sure," said Schieffer.
Service businesses remain open, with several precautions in place.
"Most stores and restaurants are still open. They have put up plastic sheets at registers to protect the staff, and marked floors with signs to make customers stand 6 feet apart. Tables in restaurants have been removed or the chairs removed to make people sit farther apart. Everyone here wears a mask, including children, when out in public," said Schieffer.
Schieffer said the people of Miharu are looking out for each other and staying socially connected as best they can.
"I stopped by the home of the former Mayor of Miharu, Hiroshi Itoh, recently," she said. "He and his wife, Junko, are in good health and on their sixth week of home quarantine. They are both elderly and she has longstanding health issues, so I was relieved them to see them in well spirits. He mentioned that they have received many letters and cards from friends in Rice Lake concerned about them, and they were very grateful for everyone's concern."
Zamberk
On Monday, Czech authorities also permitted some schools, hairdressers, malls, cinemas and other businesses to reopen. Museums and galleries opened their doors and the government gave the green light for weddings, cultural and religious events of fewer than 100 people. Professional sports teams resumed full training. Beer gardens are open, a source of much rejoicing.
New COVID-19 cases in the country have declined since March.
"The Czech government has taken quite strict precautions in the middle of March," said Monika Skodova, a news paper editor in Zamberk.
At first all schools were closed, then all services and shops except of the necessary ones," she said. Skodova added, "We are supposed to stay at home except the travels to work, to the doctor and to provide necessary shopping. We can go out only in twos (except for the families), we have to wear a mask everywhere except home. Doing outdoor sports is permitted, but also only two people in maximum. Our students have to stay at home and the teachers provide online teaching and send homework via e-mails."
Like here, the Czechs faced shortages of necessities, including baking ingredients and masks.
"Everybody with a sewing machine was producing homemade masks not only for their own use, but also for healthcare facilities and nursing homes. And that is really the positive side of this situation, that people help each other," said Skodova.
"The people have been very creative and it is fun to see a variety of masks on the streets!" said Sarka Strnadova, head of Zamberk's international friendship association.
She added, "We have not run out of toilet paper—but yeast! People who are staying home are baking cakes, rolls and homemade bread. It is impossible to buy any yeast at this time."
Parents with children under age 13 are permitted to stay home from work, and receive a government subsidy.
But Strnadova is on double-duty.
"I go to work but I have my grown up sons home, and I have to cook for them every day after work," she said.
For Czechs, who endured war and oppressive communism for much of the 20th century, staying cheerful in the face of hardship is a familiar feeling.
"We have a very good sense of humor in hard times so we send via applications like WhatsApp a lot of funny videos and pictures," said Strnadova.
Among exchange students studying in Rice Lake this year, all but one has gone home.
Despite the disappointments of a more limited visit, Emma Dzurbanova intends to stay until June.
Strnadova said Czech students are expected to return to school in September. And she is hopeful that three from Zamberk who have expressed interest in studying abroad will be able to come to Rice Lake in August.