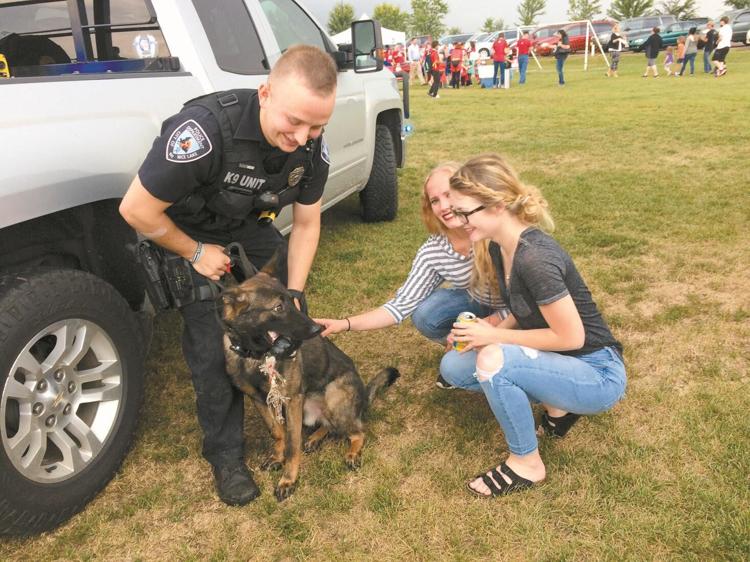 After 23 years of service Rice Lake Police Department K9 dog program is being discontinued.
Rice Lake City Council made the decision official with a 6-2 vote Aug. 25, 2 months after voting to fill the position after the previous K9 handler left the department.
"I want to continue the program," said police chief Steve Roux. "But at this time we don't have anyone who is interested in taking on the responsibility and commitment."
Roux himself was a Rice Lake K9 handler for several years.
"It's the funnest job and most rewarding job I've had in my life," said Roux. "But very physically and mentally demanding."
One applicant for the position had begun K9 handler training. But that officer submitted a letter Aug. 10 declining the position, citing limited law enforcement experience (less than 1 year) and a lack of housing options in the Rice Lake area.
The job was re-posted, but Roux said there were no further applications. He said the lack of interest was unsurprising.
"Any time we've had a vacancy in the unit, we've had two or less applicants for the position," said Roux.
The department's last handler, Josh Eckes, submitted his resignation as of June 2 after 4 years in the department.
Cuff, the department's K9, has since been cared for by Roux and other officers. The dog will be sold to another department.
"Cuff has a good nose. He really is high energy and he needs to continue to serve in that capacity," said Roux.
Eckes apparently expressed interest in keeping the dog. An online petition to allow him to do so has gathered nearly 1,000 signatures. But the RLPD denied the request.
Cuff was brought to the U.S. from Hungary. He was handpicked at a Florida location for the RLPD by trainer Jason Brodt, head trainer for the St. Paul K9 training facility. Eckes began working with Cuff in January of 2018.
Several Council members expressed disappointment that Rice Lake would no longer have a K9.
Alderman Mark O'Brien, a former police officer, said, "Knowing you had that dog on the shift—you always feel good—but (a K9) made you feet a little bit better."
O'Brien and Harlan Dodge voted against the motion to discontinue the K9 unit.
Roux said there would always be a possibility of reinstating a K9, albeit with some hurdles to clear.
"It's great for any law enforcement agency to have," said Roux. "For public relations and community building it's huge, especially in our community."
Over the years Rice Lake has had five K9s—Reggie, Morgon, Robbie, Copper and Cuff—and five handlers—Mike Nelson, Roux, Mike Carroll, Derek Olson and Eckes.
Currently, the Barron Police Department has a K9 unit and the Barron County Sheriff's Department has two.