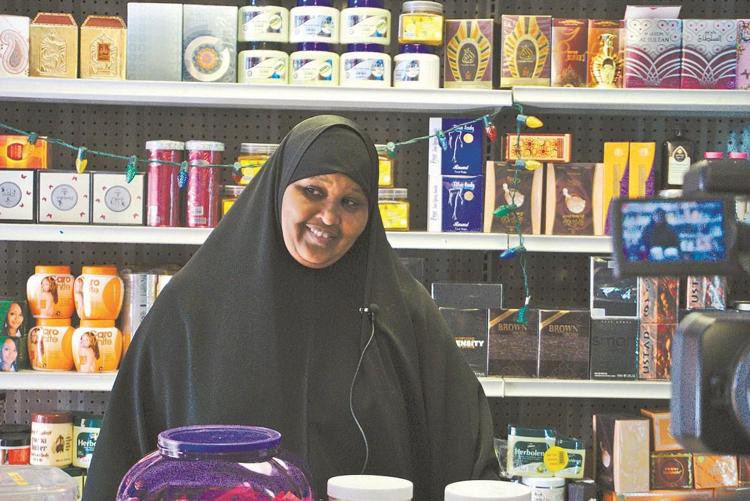 Fighting cartoon superheroes distract Nasteho Osoble's youngest son from translation duty. Hassan, 16, traveled from Uganda to Barron, to join his mother and sister more than 2 years ago.
But Osoble had been expecting one more arrival—her eldest son, Abdirahman. He wasn't allowed to board.
Osoble grasps exasperation and Department of Homeland Security documents stating Abdirahman's petition had been approved by the United States Citizenship and Immigration Services.
She said that when she talks to Abdirahman on the phone, he asks, "Everyone is with you over there, why aren't I?"
It's a question she can't answer.
It doesn't matter Hassan is distracted, her expression doesn't need translation.
Community members estimate between 30 to 40 Somali families in Barron are waiting for loved ones they left in Africa due to the effects of a violent civil war, threats, abuse and persecution.
These families have waited years for their documents to clear to bring their children to the U.S.
Answers are rare, and they fear the immigration door is closing.
Refugee immigration has slowed since Presidential Proclamation (PP) 9645, known as the travel ban.
Since coming into effect Dec. 8, 2017, the ban has been adjusted to encompass eight countries, including Somalia, along the Indian Ocean.
Internal State Department use documents state, "There is no longer an exemption for nationals of those countries with 'a credible claim of a bona fide relationship with a person or entity in the United States."
Waivers can be applied for, but each applicant is evaluated individually and must show that a denial would cause undue hardship to the applicant and that their entry would be in the national interest and not be a security concern.
Consular officers do not consider just residing in a conflict zone an undue hardship, according to the documents, and national interest ranks higher than hardship.
In the 2018 fiscal year, 15,384 immigrant visas were rejected through executive order. Waivers were granted to 923 applicants, according to State Department documents.
The travel ban has no end date, but is reviewed every 180 days.
It's common for administrations to vary the number of refugees admitted through the United States refugee program. In fiscal year 2019, the U.S. accepted 30,000 refugees. In 2020, the country will not accept more than 18,000, which is the lowest total since the programs inception in 1980. Zero refugees were admitted in October, the first time that has happened in a given month.
Just 3 years ago the waiting period was estimated at 18-24 months. One Barron woman filed for her four children 9 years ago.
Now, waiting families and the concerned members of Immigrant Advocates of Barron County are trying to raise awareness. A documentary was filmed, and family separation stories have been shared at college campuses and churches. People tell about family members being killed, turbulent journeys, life in refugee camps waiting for visas to process, arrival in the United States and becoming citizens.
And then the fading hope of being joined by their children. Through a translator, Osoble halted while telling her story to a church group, "I cannot talk more about this."
Barron is home
The city of Barron is less than 2 hours from the Twin Cities, home of the largest Somali population in the country. Of Barron's 3,346 people, over 13% are African-American, according to a U.S. Census 2017 estimate, up from 9% in 2010.
The availability of work began attracting Somalis escaping civil war in the 90s, and it's now common in Barron to see school kids in hijabs playing with kids in shorts on jungle gyms or kicking a soccer ball.
Somali residents have donated time and money to help their neighbors after community tragedies.
Citizenship is a point of pride, and residents gather at the Barron Public Library to study for the U.S. Citizen exam, which includes an oral civics test administered in English. Teachers say attendance has waned recently, not due to lack of interest, but because so many have obtained citizenship.
How it works, usually
Petitioners—those already in the U.S.—usually start the "follow to join" process by filing one of two forms: the I-730 or I-130.
The I-730 form is filed by petitioners classified as refugees or asylees. A refugee is a person who requested entree in the U.S. while overseas, an asylee is a person who requested asylum after entering the country.
The I-730 must be filed within 2 years of the petitioner receiving refugee or asylee status. There is no cost to file, and a separate form must be completed for each family member.
The I-130 is used by petitioners who are U.S. citizens or Green Card holders and costs $535 to file.
Many Barron Somalis submitted I-730s and have since become citizens. Switching forms would restart the process.
Both forms request petitioner and benefactor biographical information and relationship proof.
DNA testing is not mandatory, but it's recommended because it can't be forged like a birth certificate. All DNA testing costs and arrangements must be furnished by the petitioner.
Lawyers and translators are also recommended, but cost money, and it isn't unusual for total expenses to exceed $5,000 for one family member.
Besides up-front costs, applicants must pay the government back for providing plane tickets, as well as prove an income, which can be managed by having a sponsor, like a co-signer on a loan.
Another financial hurdle was erected on Nov. 3 when the White House announced that adults seeking immigrant visas prove their ability to obtain health insurance within 30 days of entry into the U.S. or of their ability to pay medical costs.
Despite the slow-downs and barriers, the filings keep coming.
At a Refugee Consortium Meeting in Minneapolis in June, an immigration expert told community leaders and organizers that U.S. immigration is flooded with applications.
Substantiation documents, DNA matches and lawyers expedite the process, but cases still end up in what the expert likened to a never ending buffering screen—administrative processing.
Paschal Nwokocha calls the refugee process the most vetted system when it comes to the level of agencies screening the applicants.
Nwokocha has been practicing immigration law in Minneapolis for 20 years. He's intimately familiar with the process, as he and two brothers joined his father in the U.S. in 1992 from Nigeria.
The immigration background check is intensive, but its exact parameters and reasons for disqualification are unknown.
If you don't pass, you aren't told why.