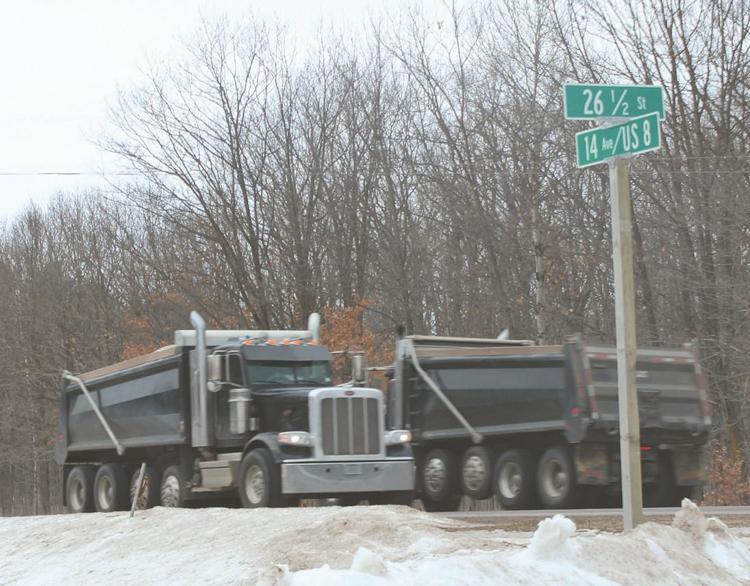 After 5 years of frac sand being mined and trucked out of the Town of Sumner, money continues to stream back in through a funding deal struck between the small township and an international company.
Since 2015, more than $1.2 million has been collected from Source Energy Services for Sumner Community Foundation, based on a rate of 20 cents per ton of sand mined from the ground.
"The sand company has been a great asset," said Jim Crotteau, one of five people on the community fund board of directors.
That board consists of one town board member, two citizens and two representatives of Source Energy Services.
Jim Pannier is a former Barron County board member and advisor to the committee.
"The philosophy is that this exists for the betterment of Town of Sumner citizens," he said.
The fund works to fulfill this mission in several ways.
"Number one is scholarships," said Crotteau.
In 2016, $16,000 in scholarships were awarded to children of the township. Grants are $1,000 per year split over two semesters for students who maintain certain academic criteria.
"That $1,000 a year is huge," said Crotteau, who himself has kids looking to further their education.
The fund has also helped purchase equipment for Blue Hills Search & Rescue, Cameron Volunteer Fire Department and the Barron County Sheriff's Department. Churches do not receive funds, except to help with utilities in those where 4-H and other community meetings are held.
A large chunk also goes to the township itself, helping to construct town buildings and fund road projects.
Crotteau said with monies supplemental to the general tax levy, the township is able to pay off debt on road projects sooner, such as 2019 upgrades to 17th Avenue.
Crotteau, who served many years on the town board, said the contributions from frac sand make a big difference for a town with lower property valuations than most in the county.
For example, Sumner's total valuation is about $62 million—a fraction of that of the neighboring Town of Prairie Lake, where waterfront properties boost the town's value to $173 million.
A perpetual pot
But the largest share of the frac sand contribution is not spent, but invested, to the tune of about 80%.
The goal is to build a $2 million endowment, which would provide annual dividends in perpetuity to be spent for the good of the town.
"That's what our whole goal was," said Crotteau. "To have a pot of money, even if the mine stops."
With more than $1.2 million contributed from the sand company, even after the other expenditures, the fund has a balance of $1.2 million-plus because the investment has paid dividends.
For a local non-profit to have a sum like that, raised from an international company, is a rare thing, said Crotteau.
The agreement is also unique in that the sand company's contributions do more than fund road maintenance, as is the case in other local townships.
The goal of the fund's performance is based on the S&P 500, but that standard can be reevaluated and changed as the pot grows, said Pannier.
Crotteau said the fund board's decisions are not easy, especially since many have voiced the opinion that more should be spent now rather than saved.
"We have to be very careful," said Crotteau.
There is also the complicated nature of the frac sand market, which rises and falls quickly based on the oil and gas prices.
After receiving $380,000 from Source Energy in 2018, the 2019 total dropped to $356,000. By the month, revenues dipped from $29,127 in April of 2019 to $7,733 in November, but recovered to $20,142 in December. That gives an improved outlook for the industry in 2020.
Source Energy, which is based in Calgary, has also maintained a good environmental record, with the exception of a discharge of sediment-laden water into a tributary of German Creek and Ojaski (Mud) Lake in September of 2015 and June of 2016. The company paid a total of paid a total $3,127 in fines.
Fund origins
The company itself, which was formerly know as Canadian Sand & Proppant, was originator of the community fund idea, said Crotteau.
Lawyers for the company and the Town of Sumner, and town chairman Steve Palmquist worked out the details to get it established in 2015.
Board members include Crotteau as president, Dave Mansfield as secretary treasurer, town board representative Steven Becker as vice president, and Source Energy reps Brett Walsh and Adam Grguric.
Board members serve 1to 5-year staggered terms, and may serve a maximum of two terms in succession. They must disclose possible conflicts of interest on an annual basis. Board members are volunteers and not compensated.
A newsletter is sent out with the town's tax bills to update the public on the state of community fund and request proposals for grants. Mansfield said the early part of the year is a busy time as the board looks at year-end tallies, plans the year ahead and disperses scholarships.
Mansfield said he looks at every sand truck driving down Hwy. 8 as about $4 more for the fund.
And there is a consistent stream of trucks from morning to mid-afternoon most days. From the mine at 2595 Hwy. 8, sand is hauled to a drying and transloading facility in Weyerhaeuser. From there, most is shipped by rail to oil and gas well sites in Canada. To them that sand is worth $50 a ton or more, depending on the market.
It's big business, and the Town of Sumner is getting a little piece of the pie.
"That's what our whole goal was— to have a pot of money, even if the mine stops."
—Jim Crotteau, fund president