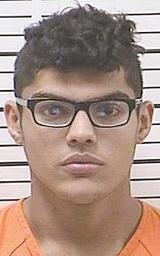 The teenager accused of stabbing a father and son in Barron's Anderson Park on Halloween made his initial court appearance Tuesday.
Emmanuel Torres, 18, of Cumberland was charged in Barron County Circuit Court on Nov. 5 with the felonies second degree reckless injury and battery with intent of bodily harm. He was also charged with two counts of felony bail jumping.
Torres faces a fine of up to $25,000, or imprisonment not to exceed 12 1/2 years or both on the second degree reckless injury charge and a fine up to $10,000, or imprisonment not to exceed 6 years or both on the battery charge.
The stabbing victims, Edward R. Deacon, 41, and his son Brady R. Deacon, 18, have been released from the hospital.
The charges filed Nov. 5 refer to Brady Deacon. The District Attorney's Office stated it is waiting on medical information concerning Edward before deciding any additional charges.
Torres called 911 at approximately 5:38 p.m. on Halloween to report he had stabbed two people.
The criminal complaint draws on multiple witness statements.
Torres and a 15-year-old girl were walking from the Birchwood Apartments across the bridge to his black Dodge Magnum parked by the Anderson Park pavilion.
Brady, Joey D. Illa, the
15-year-old's sister and other minors were at the skate park when they saw Torres and the girl. A group walked over to Anderson Park, and Brady and Illa drove over.
Edward was driving into town when he saw Brady and Illa turning off of N. Mill St. and into Anderson Park. He had seen the group at the skate park earlier while driving home from work.
Brady and Illa began verbally confronting Torres about being with the 15-year-old. At the time, Torres' bond conditions included having no contact with underage females beyond his immediate family. He had been charged with bail jumping 2 weeks prior after allegedly driving the 15-year-old and her sister to a Barron grocery store.
At this point, witness accounts in the complaint begin to differ.
One witness told police that Torres had the driver's door open, as if he were going to get in, when Brady pushed him. Torres pushed back and then stabbed Brady. Edward went after Torres and was also stabbed. This witness said they stayed at the scene and called 911.
Another witness told a different account. Illa was kicking the door of Torres' vehicle and telling him to take off his glasses. Brady then punched Torres in the face. Edward became involved because Torres went after his son and he was then stabbed. Brady lifted his shirt and "was gushing blood," according to the witness.
Edward told police he walked up to Brady and Torres because it sounded like they were going to fight. He told Torres to "get the 'F' out of here" and that he didn't need this. Torres then stabbed him. He blocked a second strike and then Brady stepped in and was stabbed. Edward told police that Illa came over and got Torres away from Brady.
A first-responder on their way to the scene encountered the two sisters walking a few blocks from the park. They appeared "frazzled" in the criminal complaint and police took them to the Sheriff's Department.
The 15-year-old who identified Torres as her boyfriend avoided questions, according to the complaint, but said that she had not talked to him because "he's been getting into trouble with being around minors."
Her sister told police that the 15-year-old girl had been with Torres at the park. The sister said he stabbed Brady first and then Edward.
Police arrived at the park and located Torres to the east of the playground equipment, according to the criminal complaint, and he was taken into custody.
He told police that he dropped the knife between the pavilion area and where he was arrested, but it has not been found. Witness reports compiled in the complaint describe it as being medium-sized, 5-6 inches long, and having a black blade.
Officers found the victims by the pavilion leaning against Ed's red Volkswagen Jetta.
An officer retrieved a first aid kit from his squad and gave both men gauze. Both had puncture-type wounds in the upper left abdomen, and Brady was reported to have a significant amount of blood on his shirt.
Edward told The Chronotype he felt a lot of pressure when he was stabbed, then a little burning before it really hurt. He said his rib cage prevented a deeper wound.
Edward was released from Regions Hospital in Minnesota on Nov. 1, the day after being stabbed.
Edward said Brady was released from Mayo Clinic Health System Hospital in Eau Claire on Nov. 3 and that the knife had penetrated less than an inch from his heart.
Illa, 21, is being held on a probation violation in Barron County Jail. "If Joey hadn't hit [Torres], I don't know how many times more he would have stabbed [Brady]," Edward told The Chronotype.
Edward estimated the whole conflict lasted about 10 minutes, and the stabbing about 2 minutes. He said after the situation calmed, Torres walked towards the slides.
This is the fourth criminal case filed against Torres in Barron County since September.
He was charged Sept. 19 with second degree sexual assault of a child. The criminal complaint states he forced a 13-year-old to have sex with him at a Cumberland beach in June. Torres was 17 at the time.
On Oct. 11 Torres was charged with misdemeanor sexual contact with a child age 15 by an person under 19 after allegedly having sexual contact with a girl after the Fall Formal.
Torres was charged with bail jumping on Oct. 14 after allegedly giving the two sisters a ride and was released on a $10,000 signature bond.
A restraining order against Torres that does not appear related to the stabbing was granted on Oct. 31. On Nov. 5 a $2,000 cash bond was set for Torres, and a preliminary hearing was scheduled for Nov. 20.