In the far back corner of Chequamegon High School lies a secret cove of classrooms filled with all manner of things strange and experimental. To find it, one must traverse the long and winding hallways of the high school, filled with their hustle and bustle of greater school culture, emerging into a pair of conjoined rooms filled with daylight, bursting at the seams with the scent of oil paint and dried clay. All along the walls — from ceiling to floor and on every countertop — are colorful creations of every conceivable shape and dimension, sitting, hanging, standing next to paintings and mixed media artwork, some as recent as the day before, others decades old.
This is more than an art room. It is art in progress.
Standing in the midst of all this beautiful controlled chaos is Deb Oswald — art teacher for 22 years at the high school and Park Falls Elementary. She is on her prep period before heading to the elementary for a slate of afternoon classes, a juggling trick she's sustained for many years, but has now caught up with her. Oswald has decided to retire at the end of the year, leaving behind not only a lasting visual legacy but also the role of confidante.
"It's not that you're just teaching art, you're using art to teach the kids," says Oswald, musing over a table speckled in blotches of wet acrylics.
Having taught 4K through 12th grade, she has known most of the current high school crowd since they were little kids. And with the art room being one of the places students are always encouraged to open up, to try new things, art can often become a window into the deeper parts of a person.
"You really know their background and you know what they're like. They come in here, and because they're comfortable with me, I hear a lot. They'll be working on their art and they'll be talking about their art and then something will spill out. And you can connect all of these lessons that they're learning to things in the future. I spend a lot of time saying things like 'you might not draw again, but you've learned how to solve a problem.'"
A big move north, the year China got Hong Kong back, and Smurf hands in a flooded art room
A Janesville-area native, Oswald graduated from the Clinton School District before attending UW-Eau Claire for her bachelor's of science in comprehensive art education in 1980. That summer, she married Fred Oswald and moved to Park Falls, Fred's hometown and where he started his CPA business with a partner.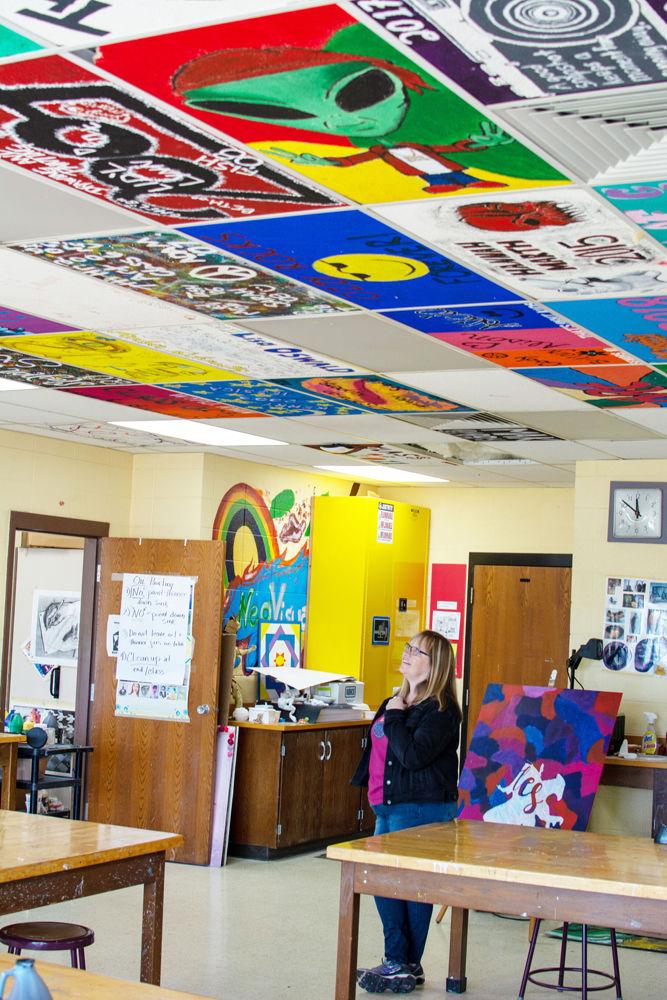 The first couple of years in Park Falls were hard. The winters were harsh, and she had very few friends or contacts in the area. But, she started subbing at the school and also taught preschool in the Congregational Church. At least until along came the kids: John, Greg, and Mike. That put her teaching career on hold for a few years.
Then, in 1992, Oswald started helping out at the school on a volunteer basis. She would hang around then-art teacher Phyllis Witta, helping in the classroom and subbing for her when the chance came up. Soon, Oswald was subbing regularly, and getting paid for it.
Her big break came in 1997 when Witta decided to retire.
"That was the year China finally got back Hong Kong from the British ... that's the year Mrs. Witta finally gave up the art room!" Oswald laughed.
Her first seven years were just in the elementary school, but in 2004 she expanded to the high school art room. She has taught countless configurations of grades over the years, including a stint at the middle school for a couple of years.
"I really like having the little kids because everything is so exciting to them and they're learning new things and they're so joyful. You get leg hugs in the grocery store ... I just love that. But, I can't tolerate the noise as much anymore!"
She said one of her favorite memories was about six years ago when she had the kindergartners using new finger paints and suddenly realized the paint wasn't washing off.
"You're trying to get them to clean up — it's a mess and they love it — but it's time to clean up, and so they're at the sinks and then they start saying the paint isn't coming off. Well, it turns out I tried out a new brand of finger paint, and the blue stained their hands."
Oswald had a herd of kids running around, stained blue as Smurfs, when all of a sudden water started to bubble up out of the floor drain and flood the room.
"The kitchen let out their dishwasher water the same time as we were running all three sinks trying to clean up … the kids started yelling 'Mrs. Oswald, there's water coming out of the floor!'" Oswald got the kids to sit down and grabbed lead custodian Perry Cuddeback. The crisis subsided and the flooding issue never happened again, but Oswald remembers the art room pandemonium well.
Backstage and behind a sewing machine
At the high school level, Oswald has been involved in her fair share of extracurricular work. Since 1994 she has been in charge of scenery painting and construction for the school musical, just retiring that job as of this year. This job also grew to include backstage direction and makeup as well.
Oswald said she and Mark Donner, who directed the high school musical for many years, used to sit down and go over the production together — Donner with a script, Oswald with a sketchbook in hand.
"He would tell me what scenery he needed, and then I would pull in my kids and we would make whatever he needed. I would design it but the kids would do most of the painting," she recalled.
Operating as part art director, part teacher, Oswald said there were times when she'd enlist the help of her art classes to produce the stage scenery. It all became part of the curriculum.
"I love the play," she beamed. "I did it in high school, the same kind of thing. I didn't do the acting part, I did the backstage, the scenery. I really liked seeing it all come together and watch everything and working with all the different people and it was just something I really enjoyed doing a lot."
Of all the productions over the years, Oswald said the 2007 musical production of "Grease" was by far the most labor and time intensive the group ever undertook. She recalled how she and one former student spent at least 20 hours constructing Greased Lightnin', a hot rod car at the center of one of the musical's most famous numbers.
"We used paper mâché, plaster strips, we cut up milk jugs, and it started off with a big wooden frame …" she laughed, shaking her head.
When she returned to school in 2010 for her masters degree at UW-River Falls, Oswald was able to rub elbows with other art teachers including those in drama and music, which she loved.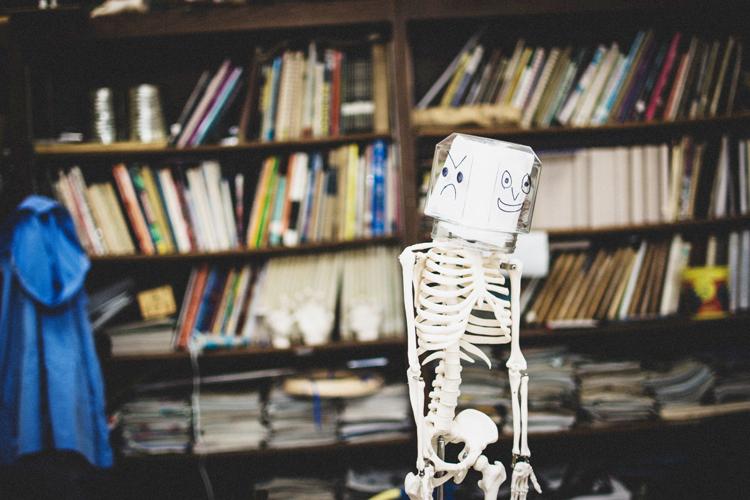 In support of another Donner production, Oswald also sewed Madrigal Dinner costumes for many years. She estimates she's put together about 22 of the intricate and ornate outfits for various singers. The dinner is another long-held choral-based event at the high school, put together as a medieval dinner in the highly decorated elementary gym, where singers perform a number of holiday tunes. The costumes are mostly handmade with extravagant fabrics, and each year Oswald would take two or three orders from students.
"The Madrigal costumes I really liked to do a lot. [The student] would tell me how much money they were willing to spend, the kind of colors, some ideas, I would draw out some ideas, they would tell me which one they liked the best, and so I would go on a shopping trip down to Wausau or Eau Claire, pick out the fabric, and bring it back and work on it."
She said in later Madrigal shows there were sometimes 10 or 11 costumes she's made over the years on stage at the same time. Many of the costumes have been donated to the school over the years.
Art around school and around town
Visit the high school and you'll immediately notice the school's mascot Screaming Eagle adorning the hallways in many different styles and formats. The "pop-art eagle project" is an ongoing creation featuring eagles painted on masonite, a pressboard building material and affixed to the walls. Started in 2010 as a way to create a cohesion when the Park Falls and Glidden school districts consolidated in 2009, the eagles are created by upperclassmen each year. Most of them are painted, but some students have experimented with compositions using duct tape, broken CDs, magazine paper, wood burning, amongst others.
"Most of them want to do something different. They want to figure out a way to do a different eagle," said Oswald. "It shocks me every year how different these eagles look from year to year."
Art students have also taken care of painting the class rock, a large boulder facing Ninth Street in front of the high school. Each year, seniors in art are tasked with painting a new design on the rock to honor the graduating class.
"I always just keep fighting with those class presidents that want to take over the senior rock and it's like 'No! That's an art job not yours!'" Oswald laughed.
In addition to the art display cases around the school, which feature different projects throughout the year, Oswald's high school art classes have held an art show at the Northwoods Community Credit Union in Park Falls for the past seven years, with the addition of an artist's reception night the last two years, where students are on hand to talk to the public about their projects.
There is also a small public display at the Flambeau Hospital in Park Falls, which Oswald curates throughout the year.
Moving out to pasture
Although the end of a school year is always frantic with finishing projects, grading, and trying still to get kids to clean their own paint brushes, Oswald said she is looking forward to jumping into retirement this summer with a number of trips planned, including Chicago, New York, Seattle, and St. Louis. In the longer term, she's excited to spend more time with her grandchildren and peruse Lake Superior and the south shore more regularly, considering it a second home. She's also taken a keen interest in photography in her free time.
"I told Fred this morning when there was fog out there, 'next year at this time I'm going to be out there, probably half in my pajamas, taking photos,' she laughed. "The old Walt Hilgart farm … the sun coming up, and the sunlight on the farm with the pasture and the cows … I've never been able to get that picture, but I'll be getting it now," she laughed.