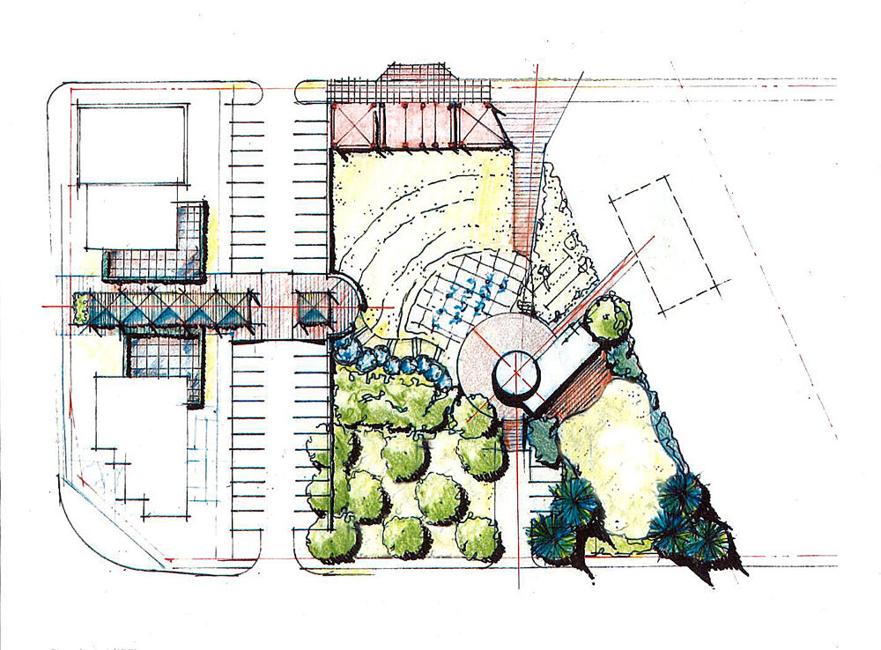 As the slow and methodical deconstruction of old buildings in downtown Park Falls continues, city leaders are beginning to consider the first rough draft drawings of what the new City Center Park may eventually look like.
Two early renderings of the park were provided by lead engineer firm GRAEF during a special meeting of the Committee of the Whole on July 20.
The renderings were generated by the firm after analysis of over 60 survey responses online and another 21 local business leaders contributed feedback in April video sessions.
Overall themes that emerged from the webinar groups included a desire for the park to provide family-friendly fun and to have attractive destination features. Participants broadly identified the natural elements of the surrounding woods, trails, and Flambeau River as major amenities that should be reflected in the new park.
Must-have items generated from feedback so far include public restrooms, pavilion/bandshell, farmers market, splash pad or water feature, open green space, family-friendly activities, and opportunities for winter programming.
Park Plan A incorporated these requests by creating a large, open amphitheater which would be approximately across Division Street from AJ's Bar and Dining. That space could accommodate a 450-person event and would descend down to an event plaza where a performance stage would sit on what is now Third Avenue. Adjacent to the stage on the northeast side would be an area for horseshoes, corn hole, and other yard games. Behind the stage the design calls for a grassy area that could be flooded in the winter to create a skating rink in the southeastern corner of the park near where the Wells Fargo building sits. Moving from there west along Highway 182 would be service access and a traditional park greenspace with shade trees and a water feature. The plan provides for a parking lot somewhere in the vicinity of the current alleyway that runs between Third Avenue and Highway 13.
Benefits of this plan include a good connection to downtown at Division Street, a cascading water feature, ice skating opportunity, a pedestrian walkway to Highway 13, service access to the stage, and activated areas that overlook the greenery of the park and pavilion, according to the draft engineering document. The main drawback is the maintenance of the water feature.
This plan was favored more highly by council members present at the meeting.
Park Plan B provides room for about a 250-person event and for a more secluded park experience, with trees running around most of the border of the concept. A smaller amphitheater design would take advantage of the natural elevation change from Highway 13 towards the river, overlooking a performance stage in the center of the park. Before the stage would be the main event plaza, which could incorporate a water feature such as a splash pad which might also be available for flooding in the winter to create an outdoor ice rink. Behind the stage would be additional park and greenery space with service access.
Benefits of this plan include an organic form that compliments the natural grade of the area, a large, multi-use plaza for events combined with a water feature and potential winter skating and fire ring, a large performance stage and programmable multi-use structure, a pedestrian walk through the park, and a greater number of trees, according to the draft document. Drawbacks are identified as the higher costs for larger buildings and less visual connection into the park from Division Street.
Kristan Grygiel Sanchez, market area leader for GRAEF, told the council feedback collected so far indicated locals would want to use the park on a daily basis, but also have it available for big events.
"There was a sense in the discussions that everybody wanted to use this park on a daily basis," she said. "They wanted places to sit, places to grab lunch and go, and really just use the park — walk around, enjoy nature, things like that. An outdoor market was pretty high on the list as well. So we're seeing things like big events, destination type things, to daily use."
Council members were mostly in agreement with those broad-stroke ideas, but when it came down to more specific features such as the skating rink and splash pad ideas, there was some push back.
An outdoor skating rink was one of the park features that came up in earlier ideation discussions with residents. The idea for the outdoor rink was generated as a way for locals to use the park year-round, instead of just during summer months.
This feature received the greatest amount of pushback from council members.
First District Alderman Dennis Wartgow objected to the idea for a skating rink in park rendering A specifically, which calls for a grassy area in the park to be flooded in the winter.
"I don't think a skating rink is going to work in this park," Wartgow said. "You're going to have something that's high maintenance, and with our cold winters, that grass is going to freeze out. I ran an outdoor rink for years and that's what's going to happen."
Dan Greenwood, also of the first district, agreed and pointed out the city already has an indoor rink and there probably wasn't a need for a second rink.
Treasurer-Deputy Clerk Michelle Smith backed Greenwood's argument by suggesting another rink could draw support away from a feature the city already has, and added that the quality of ice on an outdoor surface is hard to maintain. "I would definitely strongly advise not to have it outdoors," she said. "You have to have fresh ice, you have to flood it, you've got to have someone out there making it smooth."
Third District Alderman Tony Thier warned those in attendance the associated costs of running a splash pad could be crippling, although he did not present specifics.
"The splash pad concept scares me," Thier said. "I know a community that has one, and they had to shut it down, and they are not a poor community."
Mayor Michael Bablick said he was "very splash-pad adverse" when first considering such a feature, adding the cost of potential maintenance "just makes me have heartburn." But he said he'd like to see some cost estimates for utilities.
Wartgow did not support the splash pad idea and said he'd like to keep some sort of water feature but instead have a reflection pool. He thought the park should stay away from replicating a playground and offer more to elderly people with permanent picnic tables, walking paths, and places to sit in the shade.
Engineers present at the meeting by video connections took feedback from the council, mayor, and staff present and will incorporate suggestions and concerns into a next round of concepts.
According to a memo from GRAEF the day after the meeting, community feedback from the two plans will be presented at the next meeting of the Common Council on Aug. 24. The plans are to be added to the project website for public review and comment for two weeks. As of Tuesday, the plans did not yet appear on the project website at https://bit.ly/2MmT8v2.
After feedback from the website is collected and presented to the council in August, engineers will take additional feedback from the city to revise the plan into a preferred plan.