The Fifield Nature Education Center (NEC) recently awarded its first $1,000 scholarship to Ashley Hilgart, daughter of Bonnie and Chris Hilgart of Fifield.
The scholarship is chosen each year from qualified Park Falls Chequamegon High School senior students who live in the Town of Fifield and who apply and compete for it at the time of their graduation. To earn the scholarship, the student must successfully complete their first semester in college with a grade point average of 3.5 or better on a 4.0 grading system.
The NEC in Fifield was started in 2001 to encourage children and adults to get outside to enjoy and share the beauty of nature while promoting its preservation. This scholarship is intended to help high school students to continue their education and help them become successful, productive, and contributing members of society while caring about our natural world.
Ashley is in her first year at the University of Wisconsin—River Falls. She started in the fall of 2020 majoring in Animal Science-Veterinary Technology where she was named to the Dean's list for her academic achievement during the fall semester 2020. She is also a member of the school's rodeo team allowing her to bring her horse Blue with her to school.
The River Falls rodeo team travels to different colleges located in the Great Plains region for the National Intercollegiate Rodeo Association. The team competes in timed events and rough stock events working for the best times and scores. Their horses are not only athletes themselves, but also their partners. That is the reason Ashley can go to school with her horse which is a unique situation. Besides traveling and competing, Ashley says there is a lot of work that goes into the sport of rodeo to get their rodeo team and equine partners ready for competition, but she thoroughly enjoys it and so does Blue.
We encourage other Chequamegon High School seniors living in the Town of Fifield to apply for the Nature Education Center Scholarship before they graduate by checking in with the Chequamegon High School office.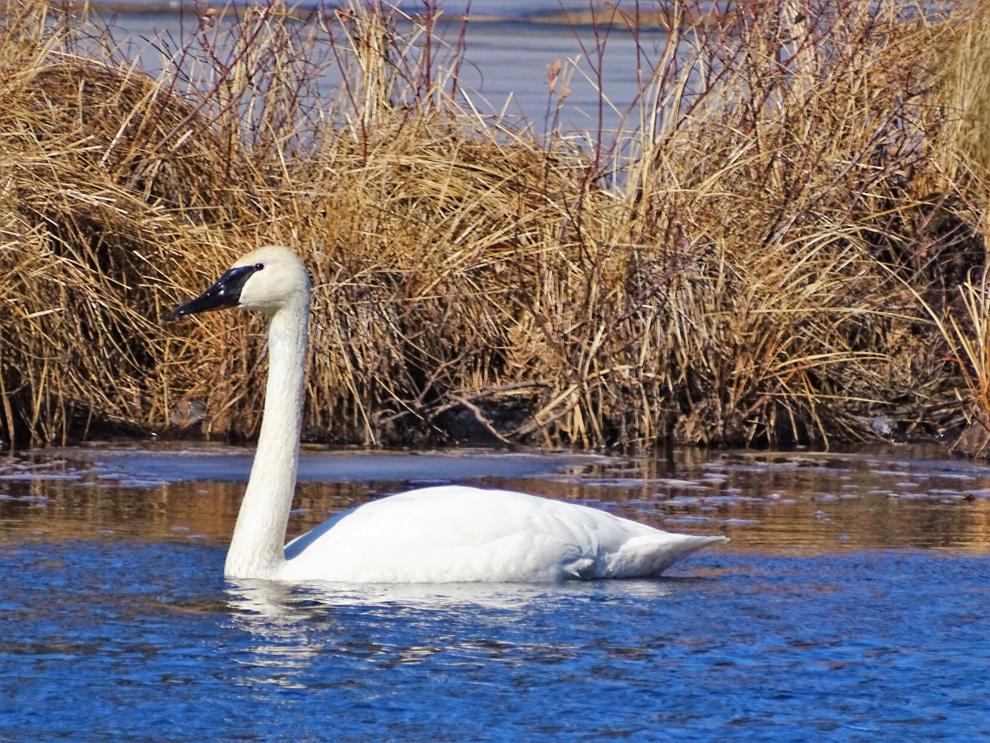 Nature notes
This past Saturday we celebrated the return of spring and the spring equinox. That is when the sun crosses the equator line, heading toward the northern hemisphere marking the start of spring in the northern half of the planet. It was a beautiful day with 12 hours each of daylight and darkness. The sky was sunny with temperatures in the 50s, maple sap was running, ice and snow melting, the daffodils and crocus were coming up, and some migratory birds were on the wing returning to our Northwoods or heading on north.
On the first day of spring was saw our first robin at our NEC and five more of them on Prescott's open fields near Fifield along with nine deer off Hick's Landing Rd. During the week, Rosemary Plant spotted the first male harrier (marsh hawk) patrolling her fields and a dark phase rough-legged hawk that will soon be heading north for its nesting season. Mark Marsden in Phillips had his first red-winged black birds and Russ Severt in Fifield had common grackles.
The pair of Trumpeter swans has returned to Sailor Creek Flowage. On that beautiful spring day, I sat along Sailor Creek on a white pine log hidden from their view and watched them in good sunlight for about half an hour feeding and preening on a small patch of open water surrounded by ice. What a beautiful sight that was, while three pair of hooded mergansers and two pair of Canada geese drifted by in the water. Spring bird migration is underway, so keep your eyes and ears open and enjoy one of Nature's greatest shows!
Frogs and toads will soon begin chorusing throughout Wisconsin and the Department of Natural Resources is looking for volunteers to lend their ears for help with two different frog and toad surveys. Since both surveys occur at night after school and when the workday is done, the two surveys are great activities for families and can be completed while social distancing. If you are interested in volunteering for the Wisconsin Frog & Toad Survey or have questions about the project please contact: WFTS@wisconsin.gov
The private Nature Education Center in Fifield operated by Tom & Mary Lou Nicholls is open seasonally by appointment only.