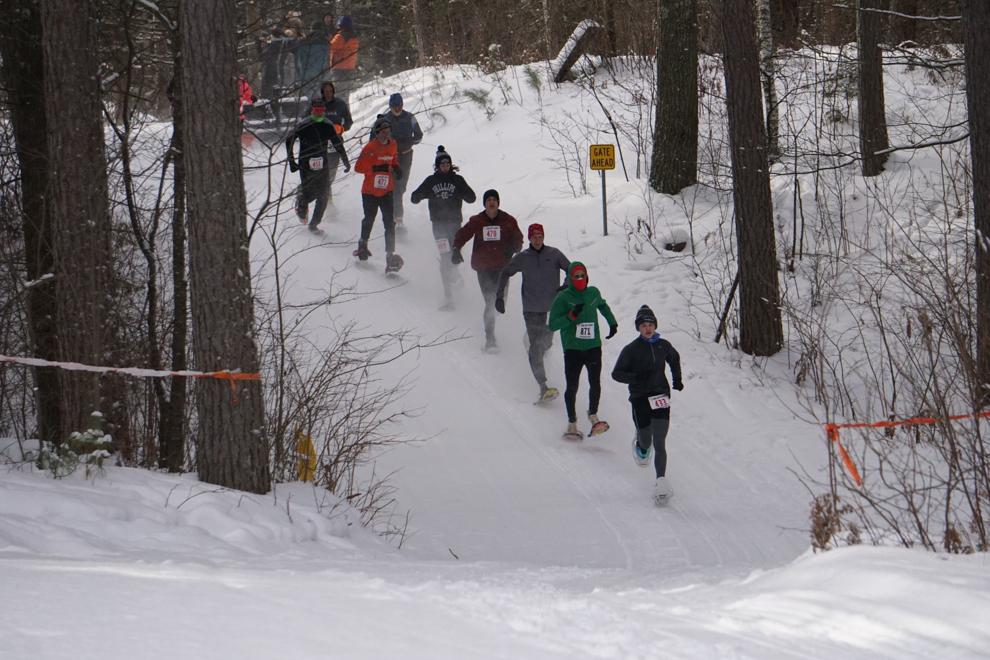 PHILLIPS — WinterFest is a seasonal favorite time for many people for different reasons. Whether a snowshoer, a snowmobiler, an ice angler, a skater, or a dozen other activities, the whole aim of this flexible and evolving annual winter event is to have something for everyone, said Laura Palzkill, executive director of the Phillips Area Chamber of Commerce. The chamber has been organizing this event for years, she said, and events come and go while some have been with it all along.
"We want to be able to reach out to the whole community," Palzkill said. "Maybe not everything appeals to everyone but the idea is to have something for everyone."
FRIDAY JAN. 27
Luau
5 to 7 p.m.
Phillips Community Pool
990 Flambeau Ave.
Of course there are people who want only for winter to end and for the warm summer days to return. But even winter lovers appreciate the inviting sounds of the ukulele, the gentle trade winds of the Pacific and the aloha of the Hawaiian spirit.
Hanna Larson, director of the Phillips Community Pool, organizes the Luau to be held during WinterFest to provide a bit of contrast or if just a warm night before heading out to the snow and ice once more.
Candlelight Walk
6 to 8 p.m.
Wisconsin Concrete Park
N8236 State Highway 13
The Wisconsin Concrete Park's annual Candlelight walk offers a way to appreciate the unique and historic site and to experience the trail system behind that park that is also celebrated.
"We will have the ice luminaries and lanterns lighting up our nature trail for participants to walk through," said Ann Grzywnowicz, operations manager for the Friends of Fred Smith. "We will also have a bonfire going, and hot dogs and hot chocolate in our studio building."
For more information on the Candlelight walk, call 715-339-7282.
SATURDAY JAN 28
Ice Fishing Tournament
6 a.m. to 4 p.m.
Chain of Lakes
Participants can still register at Ross's Sport Shop. The event is limited to comply with Wisconsin Department of Natural Resources regulations, according to John Carlson, sport shop owner and event coordinator. There were 222 participants in 2021.
There are prizes drawings for people who catch a fish of any type or size, with an additional drawing for catch-and-release entries. There are cash prizes in five fish categories in addition to a possible $1,000 prize for a catch that exceeds trophy size.
The contest is open to the entire chain of lakes with weigh stations on Duroy Lake just below the chamber office, and on Long Lake near Hidden Cove, and on Birch Island. There will be a 5 p.m.gathering to announce the winners at Harbor View Bar, 1094 North Lake Ave.
The ice fishing tournament pays 80% of the registration fees back out in cash and prizes, Palzkill said.
PHILLIPS FLURRY
The 13th Phillips Flurry will start at 10:30 a.m. Saturday, Jan. 28 at the Phillips School Forest at N9199 N. Worcester Road. The event is organized by Price Area Trail Hub, Inc. (PATH) as both a fundraiser and in support of its mission to promote silent sport trails and activities in the community. The 5k and 10k distance snowshoe race is both for serious competitors as an official timed event, but also for the casual snowshoer who wants to get out and enjoy the outdoors in the company of others in a festive event.
For the more competitive, the FLurry serves as the Wisconsin State Snowshoe Championships, including a division for high school boys and girls teams. Each year some of the best racers from the country compete at the Flurry, and the organizers are proud to provide a quality event.
"It is wonderful to be a part of WinterFest weekend, where we can all work together to showcase our fabulous community," said Flurry coordinator Kristi Speer. "Being that over half of our racers tend to live outside of Price County, it is nice to be able to offer other activities for them and their families to participate in while they are in town.
The Flurry offers two options with the first as an in-person event on race day. There is also the option to participate virtually, completing the event at a time and place of their choosing. Registration for all events online at PhillipsFlurry.com or in-person on the morning of the event from 8:30 to 10 a.m.
Included with registration is a pair of custom wool socks, along with complementary race photos, entry into an extensive door prize drawing, a delicious luncheon catered by Lola's Lunchbox, and free entry to Phillips Community Pool for swimming and use of showers and hot tub, Speer said.
Participants of all ages and all ability levels are encouraged to enjoy the scenic course, which incorporates groomed ski trails and winding single track, Speer said. Veteran snowshoers and those new to the sport will experience the rolling terrain and camaraderie of the sport.
"As a race director, one of the most exciting parts about the event from my standpoint is seeing so many returning participants, which I affectionately call my snowshoe family, as well as meeting lots of new faces each and every year," Speer said. "It's so rewarding seeing the look of accomplishment on everyone's face as they come across the finish line."
The event is all about encouraging participants of all ages and abilities to come participate in the race, even those who have never snowshoed before, she said. Snowshoes can be rented from the Silly Goose in Park Falls for a nominal fee and they are surprisingly easy to use, she said.
"Bring a friend and try it together," Speer said. "Everyone is welcome!"
Spectators for the event are also welcome, she said. Folks are encouraged to bundle up and cheer on competitors out on the course. The participants always appreciate the support.
For more information visit PhillipsFlurry.com and PriceAreaTrailHub.org.
KIDS BINGO AND GAMES
12 to 2 p.m.
First Presbyterian Church
144 N Avon Ave.
A community event is only as good as it provides for the kids, and each year the Phillips Moose Lodge 2661 organizes a kids bingo during WinterFest.
"We play 15 games with winners receiving age-appropriate books, ordered for us by the Phillips Public Library," said event organizer Rita Vasek. "All children receive a 'Bear Buck,' courtesy of the Phillips A&W, and an ice cream treat courtesy of Pick n' Save."
Any child that doesn't win something will get to pick out a book after all games are played, she said. There will also be a raffle for two chromebooks, courtesy of Prevail Bank, and a bicycle, courtesy of Forward Bank.
ESCAPE ROOM
2 to 4 p.m.
Our Savior Lutheran Church
W6920 Paradise Lane
Another indoor option for Winterfest patrons who are excited about the growing popularity of escape rooms. The event is designed to be an immersive adventure experience that allows friends and families a chance to spend an hour depending on one another to provide their unique talents to help answer questions that solve riddles or challenges to unlock the key to "escape" a locked room.
ICE SKATING PARTY
The Chequamegon Area Girl Scouts will coordinate an ice skating party and act as hostesses for the event from 6 to 8 p.m. Saturday, Jan. 28 at Elk Lake Park. There will be music and the scouts will bring cookies and hot chocolate all leading up to the evening fireworks.
"It will be really kind of a party atmosphere between the fireworks and the bonfire and the ice skating party and it will just be a really neat evening down there," she said. "More and more stuff is happening down there (in Elk Lake Park) so it's pretty cool."
SNOWMOBILE PARADE
Each year the WinterFest Snowmobile Parade organizes at Birch Island on County W at 6 p.m. From there the snowmobilers ride the Chain of Lakes along to Long Lake and the woods to Elk Lake Park. The riders are greeted with an event organized by area snowmobile clubs to include a bonfire and fireworks.
FIREWORKS
7 p.m.
Elk Lake Park
Fireworks over Elk Lake will start at 7 p.m. With funding from the snowmobile association and coordinated through the Phillips Fire Department, the winter fireworks offer a very different experience to the summer fireworks, Palzkill said. The cold air gives the fireworks a crisper sound and the colors seem more brilliant.
Another advantage to winter fireworks is that evening comes sooner and the event can be scheduled earlier than the summer fireworks that come so much later, she said. This also makes it a good family event for the winter and from the advantage of Elk Lake Park with all the other fun happening.
SUNDAY JAN 29
CHAPARRALS BREAKFAST
8:30 to 11:30 a.m.
Burgers Bar & Grill
784 N Lake Ave.
The Chaparral Snowmobile Club will host its annual Pancake Breakfast in conjunction with the Price County Tavern League holding its Price County Tavern League Tour drawing at 11:30 a.m., to conclude the January tour of member establishments where participants with a card from the chamber or participating establishment can check them off with each visit to qualify for the drawing.
WINTERFEST WINDFALL
A shop local event from Jan. 20-29, where participating businesses provide deals and where every purchase includes a drawing slip for 12 gift baskets made up of approximately $100 or more in value. Check the chamber website for participating businesses.
"It's a nice mix of gift certificates and prizes and other items," Palzkill said. "It's always a lot of fun to see what the local businesses contribute and to get together."