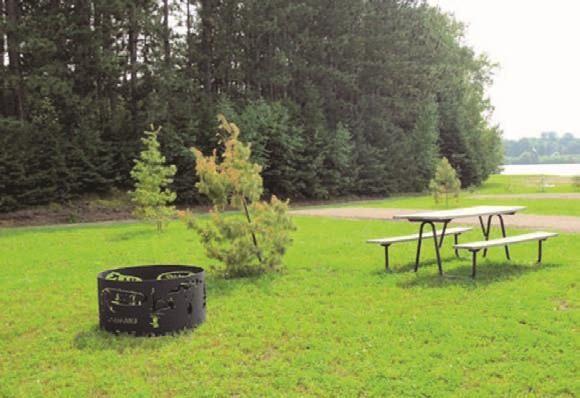 The Phillips City Council convened July 13 to discuss a number of matters in quick order. No one offered a public comment to the full board in attendance so the meeting kicked off with two easy motions. First the June minutes and then the payment of vouchers owed were both approved with unanimous votes.
The third order of business was the lease of a used grader from the town of Worchester. The city, being in need of a different machine, approached the town to inquire about use of a grader which the town used infrequently. Worchester took the matter to its board and approved a contract in which Worcester agreed to establish a five-year loan for $60,000. Providing background to the council, Director of Public Works Jeff Williams called it an "awesome machine" and "a major upgrade on the grader we have." The city would replace tires on the leased machine and sell its current vehicle.
As he made a motion to approve the lease, Alderman Richard Heitkemper said, "When you look what the needs were recently [for maintenance on the current machine], we need something. This helps both municipalities." Alderman John Klimowski seconded. A roll call vote with everyone in favor passed the motion.
The city campground was the next order of business. City Clerk Shelby Prochnow explained an issue with the reservation process, asking the city to consider scrapping reservations. Prochnow said she worked each Monday to have city staff place reserved signs on campsites that were booked through the office for the following weekend. When they attempted to deliver this news to occupied campsites they were often met with frustration when campers, hoping to stay longer, had to move to honor the next person's reservation. Meanwhile, tags often disappeared when placed so soon on empty sites.
Prochnow said this is the second year the city has used the process. She asked the council to change to all reservations or none.
"I like to guarantee people a spot but it's a big hassle and some people are not nice," she said. Williams agreed. He also said, "Sites sit empty all week when tags are up for the weekend so the city doesn't make any money during the week."
Klimowski made a motion to honor current reservations for the season but to discontinue new reservations effective immediately and to post a sign at the campsite to inform people of the change. All sites would be first-come, first-serve. Bill Elliot seconded the motion and all approved it on a voice vote. Some post-vote banter followed with Klimowski indicating the policy could change again if a better process were discovered. Alderman Marty Stephen mused the possibility of hiring a camp host.
The next item of business concerned Fayette Street. Property owner Tony Wudi was on hand to explain his current ownership of three lots at the end of Fayette Street and his interest in selling them to a third party. Wudi had thought an easement existed for the city to access a storm sewer that had been updated in 1994, but after speaking with Williams, was informed there was no existing documentation of one. In order to complete the sale, Wudi requested the paperwork be formalized. Mayor Charles Peterson said this item was not up for action but would follow the process of having a hearing within the next 40 days.
The last order of business drew the most attention with Peterson explaining a memo made available at the meeting that had been sent to Prochnow from City Attorney Bruce Marshall regarding a potential review and update of the city's strategic recreation plan.
Price County resident Lyn Ludwig recently approached the council with the request to do so. Peterson indicated the plans were created 17 or 18 years ago. Ludwig has been spearheading an effort to survey the surrounding community on their recreational interests and needs. In the memo Marshall suggestd engaging with the Northwest Regional Planning Commission as a resource in the process.
Peterson said, "A group like Northwest has the resources to come up with a plan." Prochnow said she contacted it for information on cost and how the planning process works, but that she did not have that answer at the meeting because her contact had been on vacation.
Peterson mentioned that much of the conversation Ludwig had shared about other community plans had come from places like London and New York City but that he would like to know what towns of 1,300 to 1,700 might have done in their planning process. He added the unique situation Phillips has of being set up against lake frontage. This answer would be known by an organization in this line of work. Klimowski said he would be interested in knowing what similar companies might offer for planning services, naming Ayers and Associates, Town and Country Engineering and MSA Professional Services. Peterson agreed it made sense to shop around.
Klimowski asked to table discussion on a comprehensive plan until more information could be received regarding professional services. Heitkemper added that Ludwig's survey results would possibly be available with more time as well. Peterson agreed and thanked Ludwig for getting the ball rolling on the project.
The community survey is ongoing through the end of the month and can be accessed at www.surveylegend.com/s/3b8b.
Finally, a number of committee reports were made. Heitkemper shared the ambulance report. Ambulance staff have received automated external defibrillator (AED) training and will continue online testing over the next few weeks. Corner Connection raised $1,200 through a meat raffle for the service on July 5. There is an upcoming training session in August for anyone interested in becoming a first responder for the community. There is a high need for new recruits. Heitkemper said no one was available on call in Prentice over the Fourth of July weekend causing Phillips service to double down. If anyone is interested in being trained they should reach out. Library Director Rebecca Puhl said the summer reading program is up and going strong, with programs last week well attended. The library will be remodeled starting Sept. 13, resulting in a closure until about mid-October. Ken's Carpet and Furniture Center, JR Painting LLC, and Yerges Van Liners will be contracted to complete carpet, painting and relocation efforts, respectively. Staff will not be off at this time as there will continue to be needs with the online catalogue and Puhl indicated other services are still being determined.
Elliot offered the Chamber update. Girls Night Out was well attended with 240 passports returned to the chamber. The Fourth of July was a huge success. With 50 entries in the parade, this was a bit shorter than typical, but the craft fair had around 25 booths and indicated it was one of the best ever. All the Fourth activities were well-attended, including the rodeo which was sold out both nights. The chamber asked for special recognition of the city road crews who were a huge help in setting up traffic and garbage pick up. They felt this had been a great collaboration between city and chamber.
The next meeting is Aug. 10th.