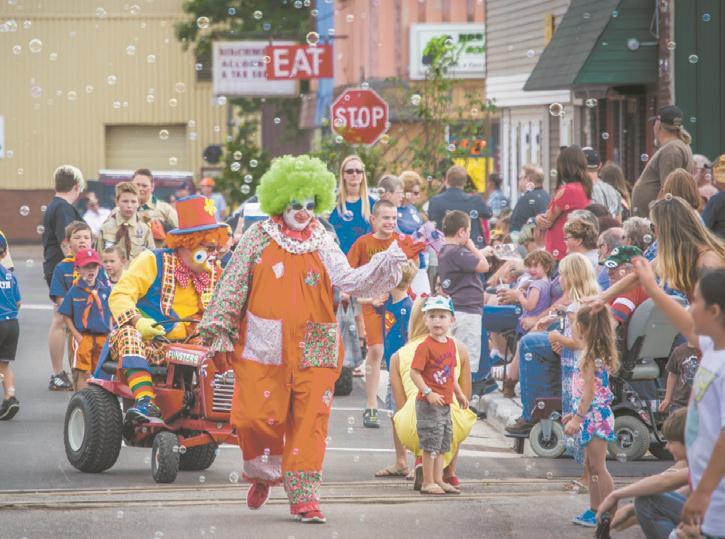 As the future remains uncertain, shadowed by the coronavirus still running an unknown course, the communities of Price County are preparing for what will likely be a very unusual summer.
Over the past several weeks, news of canceled events has poured in, one after the other.
The first to go were those held in the early spring.
Local American Legion posts throughout Price County — which are largely made up of senior members — have decided not to hold public ceremonies and parades on Memorial Day. Opting instead to memorialize the fallen with quieter gestures, legion members have either already placed flags on graves in the cemeteries or will do so in the near future. Without an audience, small groups of Honor Guard members will fire rifle salutes and play taps.
On Monday, the Park Falls Area Chamber of Commerce announced the 68th annual Flambeau Rama has been canceled, the first time Park Falls' biggest social event has ever been called off.
The Czech-Slovak Festival, a celebration of cultural heritage that has been held for 37 years in Phillips, has been canceled.
The 53rd annual Catawba-Kennan Lumberman's Day will not be held in June.
With no students gathering together for in-person education, Heritage Days — a glimpse into the history of Price County held annually at the Wisconsin Concrete Park — will not be held. In Lugerville, the all-school reunion that has been held every May since 1969 has been canceled, as organizers dare not risk gathering with so many elderly attendees. The barn dance held annually in May at the Lind Family Farm in Spirit as a fundraiser for the Spirit Historical Society has been canceled, although event
organizers say there's a possibility it will be rescheduled for some point later in the summer.
The Fly In/Float In Airshow, originally scheduled for June 26-27, has been canceled this summer, although there are plans for the show to return in 2021.
The Spirit of America 5K, normally held in Phillips on the Saturday nearest July 4, will not take place.
The fourth season of Music in the Park, which normally draws crowds to Phillips' Elk Lake Park Thursdays throughout the summer, has been canceled.
The organizers of the Phillips Chain of Lakes Triathlon announced the race will not be held this year — and will likely not return in the future either, citing stagnant or declining attendee numbers.
No vintage farming equipment and crowds of wandering spectators will fill the fairgrounds this July since the Antique and Tractor Expo has been canceled.
The Price County Historical Society has decided not to open the Old Town Museum in Fifield this year, stating they do not feel capable of putting adequate safety measures in place to protect the health of their senior volunteers and guests. This closure will also impact the fundraisers normally held by the society, which have also been canceled.
Also in Fifield, the lawn mower races, Fire Fabulous Flambeau Float, annual town picnic, and Pike Lake Fun Day have all been called off.
For other events, a decision is yet to be made.
Impact on tourism
With the cancelled events adding up, locals are nervously eyeing the season ahead and wondering what the summer will hold.
Visitor spending totaled $21.1 million in revenue in Price County last year, according to the Wisconsin Department of Tourism, which also noted tourism accounted for 320 jobs and $34.7 million worth in direct business sales in the county in 2019.
"I think we'll have people up here, but I doubt it will be the type of season we're used to," Laurie Hansen, director of the Phillips Area Chamber of Commerce, told the Review. "We're in a tough place, but we're a strong community and I think we'll get through it."
While life in Price County slowed down considerably in March and April, Hansen noted that these are normally two of the slowest tourism months in the Northwoods.
"With no snowmobiling, ATVing, fishing, or camping, we don't get too many people in those months," she said.
In a normal year, the tourism season would begin to pick up as temperatures rise and outdoor conditions improve throughout May.
Some local business owners believe there is reason to hope that with a wealth of outdoor recreational opportunities, the Northwoods will see a normal number of visitors this summer.
According to a survey published by the U.S. Travel Association, 68% of the 1,200 people surveyed said they feel safest when traveling by personal vehicle and when visiting outdoor destinations. A significant percentage of those surveyed indicated they were more likely to book travel to destinations in the U.S. once the pandemic subsides, with 32% saying they would drive at least 300 miles one way to reach their vacation destinations. The survey is ongoing, with new results added on a bi-weekly basis.
In Price County, fishing guide John Carlson of Ross's Sports Shop in Phillips reported the fishing season opener actually saw increased numbers of local anglers on the water.
"It's been busy if not busier than last year," he said, noting that, with little else to do, he saw a lot of people trying their hand at fishing for the first time.
"Usually we see a lot of people from out of town for the season opener, and this year it was more local ... and it was more family-oriented instead of a guys' fishing weekend."
Although the fishing shop was closed for four weeks in March and April, Carlson reported that there hasn't been a significant negative impact to the business, and the number of calls from people wanting to fish just keeps increasing.
"I don't see people taking long-distance vacations with all this going on," he said. "I think people are looking to get away close to home, and I think this trend is going to continue [throughout the summer]."
Regina Damjanovic, owner of Hidden Cove Resort on Phillips' Long Lake, also said she thinks the number of visitors to the resort will remain normal this year.
"So far, we had only one cancellation, but they later called back and rebooked," she told the Review.
Hidden Cove is somewhat different from other local resorts in that it is simply rental cabins, with no food or drink prepared or served on the premises. Damjanovic reported a small number of guests visited the resort over the past two months; normal for that time of year. In order to preserve the safety of the community, Damjanovic told the Review the resort offered contactless check-in, as well as delivering groceries and bait directly to the cabins to prevent excess interactions in town.
It's a different story only some 30-odd miles to the north, however. The rental cabins at Timber Breeze Resort on Butternut Lake opened up on May 1, and thus far, owner Tanya Krause reported only a few people have visited the resort. A handful of people have canceled their reservations due to fears related to the coronavirus.
"Everything is down this year," Krause told the Review May 14. "We normally sell out for Memorial Day weekend — this year, we only have three reservations.
"I have no idea what this summer will look like. Part of me thinks it will be good because people want to get out on quiet family vacations. On the other hand, people may not come up here because they've lost jobs or just don't have the money to spend."
Even beyond the summer months, some businesses that thrive during the autumn and winter months see reason for concern, with the thought being promulgated that there may be a resurgence of the virus at some point later in the year.
Palmquist Farm, located in rural Brantwood, caters to guests who wish to enjoy an agrarian vacation in scenic northern Wisconsin ... particularly during the winter months when the Palmquists' well-groomed trails offer miles of peaceful cross-country skiing.
With considerable uncertainty about the course the virus would take, owner Helen Palmquist told the Review that she and husband Jim decided the safest option would be to cancel approximately 20 reservations for the month of March.
Still, it was a good winter season and the early end to the season didn't cause undue harm to the business, according to Palmquist. The farm was closed to visitors during April as well — but they had actually planned to do so anyway in order to tackle annual spring cleaning and other farm projects. Due to this, the farm was able to retain the majority of their part-time employees.
The summer months are not a busy guest season at the farm, and Palmquist said a few number of guests have scheduled visits as normal. Since their autumn and winter reservations are normally made well in advance, Palmquist said there are already a number of guests who planned trips in the autumn of 2020.
"We are a little concerned and so are our guests," Palmquist said.
Yet there is little anyone can do but wait and see.