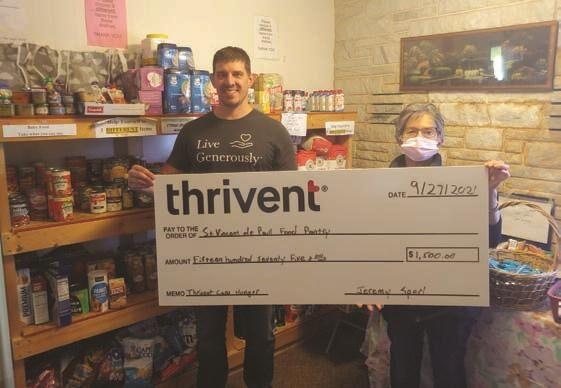 Two local nonprofits that give back to their communities united in a fundraiser for those in need.
Thrivent Financial Associate Jeremy Sperl, who recently opened a Phillips branch of the financial advisement company, donated $1,500 to the St. Vincent de Paul Food Pantry in Phillips. The donation came from funds raised throughout August called "Thrivent Cans Hunger."
Sperl said part of Thrivent's mission is to "live generously," and Thrivent Cans Hunger was one way to give back.
"We've done this all over the country," he said of Thrivent.
In August, people donated food items at various sites in Phillips, including the Music at the Park concerts at Elk Lake Park since many community members gathered there.
"It's such a wonderful thing that they put on," Sperl said.
Thrivent also donated $3 per item toward the food pantry which is part of the St. Vincent de Paul Conference (Phillips' St. Vince thrift store is located on Lake Street downtown). The food shelf and thrift store sees all proceeds go to those in Price County who are in need or suffering.
Boxes are also placed at churches and the thrift store.
Pantry Manager Marge Handschke said St. Vincent de Paul opened its thrift store in 2005, and the food pantry in 2010. They have a sister store at St. Paul the Apostle in Catawba, as well.
Handschke said the food pantry served about 3045 households before the COVID-19 pandemic hit. They were open Tuesdays and Saturdays, but went down to just Tuesdays from 9 to 11 a.m. Now, she said, they see about four or five households depending on the month. Volunteers pack up what people want, as the pantry inside is closed to the public. They will put the items on a table and try to help those who have trouble carrying the packages.
The St. Vincent de Paul Food Pantry works with Second Harvest and Feeding America.
"We order basic foods from Feed my People," Handschke said.
They order staples like meat, vegetables, fruits, soups, macaroni and cheese, tuna and more from Feed my People.
"They sell it to us at a reduced price," Handschke said.
The pantry also purchases a variety of items from other places, "whatever we think people will use," including toilet paper. She said Kwik Trip and the Pick and Save in Phillips also donate to the pantry, as do organizations such as the post office and Boy Scouts. She added that The Lanes in Park Falls used to have a Whitetails banquet in which attendees donated a food item in exchange for a raffle ticket, until the pandemic hit.
Low-income families can come to the pantry and receive a list of staples. There is a shelf with more expensive items, such as sugar, flour and cake mix, and Handschke said they can choose three of these items per household.
For the first six months of 2021, Handschke said the pantry gave 27,000 in poundage. In 2020, they spent around $26,000 from Feed my People.
"We depend on a lot of donations," she said. "I think the community has really come together.
The food pantry is located at 134 S. Avon St.
Thrivent Financial
Sperl has a team of five at Thrivent Financial with two other offices in Colby and Medford. Since he and his wife have a house in Phillips, "it made sense for us to have an office here."