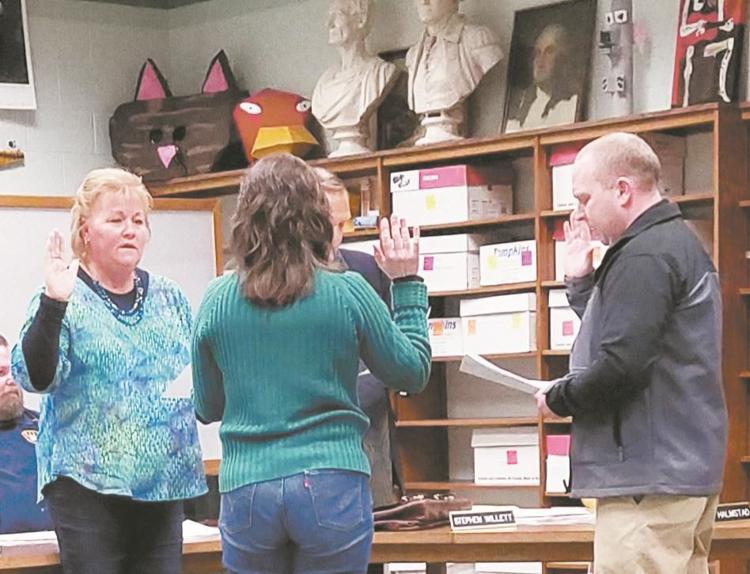 This summer will likely see some building and grounds renovations take place at the Phillips School District high school campus, ranging from a redesigned secure entrance to the building to potentially restructuring and repaving the high school parking lot.
The topic received some discussion at the school board's most recent meeting April 15, where district administrator Rick Morgan provided the board with an update on the work being done by the facility planning committee.
The secure entrance redesign, which will be paid for out of a Wisconsin School Safety grant, is slated to take place at some point this year since the grant funding must be used within 2019. The redesign would leave the main door as it currently exists, but then direct people entering the school to pass directly through the high school office. The remodel would also slightly change the
way the high school administration offices are laid out. Morgan informed the board that the details of the entry redesign are still in the planning phase.
In order to improve traffic flow issues and expand what is currently limited staff and student parking, Morgan suggested that the school will need to consider upgrading the parking lot — not only to improve safety, but also because sections of the lot itself are in need of considerable repairs.
"We feel as though this is a project we should consider taking on now from within the general fund," said Morgan.
Initial ideas presented to the school board included removing the green space between the two sections of the high school parking lot to increase the number of available parking spaces, possibly consider changing the one-way entrance to a normal two-way entrance/exit or switching the street from which people enter the school parking lot to solve traffic flow issues, and addressing drainage issues.
It was discussed that the drive-through area of the lot could be left as is, since it is in reasonably good repair.
Using funds from the school's maintenance budget, Morgan noted that the parking lot could be tackled over two consecutive years.
Plans for the possibility of redesigning the parking lot are currently being formulated by the district's contracted architectural and engineering firms. Board members were invited to come to the school to meet with the architects and engineers in coming weeks.
No formal decisions on any of the issues discussed were made by the school board at their meeting.
New board members take oath of office
Newly voted-in board members Paula Houdek and Gabriel Lind and reelected board member Stephen Willett took their oath of office, beginning three-year terms that will start with next month's board meeting.
Mark Distin, a school board member of six years, and Jim Adolph, a school board member of nine years, were recognized for their years of service to the school district and community. Both were commended by their fellow board members for having served the district well.
Technical excellence scholarship
It was announced that Phillips High School senior Darek Petruzalek is a recipient of this year's Technical Excellence Scholarship, awarded by the State of Wisconsin to seniors who are proficient in technical education subjects. Throughout Petruzalek's high school career, he has maintained a grade point average over 3.0 and 3.6 in technical coursework.
Petruzalek is planning to study at Northeast Technical College in Green Bay, and aims to become a CNC technician.
As the vice-president of the Wisconsin Technical College board of regents, Willett commented: "This is our highest award and it is not given out lightly. Mr. Petruzalek a fine representation of us, and I'm really happy that we had someone of this quality to accept the award."
Update on 4K program expansion
Progress continues with the expansion of the school's four-year-old kindergarten program, with Morgan notifying the board that there are currently three strong candidates for the position of 4K teacher.
Currently, 36 students are enrolled in next year's 4K program, and Morgan noted that he would expect that number to go up to about 50 students as the start of the school year approaches. In order for the expansion of the 4K program to not impact the school's budget, there would need to be approximately 40-45 students enrolled. In order to increase the school's revenue, the number of enrolled students would also need to increase.
"If it were to stay at the 36 students, we would be running a slight deficit in this first year, but I think it's well worth our investment even at a small deficit to get the program up and running," said Morgan. "If you take a look at our historic [enrollment] numbers, I'm very confident we are going to get within that budget-neutral range by September of next year."
Potential of additional administration staffing discussed
District administration is investigating the costs associated with the possibility of adding a middle school principal to the school staff, in order to better address student and staff needs in the middle/high school. Currently, Colin Hoogland serves as the principal of both the high school and middle school.
School board president Jon Pesko commented on the issue, saying: "During the years of the cuts, we had to cut back a lot in staff and one of the first places we started was within administration. Our early projections were that we would beseeing lower and lower numbers of students, but we have actually leveled off and have gained some."
Pesko noted that between issues such as a rise in prohibited tobacco use in students to management of extracurricular activities to addressing student mental health, there is a need to provide support to the high school administration in order to keep operations running smoothly.
"We need to budget more for this, because it has become a long, hard process to go through all these things," said Pesko. "There are a lot of things we have cut — is it time to bring some of it back? I don't know that it is. It will be up to the board, but I think it merits discussion."
Outgoing board member Mark Distin noted that there are costs to the districts that go beyond budgetary, saying: "There are two costs. One is the time and energy and resources you have to invest in taking care of those disparate problems. The other may be a greater cost; what is not getting done? What could be done better with an appropriate division of labor?"
"We appreciate the fact we can bring this to the table and it's not turned down immediately," said Morgan.
The topic will return to the board for further discussion after more detailed information can be gathered.
Policy changes presented for first reading
Three newly revised policies were presented for a first reading to the school board.
The first calls for a revision to the school policy on admission to four-year-old kindergarten, five-year-old kindergarten, and first grade, allowing for a personal meeting with parents who are requesting admission for their child prior to the legal age. It was suggested that there may be cases where a child will turn four-yearsold a few days a_ er the admission cutoff, and a personal meeting with elementary school administration could help handle individual cases such as these.
The second policy adjustment pertains to the district's policy on equal education opportunities, and adds language to allow reasonable accommodation of a student's sincerely held religious beliefs regarding examinations and other academic requirements. Requests for such accommodations would need to be made in writing and approved by the relevant principal.
The final policy change presented would restructure a student's eligibility to participate in athletics based on failing grades.
Willett expressed some concern to his fellow board members that using participation in athletic programs as a "carrot and stick" for students may not be in their best interests, saying that he believes participating in athletics teaches students critical so_ skills, such as working in a group, cooperation, and communication.
The policies will be presented for a second reading and possible approval at the school board's next meeting on May 20.
Staffing changes
The school board approved the hiring of Glenn Ericksen as the new junior varsity so_ - ball coach and Patrick Croy as the groundskeeper. The board also approved the contract renewals for co-head track coach Justin Lindgren, co-head track coach Sarah Socha, assistant track coach Dana Janssen, and girls varsity soccer coach Mark Fuhr.
The a retirement and two resignations — business education teacher Jean Flower who was employed by the district for 13 years, bus driver Theresa Johanik who was employed for 33 years, and contracted occupational therapist Vivienne Neerdaels who had worked for the district for 14 years — were accepted.
The school is currently recruiting for six positions: Future Business Leaders of America advisor, world language teacher, paraprofessional, speech and language pathologist, three bus drivers, a 4K elementary teacher, and a cook.
Students of the month
The following middle school students were recognized as students of the month by the school board for their positive behavior: sixth grader Arianna Brill, seventh grader Arianna Riley, and eighth grade Trey Denzine.
Other business
* An announcement was made that annual review of the employee handbook is underway, and all employees and community members may now submit any potential changes, additions, revisions, or deletions. All suggestions will come before the school board, and the handbook with be up for approval by the end of the school year.
* The school board unanimously approved extending the CESA 12 contract for services estimated at $46,903.82.
* The purchase of a new Grasshopper mower was approved at the cost of $6,500.
* The school board approved changing the health insurance carrier to Security Health Plan beginning July 1, 2019. There will be no changes to the service plan.
* The school board convened into closed session to confer with legal counsel concerning strategy to be adopted by the governmental body with respect to litigation in which it is or is likely to become involved. No formal action was taken followed the closed session.