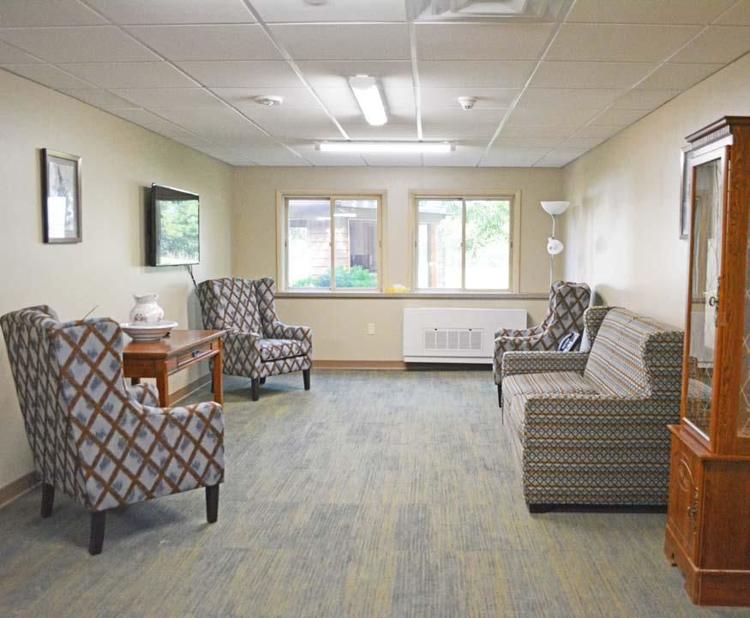 After seven years of planning and construction, the $7.5 million renovation and expansion of Park Manor has been officially completed. With recently received licensing from the state for the new short-term assisted living facility, new residents are now being accepted.
Sharon Schultz, executive administrator of the business, said the changes have exponentially increased the range of care offered to residents. A 40-year employee of Park Manor, Schultz has been witness to the changing trends in assisted living, which now focus far more strongly on keeping people in their own homes as long as possible.
"When I first started here, the only option was to go into the nursing home," she said. "These days, there are a lot more options for seniors and disabled people or people with an injury."
While at one time Park Manor was licensed for 182 beds, today there are about 75-80 residents staying at the facility — something Schultz sees as a positive. In the past, many people stayed at Park Manor because there weren't options to improve their health and mobility enough to return home.
"Many of our short-term rehab and long-term care residents are people who would have stayed in the hospital 40 years ago," explained Schultz. "The people that don't really need to be in the nursing home are now served in the community, which is a good thing."
Planning to improve the services offered by Park Manor began as early as 2012, with site site preparation in 2015, and groundbreaking on a new addition in 2016. The entirety of the building has been remodeled, with one section of the building repurposed to serve as a new shortterm assisted living facility and an addition constructed for a new short-term rehabilitation unit.
Now instead of clinical whites, visitors to the building are greeted by more neutral Northwoods-inspired colors, plenty of natural light from additional windows, and nature-inspired names for each of the wings and new facilities.
Rivers Edge, the new shortterm rehab unit, was designed to meet both the needs of residents of Park Manor as well as patients living outside the facility. Complete with 23 private rooms in three wings, there is also a dining room area as well as cozy rooms for socializing and a beauty shop for people who are unable to leave the facility.
"Some people only need short-term rehab before they can return home," explained Schultz. "Rivers Edge is not the nursing home, and some people are much more comfortable coming in this space since it is designed to be short-term."
As a striking display of the changes in the services offered by Park Manor, the physical therapy room has gone from a small office-sized space to a 2,000 square foot therapy gym complete with three private therapy stations.
With technological advancements in physical therapy and a greater understanding for the overall benefits of physical therapy for patients of all levels, this change was pinpointed as one of the most important changes of the renovation.
The first resident was accepted to Rivers Edge two
years ago, and Schultz says it has been quite successful and well-used.
The newly renovated and licensed short-term assisted living facility — known as Woodlands — also meets a previously unmet need for patients of Park Manor, according to Schultz.
"Some people come from short-term rehab because the medical issues they had have been resolved, but they're not quite ready to go home on their own," she said. "So they can transition to short-term assisted living for a month or two until they really feel comfortable, strong, and ready to go home."
The facility can also serve as a transitional space for people who aren't comfortable living at home alone, but don't require the full services of the nursing home.
The Woodlands addition is comprised of eight spacious rooms, each including a fridge, microwave, bathroom, wardrobe, and bed. The size of the room allows the people to bring their personal items in order to create a home-like atmosphere while they stay in Woodlands.
"We wanted to make the assisted living rooms bigger because it's important for independent living people to bring their own items into their room. They can bring their own bed or furniture — whatever they would like," said Schultz.
There are communal living spaces in the wing, with a living room-styled space and an open dining room/kitchen area. There is also a spa/shower room with a walk-in jet tub.
In order to meet the needs of their new shortterm residents, Park Manor will be adding an additional six to eight employees to the 150-person workforce already employed.
While the construction and renovation project was not without its challenges — especially as Park Manor continued serving their long-term residents throughout the years that work was ongoing in the building — the business' administration consider it a massive success that the relocation and care of patients throughout the process was done seamlessly.
Schultz said the staff of Park Manor is very pleased with the results, which will now offer residents a wide array of care under one roof.
Park Manor can be found online at www.parkmanorwi.com or reached by phone at 715-762-2449.