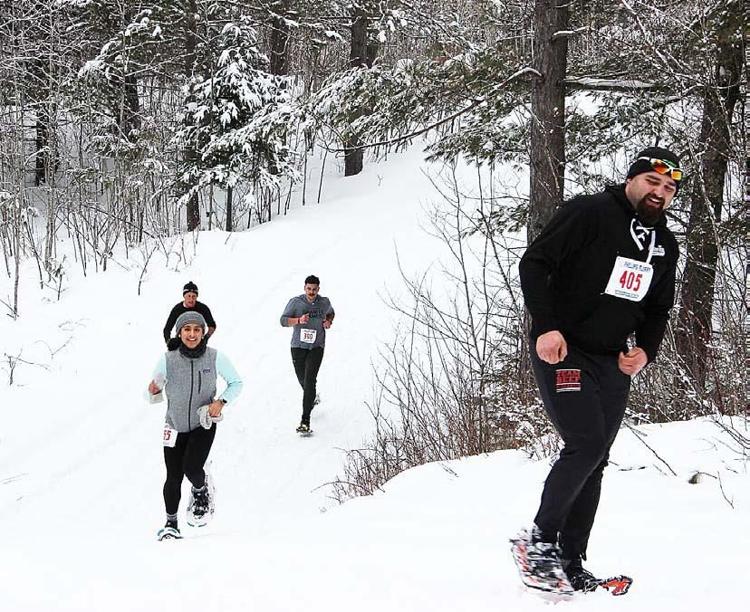 Aaron Jones of Appleton finished first amongst 141 runners on the 5K course with a time of 26:40 at the Phillips Flurry Snowshoe Race on Saturday, Jan. 25 at the Phillips School Forest. The top overall female finisher was Mackenzie Backman (31:32) of Hurley.
In the 10K division, Eric Hartmark (44:02) of Duluth, Minnesota topped the field, with Michelle Brost (1:06:47) of Eleva claiming first overall female. Twentythree runners completed the 10K course.
The race is also the Wisconsin State Snowshoe Championship event. Winning the high school boys division was Phillips, with Appleton East placing second. The Phillips High School girls team also place first. In the Corporate competition, BW Paper Systems placed first, with Flambeau Hospital in second, and Phillips Plating in third. In the mixed men and women's team division, Little Bear Lodge Racers placed first, with Run Like the Winded coming in second.
"The Price County area certainly had a strong showing of participants, with a hefty number of racers coming from outside the region to partake in the race and Winterfest," commented race director Kristi Speer. "We appreciate our sponsors who let us put on an event like this to help provide a healthy winter activity for everyone, as well as draw people to our community for the weekend."
Complete race results by age grouping are as follows:
1-9M: Owen Niemi, 1:00:02
10-14M: Lucas Anderson, 27:55; Ethan Michek, 31:32; Alec Bjork, 33:12; Nick Niemi, 44:44; Danny O'Grady, 1:00:14
10-14F: Lizzy Niemi, 46:07; Claudia Lasiowski, 1:00:09; Brooke O'Grady, 1:06:43; Mckenna O'Grady, 1:06:46
15-19M: Tony Kaster, 28:48; Logan Bjork, 30:08; Cade Zierer, 31:33; Alexander Nieto, 32:34; Tommy Hintz, 33:36; Jake Latour, 34:14; Laurence Mahnke, 35:14; Max Plutz, 38:35; Trey Tingo, 1:04:33; Brock Thiede, 1:04:53
15-19M: Jessica Ludwig, 36:43; Jazlynn Ludwig, 38:27; Kalin Baratka, 41:58; Allie Adomaitis, 44:46; Kylee Goodrich, 44:46; Megan Klaver, 54:33; Kyle Lochner, 34:38; Allen Thimm, 53:15; Kyle Kosmer, 1:08:19
10-29F: Amanda Martinovich, 42:22; Allison Roush, 43:50; Tara Quaas, 54:40; Alexa Reinhart, 57:31; Libby Huber, 1:00:18; Ali Kraetke, 1:00:19; Shelby Prochnow, 1:08:38; Jill Prochnow, 1:08:39; Leanne Koslowski, 1:14:01; Katlyn Kane, 1:30:06
30-39M: Nick Berndt, 26:46; Mark Krommenacker, 27:14; Trevor Koslowski, 40:07; William Litzer, 41:27; Ronald Juedes, 43:47; Richard Allen, 58:41; Paul Nicolaus, 1:08:43; Ernest Ziemer, 1:11:59
30-39F: Kathryn Tesch, 36:07; Apryl Cerkas, 53:59; Alee Ciula, 54:48; Shelby Biermann, 1:01:23; Heidi Brazee, 1:04:55; Kayla
Bushman, 1:07:11; Jessy Ramos, 1:07:25; Amy McDonald, 1:08:13; Bobbi Kussrow, 1:08:22; Trisha Vangroll, 1:11:57; Stephanie Haskins, 1:13:45; Amanda Obadal, 1:29:54
40-49M: Erik Olson, 27:50; Davey Sapinski, 29:47; Joe Tingo, 33:51; Ben Way, 35:38; John Mahnke, 40:47; Jesse Biermann, 46:25; Kevin Baars, 50:07; Benjamin Nieto, 53:04; Cole Bushman, 1:01:03; Tex McDonald, 1:08:14; Tim O'Grady, 1:09:17; Brian Haskins, 1:13:42; Dan Pollesch, 1:13:47; Matthew Wagner, 1:35:59
40-49F: Dawn Czech Webster, 36:34; Glenda Way, 37:08; Brandi Engen, 39:29; Krista Nieto, 53:04; Sandy Kilty, 56:03; April Lasiowski, 1:00:09; Anette Ludvigsen, 1:00:17; Andrea Bushman, 1:01:02; Treasa Schumann, 1:01:33; Deann Harbison, 1:03:34; Jennifer O'Grady, 1:09:18; Debbie Pollesch, 1:13:59
50-59M: Gregg Otto, 37:13; Rick Kilty, 56:01; Paul Brown, 56:15; Steven Olson, 58:43; Randy Schober, 1:00:13; Les Dodge, 1:00:59; Peter Nowak, 1:02:27; Glenn Harbison, 1:03:23; Mike Ball, 1:04:33; Jayaprakash Kamatchi, 1:05:00; Bruce Wywialowski, 1:10:48
50-59F: Rindy Buerger, 46:39; Sarah Steele, 48:57; Cathy Klaver, 48:59; Laura Hayden, 53:12; Kathy Schanter, 1:01:37; Linda Thimm, 1:02:16; Therese Nowak, 1:02:26; Patty Thiede, 1:04:52; Jill Nelson, 1:08:40; Cathy Wywialowski, 1:11:06; Susan Jones, 1:19:47; Barb Deml, 1:20:53; Nancy Risch, 1:21:01
60-69M: Stephen Clark, 28:53; Gary Buchanan, 30:23; Michael Costello, 32:34; Dave Rau, 35:39; Michael Malchow, 37:33; John Kann, 40:46; Tim Zbikowski, 42:17; Richard Windmoeller, 43:04; Jim Cihak, 44:50; Joseph Lange, 49:48; Terry Mueller, 51:37; Mark Earley, 53:24; Roger Thimm, 1:02:55; Bruce Marshall, 1:07:02; Brad Bacher, 1:08:24
60-69F: Michelle Lange, 47:18; Julie Teeters, 48: 44; Kathy Carr, 52:05; Debra Wickstrom, 54:38; Denise Kinner, 55:50; Susan Hawkins, 57:15; Kathleen Onchuck, 1:04:45; Patt Massino, 1:06:56; Sue Marshall, 1:07:01; Linda Windmoeller, 1:35:54
70-89M: Matt Triolo, 53:21; Bob Rusch, 1:04:59; Peter Spiegl, 1:06:48; Mark Mueller, 1:06:49
70-98F: Carol Klitzke, 56:46
10K Results
15-19F: Signe Buerger, 1:10:59
20-29M: Jeffrey Quednow, 46:28; Scott Pederson, 51:05; Travis Bube, 1:09:16
20-29F: Ariel Rinehart, 1:23:31
30-39F: Pamela Onchuck, 1:08:40; Aurora, Rinehart, 1:23:29; Caitlin Anderson, 1:35:57
40-49M: Joe Anderson, 54:44
40-49F: Nicole Finstad, 1:08:01; Stephanie Erickson, 1:09:59; Jan Wellik, 1:30:02; Phonda Narlock, 1:44:41
50-59M: Mark Brose, 48:27; Larry Buerger, 56:53; Todd Hochstetler, 1:02:14
50-59F: Diane Meinholz, 2:00:42
60-69M: Jim McDonell, 1:09:41; Jim Jowak, 1:34:59
70-98M: Jim Graupnet, 1:13:14; Richard Lecher, 1:41:36