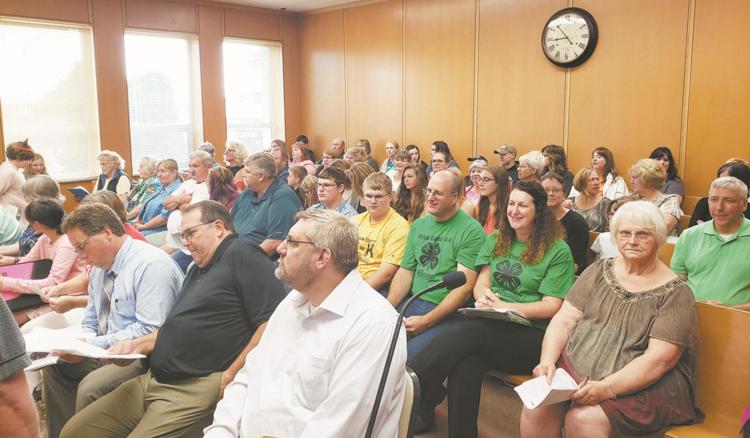 More than 75 people crowded into the Price County Boardroom last week, leading one supervisor to remark that he'd never seen so many attendants at one meeting and adding that he's been around for a long time.
The prickly issue that was up for discussion was a proposal to eliminate the University of Wisconsin-Extension service in Price County.
The 2020 budget recommendation came from the County Executive Committee, who voted unanimously Sept. 12 to eliminate the UW-Extension completely to save approximately $87,425 and recommended that the Extension budget be wiped clean.
As it turns out, it was not a popular decision.
The UW Extension offers many services to county residents of all ages, including the youth group that's been a mainstay for both rural and urban youth: 4-H. In an impassioned exercise in how government works, it was the young members who stood up to voice their opinions.
Zoey Peterson from Phillips said that 4-H has pushed her out of her comfort zone and has given her many new experiences.
"I have even raised sheep and learned how to care for them and keep them healthy. I spent my summers with 4-H opening doors and helping me make friends," Peterson said.
Lily Johnson said that she has been a 4-H member for ten years.
"I joined when I was five years old and I've learned so much about gardening and sewing and raising animals," she said. "I have learned how to save and I have a grand saved up for college. That might not have happened without 4-H."
Jackson Grendys told the board that he is now a high school freshman who has learned a great deal about leadership from his membership in 4-H.
He said he was chosen to take the "American Spirit" trip which allowed him to see the Statue of Liberty and learn about his heritage and even cross into Canada. He noted that he saw things that he will remember for the rest of his life.
"I don't think I would have those experiences without such a valuable group like 4-H to make it happen," he added.
Devya DeLaskey said she attended the 4-H Youth Conference where she learned so much and 4-H helped her get a scholarship. She also said she was so grateful for all that she's learned in 4-H over the years and it has served to put her on a steady course.
Elizabeth Hilgart said that working at the brat stand to raise funds at the Price
County Fair is one of her favorite 4-H memories.
"The 4-H can't run without the help of the Extension offices," she said. "That's where 4-H members and leaders go for answers."
Michelle Drebek from Kennan said that she is confident that 4-H has helped shape life skills for young people and taught them about civic engagement.
"4-H is about making the best better. I know this was an executive decision, but think about how it will punish these young people instead of teaching them how to make the best better," she said.
Annie Knudson said that there have been efforts to attract new people to Price County, but cutting the Extension is not going to help attract or retain people without the continued support of the UW services.
Lynn Ludwig of the Town of Worcester noted that Price is one of the fastest shrinking counties in the state. She added that the 4-H members are really "the cream of the crop" and has been the community grassroots drive that the county should not want to lose.
"The Extension has been part of raising up the community," Ludwig said.
There are three 4-H Clubs in the Prentice, Ogema, Spirit and Brantwood areas, three in the Phillips area, and one in each the Park Falls and Kennan, and Catawba area.
Some of the other programs supported by the involvement of the UW Extension, include the Master Gardening program, Girls on the Run, educational assistance to parents and ongoing work such as soil and water testing and help with other environmental and agricultural efforts.
Julia Ruff spoke for the Strong Bodies program that is in its 7th year.
"It is grant-funded and research-based group that offers weight training and places an emphasis on both mental and physical health," she said.
"Looking at preventative health, the Strong Bodies offers education on how to manage exercise and diet plans and has had numerous personal successes from those who participate. I would say that for $87,000 you are getting a bargain."
Price County splits 50-50 with UW and if it was eliminated the county would lose the UW's half of $87,000 in services.
Art Lesch, Area Extension Director said there are currently 135 county youth involved in the program along with 47 adult volunteers who contributed about $80,000 worth of community service in the past year.
The Strong Bodies program has had around 200 to 300 participants.
He added the "Parent Cafes" that had been requested by the county is only just beginning to teach parental support. There have been 35 Girls on the Run participants.
There were 285 youth participants and 517 adult participants in the FoodWise program. The Master Gardener program also falls under the Extension umbrella
While some supervisors said they were upset that the UW Extension altered their original agreement from a 40% (county) and 60% (UW) budget split to a 50-50 agreement without letting the county be a part of that decision.
But, not all supervisors were for the Extension budget cut.
"I am extremely disappointed with the whole process," supervisor William Teeters said. "Here we were re-roofing all these buildings at the fairground all summer and this cut would for sure ruin the fair. The whole thing has been extremely short-sighted cutting these programs for kids. I think we should go back to the budget and find the funds to help them."
The 4-H can not exist without having a county partnership and that has always been the Extension office.
County Administrator Nick Trimner agreed that without the Extension the 4-H groups would have to partner with another county.
Supervisor Bruce Jilka said that he recognizes the value of having a strong 4-H program in place, but said that he is aware that there are less and less services.
"We aren't seeing good communications," Jilka said. "We are getting very little input and we are beginning to feel we are being held hostage by the UW," he said.
"We do know the participation numbers are down. There is less and less service and it is costing us more. But, I do understand the importance of 4-H and these other programs," he concluded.
Supervisor Sue Bocock said seeing the budget numbers all lumped in one figure makes it difficult.
"It is hard to extrapolate what program costs what," she said. "Besides 4-H, are we cutting the budget for the aging with the Strong Bodies program and how much?"
During the last year, there has been only a part-time 4-H director, which is shared with Taylor County. It was discussed that this has been a stretch considering the drive time and the fact that Taylor County is just starting a 4-H program and Price County's is well established. Oneida County is also considering cutting the Extension entirely.
Supervisor Jeff Halstrand said that without the Extension it would be even harder to attract young farmers, such as a beef farmer that he knows who wants to establish a beef spread in Kennan.
Supervisor Dennis Wartgow said that the discussion has been the best conversation he's been a part of.
"The real answer is our state legislators," he noted. "I don't agree with our state legislators and it all started with Scott Walker and all the cuts he made."
Supervisor Paula Houdek said sadly the state legislators are not likely to respond to the county's concerns.
"I have been the president of the fairs and I can tell you that there is no way we are going to cave in," she said "Look at the number of people who came in here today to speak out. They took time from their busy schedules to be here and not all these people are comfortable standing up and speaking before the county board, but they came — even our youngest citizens to stand up for what they believe in and I am very proud of some of these 4-H members who were once my students. They believe in 4-H and I believe in them."
Houdek received a round of applause along with others who spoke in support.
In defense of the cuts, Trimner said there has been a concentrated effort to budget for an additional social worker for Human Services because those currently working in that department are stretched thin and are having high turnover rates because of the stress. The opioid crisis has played havoc on many families and children who are now in need of high-cost care.
At that point, Wartgow made the motion to put the $87,425 back in the budget.
Trimner said the county is right at the state's requirement for social workers per caseload, but since there has been a vacancy for that position for the past six months, he said he might revisit those numbers to see if there was some wiggle room to retain the UW Extension.
Several other supervisors drew applause when they said they felt it was too early to eliminate Extension services as there are still unanswered questions in the budget about health insurance or for wage considerations.
Supervisor Larry Palecek said he supports adding the funding back in for the UW.
"This program is obviously near and dear to the hearts of all of these people young and old," he said. "I want to thank you or coming and for speaking out."
A vote was taken to rescind the elimination of the University Extension and retain those dollars in the budget.
All voted yes with the exception of Jilka casting the sole dissenting vote.