While the cafeteria was empty of students, the kitchens at the Chequamegon School District were busy. Beginning Wednesday, March 18 the staff began preparing and delivering breakfast and lunch for Chequamegon school students.
Using guidelines from the USDA's Summer Food Service Program, bags are being packed with items for two meals for each child. Included is milk and juice, with the menu for breakfast and lunch changing daily.
All students and younger preschool children are eligible for this program; it is available for free and is not dependent on income of the family. Children from pre-school age (including toddlers at home) to age 18 may receive the meals. If a student turns 18 and is enrolled in the school, they remain eligible for the service.
Parents may continue to register their children online through the school website or by calling their respective offices. It could take up to three days for the names to be added and for their location to be added onto the delivery routes.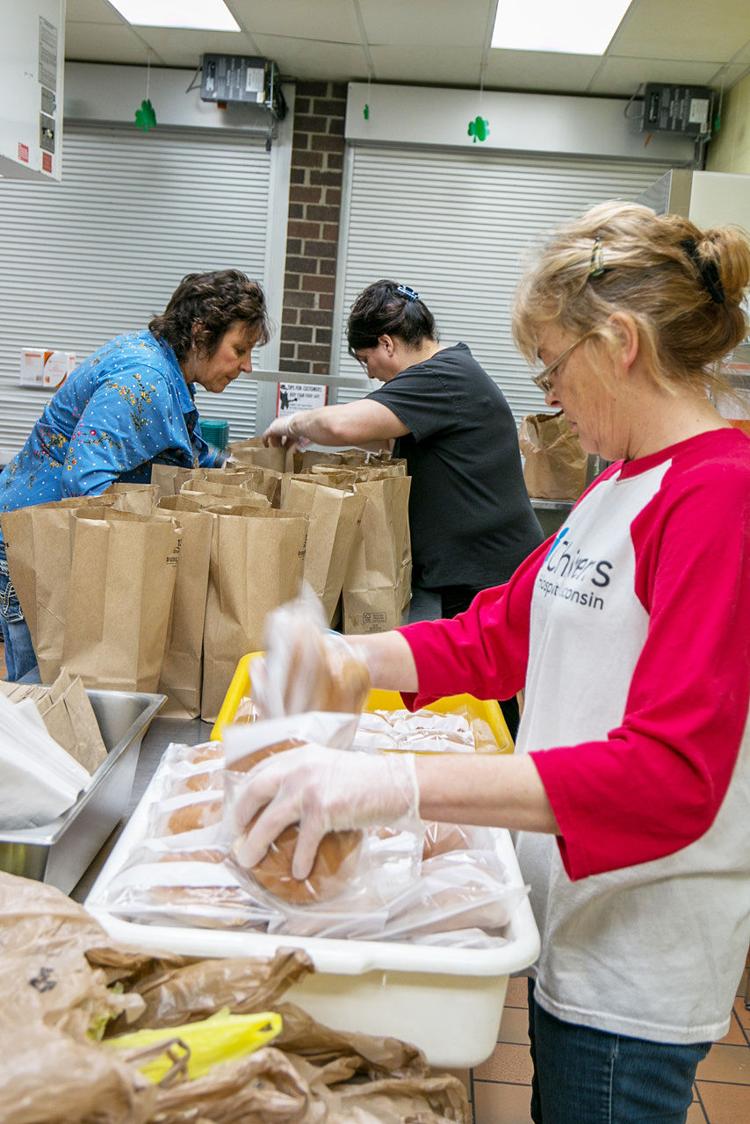 The first day of delivery had its challenges, but all deliveries were made and the routes are being refigured to make the process more efficient. Because of shifting family situations, stops change daily and times vary. The vans and bus leave the school at 9 a.m. with the last stops completed generally by 11:30 a.m.
The kitchen has been packing the meals into paper bags that hold meals for either one or two students. After the numbered bags are filled, they are combined into separate boxes to fulfill the needs of families that need one to six meals. The bags are transported out to the vans and busses that the school is using to deliver, where the drivers pick out the appropriate number of bags that they need for their route. There is a small team of transportation staff working together to drive and deliver the meals.
Families are asked to set out a cooler or bin on their stoop to avoid problems with wind, weather, or animals disturbing the food. The drivers may not interact with the families for the safety of all parties, so having a method to protect the paper bags is helpful.
On March 18, the kitchen staff packed and delivered food for 182 children, with the final number changing up until 30 minutes before delivery was to begin. The staff understands that the numbers change suddenly for a variety of reasons and will remain flexible.
Kitchen staff in Park Falls include Mary England, Deanna Hilgart, Kayley Bleck, Tonia Soviak, Deb Buckett, and Juana Oskvarek, with drivers and delivery workers including Harold Herbst, Ed Schuelke, Callie Radlinger, John Russell, Kathy Schroeder, and Marilynn Perez. In Glidden, kitchen staff include Jill Maier and Kerry Zach, while deliveries are carried out by Kim Buechner and John Hecimovich.