(StatePoint) The winter in Wisconsin is a great time for outdoor exploration, seasonal sporting activities and cozy indoor stays. This winter, add more fun into the coldweather months by visiting nearby locations and attractions across the state.
Whether you're up for skiing down that black diamond trail, huddling up in front of the fireplace at a top-notch resort, or spending time creating memories with different family activities, there's something in Wisconsin for everyone to enjoy this winter season. 
A Lakeside Resort
Travelers seeking excitement, luxury and comfort will find Chippewa Retreat Resort a great destination. Sitting on the banks of Lake Manitowish with panoramic lake views, guests will feel enchanted as they sip a glass of wine by the fireplace in a fully furnished luxury villa. For adventure seekers, Chippewa Retreat Resort offers snowmobile, cross-country skiing and ice fishing packages, as well as year-round corporate, wellness and group retreats for parties large and small. A top destination for weddings and events, Chippewa Retreat Resort offers a lodge with a 1933 art deco bar that sits 280 for any reception. Whether for business or pleasure, Chippewa Retreat Resort's unparalleled service and luxury amenities will make guests feel special in every season. 
A Northern County for Outdoor Exploration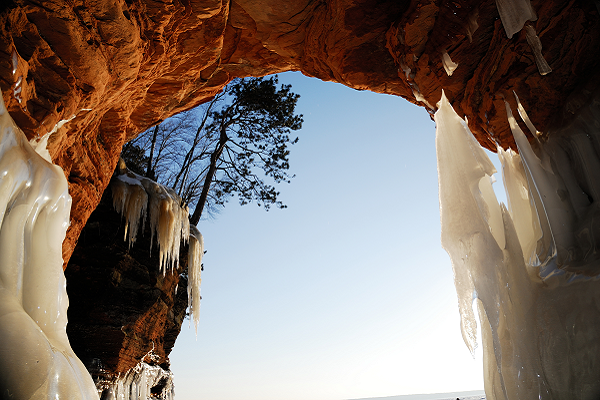 Bayfield County is the "Home of Wisconsin's National Treasures" with seven national designations, including the Apostle Islands National Lakeshore and the Chequamegon-Nicolet National Forest. The county has over 600 miles of groomed snowmobile trails, plus hundreds of miles of ungroomed forest roads. There are also nine separate Nordic ski trail systems, along with opportunities for winter fat biking. Legendary Waters Resort & Casino is another fun spot to enjoy on a cold winter day. Alongside the incredible outdoor recreation opportunities, there are amenities to make your visit great, including local restaurants, lodging options and cultural activities and events. From the Taphouse Winter Solstice Party to the World's Longest Weenie Roast, you'll find events happening every weekend all winter long.
A Northern Excursion
Up for a longer getaway? Washburn County, located in northern Wisconsin, provides both exploration and relaxation for winter adventurers. Whether you wish to hit the trails, cuddle up with a good book in front of the fireplace, grab a beer at the local brewpub, or catch a trophy fish on one of the area lakes, Washburn County won't disappoint. The area offers year-round shopping and antique stores -- if you visit Spooner's downtown area, keep an eye out for the original tin ceilings inside the buildings. For a calmer vacation, the Wisconsin Great Northern Railroad allows spectators magnificent sightseeing during the white winters. Feeling adventurous? There are plenty of snowmobile, snowshoe, cross-country skiing and winter fat bike trails to explore!
A Winter Ski Resort
If you're ready to hit the trails, Alpine Valley Resort provides 90 acres fit for skiing. With a run for every skill level, the resort boasts three black diamond trails, three terrain parks, and 15 beginner, easy and intermediate trails. The 120-room hotel on-site means that there's plenty of room for everyone. The hotel provides a "ski and stay" package, starting at $173 per person, per night. The package includes lodging, breakfast, dinner and all day, all access lift tickets. Whether you want to go solo, bring the entire family or go on a group outing, with planned entertainment throughout the winter season, you're sure to find activities throughout your stay.
Ski Granite Peak in Wausau
Granite Peak provides a family-friendly atmosphere at a mountain ski resort. With 68 runs, there's always another trail to challenge adventurous skiers. It's a place where you can ski for 3-4 days and not get bored in 3-4 hours. Even better, their new loyalty app racks up points with each purchase you make -- meaning more discounts for the entire family, and reloading passes becomes easier. For even more discounts, book sooner rather than later -- lift tickets are cheaper when purchased farther in advance. When you're tired of snow, check out their exciting events happening throughout the season. Have a full house? Consider the Family Festival Weekend packages, which include multi-day lift tickets, overnight lodging, and Saturday night fireworks
Photo 2 Credit: Steve Znamenski
Photo 3 Credit: James Netz