I raced across Wisconsin last Tuesday morning with all my paddling gear crammed into one duffel bag and my camping gear in another. I didn't know how many checked bags the ferry would allow per person, so instead I assumed. My timeline permitted one gas stop but because of the quantity of morning coffee I had to modify my allowances. This had me pulling up to the dark, looming boat with a comfortably short amount of time to greet Natalie and gather my things. 
We were meeting in Manitowoc after a differing weekend schedule to cross Lake Michigan together for a three-day training we'd be leading, separately, at a camp set amidst the dunes and asparagus around Shelby, Mich. Natalie had brought her straight-shaft canoe paddle to board along with our haul bags of gear, then we headed for the top deck at the bow and waited for the captain of the S.S. Badger to throw the dock lines. 
After mentioning that I felt uncomfortable with her likening the boat to the Titanic, we waved to a few people standing at the end of the break wall that, due to the high lake level, appeared only inches above the water.  After swinging a wide turn, the boat beneath our feet quickly accelerated out of the harbor and towards open water, somewhere out there beyond the low, thick fog bank.
I was giddy. Headed across the great lake I was looking forward to energetic learners, sandy beaches and new waters to paddle. Natalie and I spent the next four relaxing hours fine-tuning our training schedules and discussing our upcoming months. As we neared the east side of the lake, we returned to the sunny foredeck to take in our arrival beside a Coast Guard escort.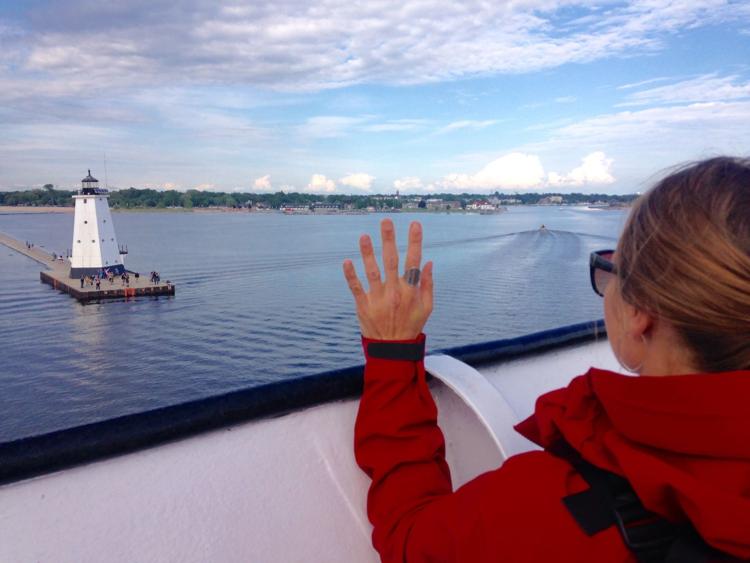 I spent the rest of the week working with young adults on sea kayaking skills and leadership concepts.  We plied the warmer waters in front of their boathouse waterfront on an inland lake before loading our boats for a quick overnight trip onto the big lake. Following single-file on a narrow, winding creek we were able to paddle directly onto Lake Michigan — what a unique treat it is to suddenly emerge into such a wide expanse.
Our group moved down shore a mile to a group campsite set up high on a dune. Again, we negotiated the high water of the lake and landed two at a time onto a sliver of beach below a two-foot bank held together by tall, wispy grass. Talking with one participant who had been coming to camp for the past 15 years, he remembered when this beach extended further into the lake so much that they used to play games of ultimate Frisbee on the sand. Now, barely a foot existed in most spots below the bank. 
After camp was set up, I had the group gather on the front of the dune in stadium-like seating with me standing before them and the glistening freshwater sea over my shoulder. This was my classroom for the next hour, a spot we would return to after dinner to take in the everlasting sunset. The multiple vantage points that I was fortunate to have of this Lake — this part of the country — was not lost on me.  Just like many other methods of getting places, kayaking brought me somewhere special. Even if there were no other reasons to paddle, this one would be enough for me. I owe a lot to paddling.  
Lucas Will loves wilderness and enjoys many forms of recreation around the Bay area.  Adventure is his middle name.  Actually, it's Frederick.  When not outside, he lives in a tiny house with his partner and their dog. You can follow him on Instagram under the handle Alfresco Bum.