Rainbows come from very different backgrounds and home lives — from the homemaker to the homeless. And yet they all found themselves right at home at the Rainbow Family Gathering in the Chequamegon-Nicolet National Forest south of Iron River.
They shared their love and affection for their fellow Rainbows — as the people who attend the get-togethers are known — on the eve of the gathering's main Fourth of July celebration of peace, love and healing.
They also took some time to explain to a reporter why they return year after year and what makes the gatherings so special to them:
From homeless to the heartland
Dale Walker seemed closest to the stereotypical Rainbow — someone who is footloose and fancy free, living an alternative lifestyle many would find incomprehensible if not downright unbelievable.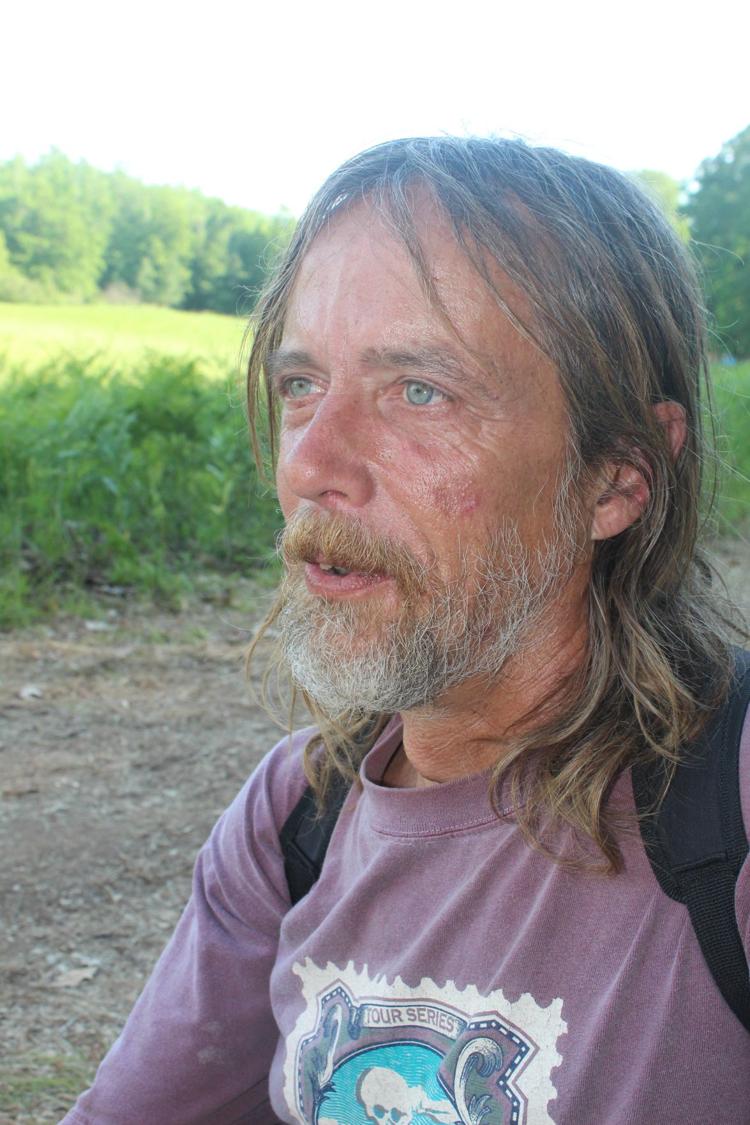 Three years ago — two days after his daughter graduated from high school — the Iowan walked away from his apartment and old life. He said he felt the need to ride a bike, pray and meditate every day, as well as be of service to those in need.
But he also was determined not to work for money or ask for money — and "not get involved in relationships," he laughed. For the first time in decades, he wouldn't have to take care of children, dogs, cats, partners, geese or any other birds and would just let God work through him.
"I thought it was a good opportunity to learn how to love myself," he said.
So he loaded his panniers, put his dog in her basket on the handlebars and plotted a course for Panama.
The road he set himself upon was not always easy.
Tragedy struck in New York, he said, when he had an accident in which his dog was injured so badly she had to be put down. But he doesn't at all feel guilty about it because she died doing what she loved to do, saying before the journey started he would sometimes find her waiting for him in the parked bike's basket begging for a ride.
He also nearly died in Pensacola, Fla., from hypothermia, the fate that befell his grandfather, but someone rescued him. He witnessed this level of care and support no matter where his travels took him, he said.
Three prayer- and meditation-filled years later he had visited eight countries and 46 states and found himself in the Northwoods after stopping in the Twin Cities, where Walker's Rainbow journey actually began in 1983.
A notice inviting people to the 11th annual gathering had caught Walker's attention when he was 18 years old and living in Minneapolis.
The gathering "changed my life," he said. He realized that people needed to explore alternative lifestyles and that's just what many of the Rainbows do.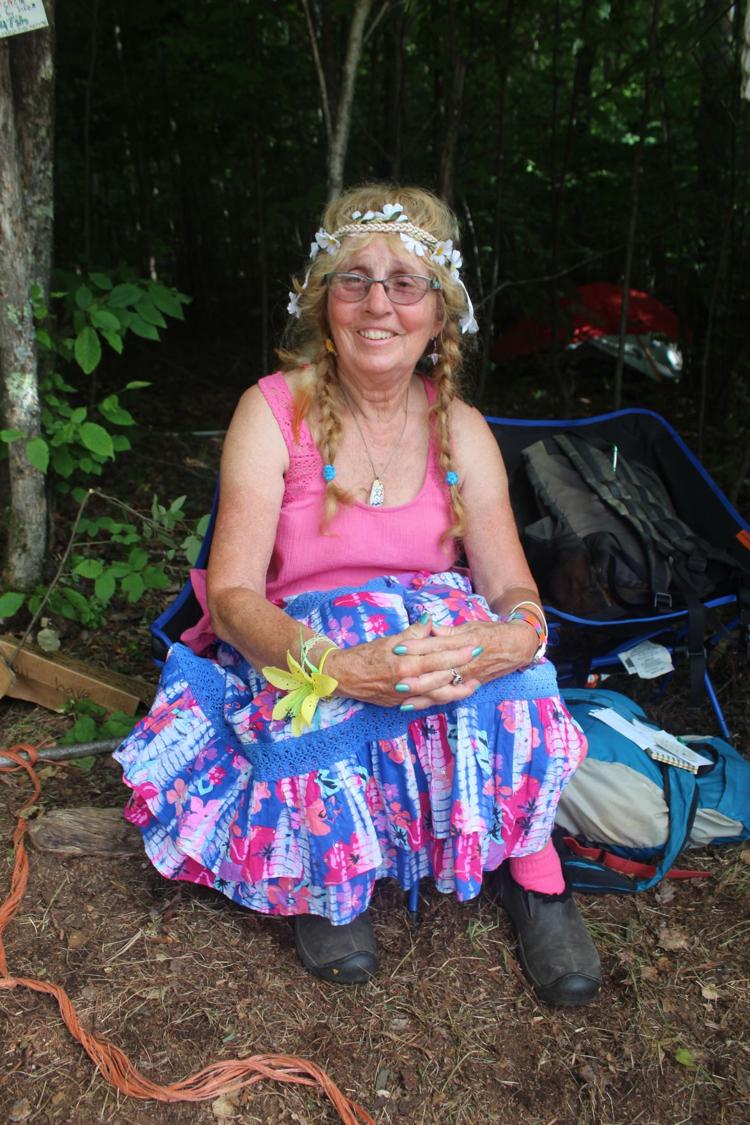 The Rainbows came to Joyce Ann Appel's attention when the national gathering was held near her home in 2011 in the Allegheny Mountains of Pennsylvania. After seeing the gathering for herself, she was hooked.
Appel is drawn back to the fold every year because she's found like-minded people focused on showing love and respect.
"In my heart I always feel this need to show as much love as I can in this world while I'm here, to respect people as much as I can while I'm here, and any chance that I can I want to help people when I see there's a need," she said.
While Rainbows talked about peace and love, woodworker Christopher Mills of Lincoln, Neb., quietly chiseled at a 7-foot-tall totem pole.
At the top stood a relief of a terrapin playing the banjo. Just beneath was a dancing bear.
Yes, the pole paid homage to the Grateful Dead, which Mills found entirely fitting to present to the Rainbows on Independence Day.
"A good majority of the people here are into the Grateful Dead," he said.
Every year Mills carves a totem pole, and Rainbows look forward to seeing what he has in store for them year after year since his first gathering in the 1980s, when a high-school hippie classmate asked him to camp out at a regional event.
Although he dressed conservatively in a short-sleeved plaid button-up shirt and denim shorts, he described himself as a hippie, peacenik and "Rainbow warrior."
But then again, he considers everyone a Rainbow.
These three Rainbows are but a tiny snapshot of the variety of people who gathered on Independence Day. By then, people dressed in simple T-shirts and shorts were as numerous as the Rainbows sporting tie-dye and dreadlocks.
But no matter their appearance, they all approached each other in the light of love and peace as Independence Day dawned.