Editor's note: The first national act to take the stage at the Big Top Chautauqua this season is Keb Mo, a return guest, on Saturday. But the second show, on June 26, will feature Lake Street Dive, a newcomer to the Northwoods canvas that takes its name from a popular if squalid Twin Cities bar area.
We spoke with Minneapolis native and Lake Street Dive guitarist and horn player Mike "McDuck" Olson to kick off the season:
Lake Street Dive is another of those bands that is impossible to categorize. Is it a throwback Motown sound? A '60s pop-doo-wop vibe? Jazzy horn rock or what? And why is the band that formed in Boston and today calls Brooklyn home named after a seedy section of Minneapolis?
For answers to those questions as the band prepares to take the stage at the Big Top Chautauqua June 26, we spoke with Lake Street Dive guitarist and horn player Mike "McDuck" Olson
The band began in the rarified air of the New England Conservatory of Music, a highbrow Boston school known more for its chamber music and graduates who play in symphonies than for rock bands.
From there, the four core members — Olson, upright bassist Bridget Kearney, drummer Michael Calabrese (who prefers to play barefoot, no matter the venue) and power-packed lead singer Rachael Price — really took off when a YouTube video of them singing a Jackson Five tune went viral.
That led to more gigs, records, world tours, stops on David Letterman and Stephen Colbert's shows and, eventually, to the Big Top in Bayfield.
Question: Did you guys get together because you shared the same musical interests, because you sang your first harmony and it sounded so great or what?
Answer: We met in different settings and I was attracted to their playing and musicianship. The product of that attraction was wondering what it would be like to play with them. Growing up as a horn player, I was in some bands but what really interested me was Miles Davis. He didn't join bands, he formed bands based on what he wanted to play, and then they dissolved.
I took that as a model and when I heard Rachael in concert and played with Bridget in a class and jammed with Mike, I had a sense that we would all go together.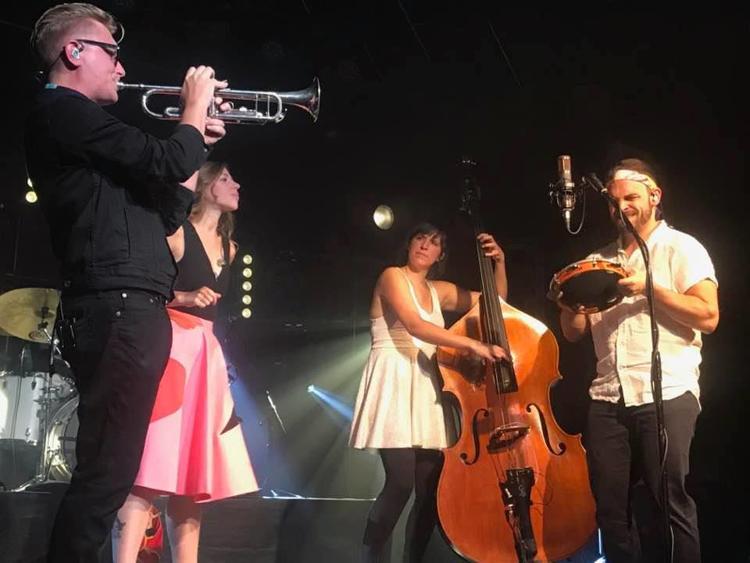 Q: What's striking about Lake Street is that your guitar is almost in the background, unlike most rock bands, and your harmonies seem to dominate behind Rachael's incredible pipes.
A: That was a totally happy accident. We had been playing irregularly for six moths or a year. At that point I still wasn't playing guitar. We desired a more full production sound, something would fill the role of a chord instrument. The natural answer to that problem is background singing. We all shared a background and love for '60s and '70s pop music which is drenched in background singing. I cant think of a song we've played in the last 14 years that has had just Rachael singing."
Q: So did that force your guitar to be more of a supporting sound?
A: It was a conscious decision to hide my shortcomings as a guitar player, which are many and varied. And (Bridget) has always been up front with a lead sound on the bass, which is a cornerstone sound of ours.
Staying out of the way of the lead voices and our happy discovery of all our singing, it was a conscious decision to stay out of the way on guitar.
Q: You – like several other bands such as Nicki Bluhm and the Gramblers – seem to delight in sharing with fans your informal cover tunes from bands like Hall & Oates or AhHah.
A: Learning a cover, there is so much that goes into beyond learning the chords and lyrics. It probably comes from our conservatory minds; we take it as a master class in learning the sound. It also comes out of the early days of YouTube. When we started uploading covers, it didn't feel like that was what everyone was doing. The covers were immediately garnering attention. That's why our label encourages us to record covers and upload them to Spotify. Then if (listeners) click on it, all our originals come up, too
Q: When did you know you were going to make it as a band – a record deal? Appearing on Letterman and having him go gaga over you? The viral video of you doing the Jacksons song?
A: We had a good six months when that all went down. It was a combination of a number of factors. The cover kind of sat and did nothing for a few months. Then went into the studio to do "Bad Self Portraits" and we were isolated — no cell phones or anything. When we were driving away from the studio, our phones all started blowing up. While we were isolated, the video had been picked up and shared. Kevin Bacon had tweeted it. It collected a million views when we were completely unaware. That translated into real world exposure. That's when we went on The Colbert Report as our first television experience. That was huge for us. It garnered us more response from viewers than any other late night shows for years. So we had this triple-pronged bout of good luck with the Coen brothers movie. (The band was asked by T Bone Burnett to play at a promo concert for the Coen film "Inside Llewyn Davis.") It was kind of the perfect trifecta that a young band would pay for but never get. It was magic. It was literally magic.
Q: Several of your biggest songs — "Bad Self Portraits," "Call Off Your Dogs," "Rental Love" and others — are about relationships gone bad. Is there something we should know about you guys and your love lives?
A: Its more just that's where pop music lives, is in heartbreak. We all have our fair share of it and we mine it disproportionately. In modern pop music you get more mileage from "I was hurt" than from "I'm happy and it's great." Its just one of the most consistent thematic recurrences in music.
But I'll say that our last record and as we're preparing for our new record, we are feeling as though … we are growing up and living in really troubled times, so it's important to us to address the things we see and cannot ignore. On "Free Yourself Up" and the next record, you will see familiar themes of love lost and love found, but also more outward looking at what is actually going on in people's lives.